Computer says no: Administrative error resulted in me being unable to obtain Covid passport necessary for quarantine-free travel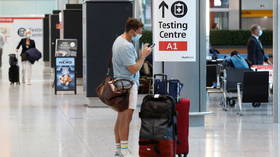 If my experience with the NHS Covid pass app is anything to go by, then the idea of domestic Covid passports being needed to go about daily life in Britain would be farcical. Of course, this doesn't mean it won't happen.
Most of us have not been abroad in the past 18 months after Covid put an end to any travel plans. To paraphrase John Lennon, lockdown happened to us while we were busy making other plans. During lockdown, the only trips some people managed to take were a walk to their corner shop or local park. The wealthy were still flying though, on private jets and charter flights – private flights from the UK to the Maldives, UAE, and Caribbean were more popular in December 2020 than in December 2019.
Following a vaccination blitzkrieg, a small number of destinations appeared on the UK government's green list. As a result, we now have the opportunity to escape Britain's borders without fear of having to quarantine at home for 10 days on return (amber list country) or worse still, having to reside within a managed quarantine hotel (red list country).
My fiancé seized upon the chance to travel and spontaneously booked two tickets to Malta. However, travel to green list destinations is not without strings attached. Malta, for example, requires all travellers prove they have received two Covid jabs by way of a vaccine passport. One also needs to provide evidence of a negative lateral flow test 72 hours before departure (not a stipulation of the Maltese government but a requirement from the airlines). You then have to arrange to have another negative lateral flow test whilst in Malta not more than 72 hours before returning to the UK. Finally, you need to have a negative PCR test two days after arriving back in the UK or face a fine of up to £2,000. Of course, you have to pay for all these tests, and they don't come cheap. We spent around £300 arranging the respective tests for two people. For families with children on a tight budget, the additional several hundred pounds could easily make a summer holiday unaffordable.
Also on rt.com
Moderna's Covid jab gets green light for use in adolescents from UK health regulator
Many of the Covid test providers charge high prices, with the UK reportedly being one of the most expensive countries for PCR tests. Ignoring the added expense associated with the growing Covid industry, my fiancé and I thought we would still manage to have a decent foreign holiday. Working within the NHS, we had both received two doses of the Pfizer jab. Now all we needed to do was download the NHS app and access our Covid passports. This is where my problems started.
My NHS app only recorded my first Covid jab; there was no record of the second one. Thus, I would not be entitled to a Covid pass. I spent several hours over the next few days on the phone with my GP surgery, the NHS app helpline, as well as a number of other agencies I thought might be able to resolve the issue. Unfortunately, none could resolve the problem or even explain why there was no electronic record of my second vaccination. The vaccination centre where I had my second jab did not have a telephone contact number or email. I contacted the hospital, in whose car park the vaccination centre had taken up temporary residence, only to be told that they too did not have the contact details for this "mobile vaccination centre."
My vaccination card indicated that I had received both doses (you receive the card after your first vaccine and bring it to the second appointment on which they note the vaccine type, date, and batch number). After I emailed my GP a photo of this card, they updated my medical records accordingly to indicate that I had received both jabs. However, this did not help me obtain a Covid passport, which was the only acceptable form of evidence (a signed copy of my GP records apparently being insufficient) to avoid quarantining for 14 days in Malta upon arrival at my expense – neither affordable in terms of time nor cost.
Neither my GP surgery nor the NHS app helpline were able to do anything to change my 'vaccination status' as shown on the Covid app, with each stating it was the other's responsibility to correct the error. For example, my GP surgery explained that "we do not have access to the NIMS [National Immunisation Management Service] database, so if the NHS app team are saying we do have please could you ask them to provide you with the evidence."
Also on rt.com
UK to extend Covid jab rollout to 16-to-17 year olds, vaccine advisory group says
The NHS app support team contested that "with regards to Covid19 vaccinations, these also need to be coded by GP surgeries to the National Immunisation Management System (NIMS) on top of the GP held medical record in order to be visible within the new COVID Pass feature… Your GP practice will be able to amend and update your vaccination data within the NIMS database so that your COVID Pass updates –they received communications on how to do this via the NHS England and NHS Improvement Primary Care Bulletin on the 13th May 2021."
In the end, my fiancé and I cancelled our trip and rescheduled the flights for next month.
If you want a job done properly, you do it yourself. I eventually went back to the Covid vaccination centre where I had my second jab and insisted someone figure out what was going on. It emerged that an IT glitch was the source of my troubles. For some inexplicable reason, the vaccination centre forgot to record my second jab; consequently, the information had not been sent to my GP and did not appear on my NHS app. The error was subsequently corrected but not without my fiancé and I wasting several hours and a decent amount of money, not to mention the added headache of at one point not knowing (after all agencies I contacted proved ineffective) whether I would ever obtain my Covid passport and be able to travel.
The Covid passport can be a powerful tool and I suspect there are others who are or will be similarly affected by a clerical error. Such a glitch could affect travel abroad or restrict some other aspect of a person's life, if Covid passports were one day used to access services in the UK in the same way as they are currently being used in France to allow citizens"to eat in a restaurant, drink in a bar, access non-emergency treatment in a hospital or travel on an intercity train."
Also on rt.com
Anti-vaxxers attack BBC again…this time online, over string of stories on hospitalised vaccine sceptics
Similarly, the five million British residents who received the Indian-made version of the AstraZeneca vaccine (known as Covishield) recently discovered that this brand of the vaccine had "not been authorised by Europe's regulator" and, therefore, could not be accepted by numerous EU countries, meaning they would be denied entry or have to quarantine on arrival. Although a number of EU countries subsequently relented, with 18 now stating they will accept Covishield, a number still do not. This leaves the many people injected with Covishield in an impossible position. They cannot receive another dose of the AstraZeneca vaccine and have to hope that the country to which they wish to travel is one that accepts Covishield.
Who knows if Covid passes, in the UK or elsewhere, won't require further booster jabs to remain valid? Such passports are powerful tools that could have dire implications when it comes to restricting future liberties. Meanwhile, the Covid industry that has grown off the back of the pandemic continues to make money from the human desire to travel.
Think your friends would be interested? Share this story!
The statements, views and opinions expressed in this column are solely those of the author and do not necessarily represent those of RT.
You can share this story on social media: