Watch out, America! A crisis on the Korean peninsula might just be up next...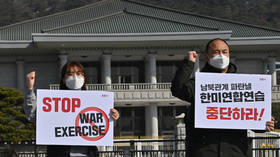 The world's gaze may now be focused on Afghanistan, but can North Korea resist the opportunity to kick out at Washington when it's down?
The world's eyes are focused on Afghanistan, so much so that the other potential "flashpoints" around the globe have been forgotten. Nowhere is this more relevant than the Korean Peninsula, where North Korea has voiced firm, yet not overwhelming, opposition to a series of joint military drills taking place this week between South Korea and the US.
Its ambassador to China made the unusual step of giving an interview to the Global Times, with the article warning that the "US is bound to pay a price for joint drills with S.Korea".
Pyongyang has a record for this kind of stance: On only three occasions has North Korea in the past decade not responded to the annual war games with provocations of its own, seeing them as a rehearsal for an invasion against it.
North Korean leader Kim Jong-un has not played his hand as of yet, and has not so far pursued any missile tests in 2021, and, unusually, even made diplomatic overtures to Seoul just three weeks ago where "plans for a summit" were reportedly discussed.
These contradicting and unpredictable turn of events are typical of the DPRK and its diplomacy, but observers are nonetheless surprised that seven months into the Biden presidency nothing has happened yet, despite subtle indications that North Korea wants to advance its nuclear and missile capabilities. Why is this? And what is going on? And what will happen?
One can never rule out a potential "provocation" by North Korea in the near future, in the midst of the chaos the US is experiencing right now over Afghanistan. Logically speaking, now might be a good time to make its voice heard. Yet recent evidence points to Pyongyang biding its time, attempting to seek dialogue, and seemingly ensuring the US and South Korea are not pushed closer together.
What's behind this dovish stance, at least prior to this week's drills? Potential clues might lie in the fact the country is suffering badly from the impact of Covid-19 on its economy and that it may be wary of accelerating intensified pressure against it.
For over a year and half, North Korea has pursued one of the most intense border shutdowns in the world. In fact, it was the first nation to close its borders to the virus; for a great deal of time, this even involved blocking off all trade with China. With limited healthcare resources and an ideology that rejects making political concessions readily in exchange for outside support, even in desperate scenarios, the only strategy Pyongyang was willing to apply was to forcefully keep the virus out altogether. The extent of success or failure in that ultimately remains a mystery. Yet the country has nonetheless been open of late about the huge economic toll this policy is taking, on top of the heavy international sanctions it labours under; it cannot afford to do anything that makes these any tighter.
As a result, whilst it has been traditional for the DPRK to provoke a new US president near the start of his term, it has notably not chosen to with the Biden administration.
Also on rt.com
Kim Jong-un's growing nuclear wish-list for North Korea spells trouble for Joe Biden
Some say this is a sign of weakness, but that doesn't mean there are no problems looming. Despite having made overtures directly for dialogue on its humanitarian situation, Kim finds that the White House is simply ignoring them. There is no indication that Pyongyang is high on President Joe Biden's agenda, especially not now.
Apart from the staple line of demanding "complete denuclearization" which appears every now and then in some statements, the administration has put no effort into pursuing that aim.
So what will Kim do now? North Korea has held back, but discontent is starting to emerge again against the US in its official messaging and media, as it periodically does at the time of the annual US-South Korea exercises.
If the DPRK is going to make its discontent known, it is going to do it soon. First of all, the US and its allies are distracted by the events in Kabul, disorientated even. Like what China has done over Taiwan, when would there be a better time for North Korea to demonstrate a show of force, even when they're on the back foot? Seldom are these kinds of opportunities missed.
Secondly, its diplomatic shift towards South Korea and the dangling of peace incentives may be designed to drive a wedge between Seoul and Washington. Moon Jae-in's presidency is coming to an end, and there are indications that whoever succeeds him may brand his engagement with the DPRK a failure, especially if the Conservatives win. This may force Seoul's hand.
Thirdly, the DPRK's signature style of diplomacy is astute at creating disruption in order to gain international attention and get what it wants. In this case, Kim's move may come sooner, rather than later. At the same time, North Korea is seeking to strengthen its relationships with Russia, China, Iran and Syria in order to hedge against the US by reaffirming a common opposition to them, a move which could also be motivated by economics.
Otherwise, all eyes should be on this hotspot, and what happens next remains truly unpredictable. North Korea never sits idly by, and after seven months of quietness, Kim is about to initiate his next strategy, be it carrots or sticks, and when is there a better time to do that than at a time of weakness for America?
Like this story? Share it with a friend!
The statements, views and opinions expressed in this column are solely those of the author and do not necessarily represent those of RT.
You can share this story on social media: