China taunts Taiwan as America reels from Afghan defeat: 'Once war comes, the island will collapse and the US won't come to help'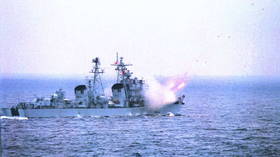 Beijing flexes its muscles in the wake of America's humiliating exit from Afghanistan, with a hard-hitting Global Times editorial warning Taipei that, when it comes to the crunch, it will also be abandoned by Washington.
With Washington in a state of panic and disarray following the outcome in Afghanistan, China has moved fast to exploit what it perceives as America's humiliation in order to reassert its position on Taiwan.
On Monday night, the Global Times unleashed a scathing editorial, taunting Taipei that it would collapse swiftly, just like the Kabul regime, in the wake of an invasion by Chinese forces, and questioning Washington's resolve to save it in such a scenario. The next day, Beijing followed up with a massive air force and navy exercise off the island.
Also on rt.com
A new Great Game is afoot in Afghanistan, as China hosts the Taliban and eyes a key role in the country's future
Under a headline stating 'Afghan abandonment a lesson for Taiwan's DPP,' the island's ruling party, the Global Times' hard-hitting editorial states:
"The DPP authorities need to keep a sober head, and the secessionist forces should reserve the ability to wake up from their dreams. From what happened in Afghanistan, they should perceive that once a war breaks out in the Straits, the island's defense will collapse in hours and the US military won't come to help. As a result, the DPP authorities will quickly surrender, while some high-level officials may flee by plane...
"The best choice for the DPP authorities is to avoid pushing the situation ... They should keep cross-Straits peace with political means, rather than acting as strategic pawns of the US and bear the bitter fruits of a war."
None of this is happening in a vacuum, or purely opportunistically. Beijing cited as justification for this week's military exercise the growing support for Taiwan independence, and it is widely seen as a retaliation for Lithuania's violation of the one-China policy last week in opening a "Taiwan" representative office. That move saw Beijing withdraw its ambassador from the Eastern European nation and expel Vilnius' representative, a matter exacerbated by the fact the US then publicly backed Lithuania.
What is going on here? The Afghanistan crisis has been deemed the perfect moment for Beijing to reassert its stance on an issue that the US is actively trying to pull away from. This has been unmissable as an opportunity to send the message which China always avows: Taiwan is part of China, and America should mind its own business.
At a time where the US is questioning its own capabilities and resolve, and experiencing a crisis of confidence in the abrupt ending of a 20-year war that has achieved nothing, never has there been a more astute time for China to send out a forceful message on Taiwan, and to flex its muscles.
It also wants to hammer home the red line which Washington is attempting to shift, and discourage other countries from taking Lithuania's path. China is not going to start a conflict over Taiwan any time soon, so that it is all to an extent obvious posturing and psychological warfare by the Global Times, but the message is clear, and it's one of firm deterrence.
The United States is pursuing a policy in respect to Taiwan and Beijing's 'One-China Policy,' that is increasingly described as "salami slicing" - making slow and incremental moves which do openly undermine the status quo or set off a crisis, but gradually erode it and shift it to the point where the policy exists in name only.
Also on rt.com
America can successfully defend Taiwan against China – but only in its dreams
To do this, the US has increased its pace of arms sales to Taiwan, removed rules on contacts and official visits, actively encouraged other countries to expand their political space and engagements with it (supporting and encouraging those such as Lithuania) and increased its military presence in the Taiwan Strait.
On the other hand, the US continues to officially deny that it supports "Taiwan independence" – but is nonetheless politically making it more and more difficult for China to achieve its long-held aim of reuniting the island with the mainland.
But this does not mean China will not respond. The strategic mistake the US is making right now on this issue is assuming it can shift these red-lines just a little bit every time, and that Beijing will passively tolerate it and sit back in frustration because it has too much to lose.
This is erroneous, given the enormous political weight China places on national sovereignty and territorial integrity. This is why the "military option" of an invasion is frequently touted. US policymakers assume it is bluff, but the Global Times' thunderous message was an attempt to convince them otherwise.
China does not directly wish to take Taiwan by force, but uses this option as a last resort and a bottom line to force other countries to respect its political will. It would much rather reunite the island peacefully, but nonetheless this option remains, to say "this is what will happen if you defy us."
What the US is risking by shifting the goalposts and encouraging other countries to violate the One-China policy, is a reciprocal and perceived-as-necessary response by Beijing to shift those goalposts "back," which involves an intensification of pressure and military posturing around the island.
This is not a new trend. In 1996, Beijing caused a crisis by firing missiles into the Taiwan Straits waters as the Taiwan leader, Lee Tung Hui, was visiting the US and about to meet senior officials. The difference is that, back then, the US was more willing to listen to Beijing's position than it is now, and Bill Clinton ultimately succumbed to it.
It is therefore no surprise that Beijing is now responding forcefully to the latest controversy, and is doing so with the well-timed added punch of American failure in Afghanistan.
China wants to inject self-doubt into both the US public and the Taipei leadership that Washington cannot readily protect the island. It is ridiculous to compare Taiwan to the failed state of Afghanistan, but the impact on America's esteem of its failure there is real, and it was a sitting duck for the kind of psychological offensive Global Times unleashed.
The flip side of this is that the perception of US weakness and the amplification of pro-war voices attacking Biden could make the US more aggressive, if not erratic, in the short term. This is a president who is under political pressure, and you are attempting to call his bluff and undermine his credibility by threatening war against Taiwan.
Yet, one can conclude that this is arguably a conundrum of America's own making. The Biden presidency is actively pressing against China's red-lines on the Taiwan issue and it was naïve to assume that Beijing would sit back and not escalate a new crisis in retaliation.
Beijing is therefore simultaneously reasserting its position on this issue, aiming to regain "lost ground" (perhaps metaphorically and literally) and mercilessly exploiting the erosion of Biden's own credibility back home, and among its overseas allies.
The message from Beijing is simple: America is weak and unreliable, and no-one is going to breach our red line on Taiwan. Yet this could lead to dangerous consequences down the track.
Like this story? Share it with a friend!
The statements, views and opinions expressed in this column are solely those of the author and do not necessarily represent those of RT.
You can share this story on social media: