UK's conveniently timed boasts about hydrogen solving CO2 crisis at odds with experts' questions about its green credentials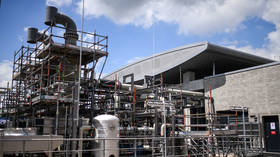 As hosts of the COP26 climate conference, the UK has leapt on the hydrogen bandwagon but experts say its use as a carbon emissions-free fuel is overstated and could make the greenhouse gas problem even worse.
When Germany's celebrated Hindenburg lit up over the sky of New Jersey on May 6, 1937, leaving 36 of the 97 passengers aboard dead it might have signalled the end of transatlantic travel by Zeppelin but it also highlighted the potential of hydrogen not as an explosive gas, but as a fuel.
If only the energy potential of the gas, which could burn so furiously it destroyed the airship within 30 seconds, could be harnessed then its uses would be legion. Since 1937, such leaps and bounds have been made that we are at the point now where the UK government has even produced a hydrogen strategy, details of which will be announced imminently.
Of course, the only reason we're even talking about this is that the UK plays host to the UN's Climate Change Conference of the Parties (COP26) in Glasgow later this year, and Prime Minister Boris Johnson needs something to show the nation is a global leader in reducing its own carbon footprint on the way to a 2050 target of net-zero.
Also on rt.com
The hydrogen hype is real, but is it justified?
The problem with choosing to showcase the use of hydrogen is that the gas is not something that exists as a natural fuel, it needs to be manufactured. And while burning hydrogen produces no carbon, the processes involved in extracting it from either natural gas (so-called 'blue hydrogen') or from water ('green hydrogen') can be more polluting than burning the fossil fuels it seeks to replace.
The UK government's hydrogen strategy will back the development of both blue and green hydrogen but you have to wonder how closely they have looked at the science here.
In a report for the Japanese government released this year, the International Energy Agency found that hydrogen production is currently responsible for CO2 emissions of around 830 million tonnes per year, equivalent to the emissions of the UK and Indonesia combined.
So while using hydrogen for heating our homes, fuelling fleets of cars and powering public transport sounds like sexy sustainability, until we can produce the gas totally carbon-free then all the green tech is useless and upscaling production is simply making the problem we're trying to solve even worse.
But that doesn't read so well on a green-washing government press release looking to capture headlines and it certainly doesn't tally up with boasts from fossil-fuel hungry energy giants like Shell and BP that they are on track to meet ambitious net-zero targets.
Blue hydrogen relies on fossil fuels for its production because it's extracted from natural gas with the carbon produced piped to storage in saline aquifers under the North and Irish seas or in the now-depleted gas and oil fields. When burning gas for hydrogen, however, more of the problematic greenhouse gas methane escapes into the atmosphere than it would when burning natural gas for heat, according to a study released this week.
That work by two US academics and published in the journal Energy Science & Engineering, finds that the greenhouse gas footprint of blue hydrogen is more than 20% greater than burning natural gas or coal for heat and 60% greater than diesel. It concludes, "The use of blue hydrogen appears difficult to justify on climate grounds."
Meanwhile, green hydrogen is mostly extracted from water using chemical and heat processes, which are polluting and carbon-producing themselves. If, however, the process of electrolysis is used to extract green hydrogen, and the electricity used comes from solar or wind sources, then no carbon is produced.
Most experts appear to agree that this is the only true path to clean hydrogen although it is currently a massively underused technology with just 0.1% of the world's hydrogen produced this way. It will take money to develop this potential. And lots of it.
This will mean more than just higher green levies on energy bills for UK citizens, it will mean serious financial commitment from the global energy companies and unprecedented intergovernmental agreements.
If that can be achieved at COP26 then it will be time well spent. If not, then all this talk about hydrogen is just more hot air.
Think your friends would be interested? Share this story!
The statements, views and opinions expressed in this column are solely those of the author and do not necessarily represent those of RT.
You can share this story on social media: