'Don't rinse your dishes': UK's crazy green social engineers want to micromanage your life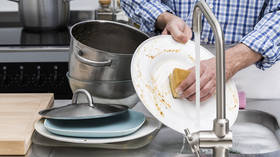 While Britain has delayed a gas boiler ban, green social engineering won't go away, with a government aide issuing a string of absurd tips to tackle climate change. As ever, it's a sign the eco lobby is out of touch with reality.
The good news is that the British government has finally realised that it is totally unrealistic to implement its mind-numbingly stupid policy of banning gas boilers by 2035. The bad news is that Boris Johnson is only pushing back the ban by five years to 2040.
It is a sign of the times that the government is so devoid of serious policies that can deal with the challenges facing the British nation that it has adopted the gas boiler ban as the central plank of its 'net zero' strategy.
Like most policies dreamt up by green social engineers, banning gas boilers looks great on paper, but bears little relevance to the needs of society. Replacing gas with hydrogen boilers is beyond the means of most working people, with the cost potentially being as high as £14,000.
Also on rt.com
Flying, meat, pets... now having CHILDREN is a climate crime, green activists imply
Getting rid of gas boilers is not only very expensive, it will diminish the quality of people's lives. The heat pumps that will replace gas boilers provide an inferior quality of heating for families, taking as long as 24 hours to heat a home. Unfortunately, a decarbonised home is not a warm one – the pumps will provide between 17-19 degrees Celsius.
The green utopia of the government does not enjoy the support of millions of people who will be expected to cough up in taxes the £400 billion needed to make buildings net zero. As is often the case with social engineering projects, the £400 billion calculated by the independent Office For Budget Responsibility is likely to be an underestimate.
Green social engineering is not simply about imposing expensive net zero projects on society. Social engineering is also about putting pressure on people to change their lives. And even the most petty elements have become the target of green social engineering.
It is worth noting that a day before the government announced that it would delay its boiler ban, Allegra Stratton, the prime minister's spokeswoman for the Cop26 climate change conference later this year outlined a set of 'micro-steps' people could adopt to save the planet. One such micro-step promoted by Stratton is to avoid rinsing dirty plates before putting them in the dishwater in order to limit the impact on the environment.
Could not rinsing dishes b4 the dishwasher be your #onestepgreener ahead of #COP26? If that's too hard a habit to kick, pick something else. At COP26 we have big asks for the world on cash, coal, cars and trees but the micro matters too. Change is coming. https://t.co/2f23IyBBPW

— Allegra Stratton (@AllegraCOP26) July 27, 2021
Stratton also floats the idea of walking to the supermarket instead of driving. Another brilliant suggestion promoted by the government's spokeswoman is "freezing half a loaf of bread when you get it home, to get out later in the week, rather than throwing half of it away when it goes mouldy."
Stratton's silly attempt to micromanage people's lives might not be as expensive as the grand green social engineering project of banning gas boilers. However, the targeting of people's lifestyles is in many ways far more insidious than the imposition of expensive net-zero projects on society.
Since when is it the business of officialdom to tell people how they should go about washing their dishes? And how long before they tell us to have fewer baths or shorter showers? Experience shows that green social engineers believe they have the right to put their nose into the most intimate aspects of people's lives.
Also on rt.com
Mr Big Issue is right, most people don't give a toss about the environment… and I don't blame them
Take Meghan Markle and Prince Harry, the very green Duke and Duchess of Sussex, for whom the size of their family is an environmental issue. That is why they were given a 'special award' for choosing not to have more children.
Green points for practising birth control might sound OK, but once human reproduction becomes a target of social engineering, then literally life itself becomes a commodity to be traded away in the interest of a zero-carbon future.
Is it any surprise that one earnest Australian green social engineer even went so far as to propose a 'baby levy' in the "form of a carbon tax should apply, in line with the 'polluter pays' principle"?
The other final point to consider is that green social engineering is not only morally wrong, it does not work. The kind of people who want to ban gas boilers are the ones who insisted that people should shift from petrol to diesel-fuelled cars to help the environment. Unfortunately, when green engineering conflicts with reality, it's ordinary people who foot the bill.
Like this story? Share it with a friend!
The statements, views and opinions expressed in this column are solely those of the author and do not necessarily represent those of RT.
You can share this story on social media: