As a lesbian version of Romeo and Juliet takes to the stage in Israel, and Robin comes out as bi, how about camping up Star Wars?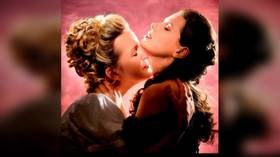 The Israeli Opera is staging a version of Shakespeare's classic with women in both the lead roles, proving all culture is now open to a rainbow makeover. So lets 'camp-up' 'Star Wars' – time to make the galaxy far, far more gay!
"O Rosemary, Rosemary! Wherefore art thou Rosemary?"
It's probably the most famous love story ever told, William Shakespeare's 'Romeo and Juliet'. You know, star-crossed lovers and all that. A tragic love, because Romeo and Juliet were members of opposing noble Italian families in 13th-century Verona.
Also on rt.com
Marvel making Star-Lord bisexual is a vindictive dig at Chris Pratt's Christianity from a dying comic book industry
I don't know what's more strange about this latest version, though: the fact that 'Romeo' and Juliet are both women, or the fact it's an opera, not a play. It's based on Vincenzo Bellini's 'The Capulets and the Montagues' and, not being an opera fan, that reworking from the 1830s entirely passed me by.
The Holy Land is also maybe not the obvious place for the breaking of slightly new ground, as it's being staged by the Israeli Opera rather than the Royal Opera, La Scala, or the Bolshoi. But, still.
It's all a little off-beat, to say the least. That's not necessarily a bad thing. The bard himself may well have approved of the lesbian slant. Gender roles were often switched around in renditions of Shakespeare's plays, even back in his day. And he wrote them over four hundred years ago.
He has been referred as an "Elizabethan version of a modern-day feminist" and was often ambiguous about gender roles, especially in comedies. Men in tights, like so many of these things, are not actually anything new.
And, of course, there have been claims Shakespeare himself was gay. But considering there is not even a painting that is definitely of him, any claims about the real man's sex life are just as fictional as 'A Midsummer Night's Dream'. Then there's the claim he didn't actually write the plays that bear his name. Whatever.
The justification for the new sapphic version is that Bellini actually composed the Romeo part for a soprano, generally a female. It's very high for most men to sing.
"For me, same-sex love has to be considered one of the normal possibilities of love," director Hanan Snir told the Israeli daily paper Haaretz.
"I show that right off the bat during the overture. While it's playing, the audience sees the home of the Capulets, a conservative home actually dominated by monks. You see the monks and you see the two girls, Julietta and Romea [they don't actually feminise the name], who are still schoolgirls. They play and they hug and they hide from the nuns. One of the nuns apparently informs Julia's brother that his sister is hanging out with a woman, he follows her and catches them embracing. He tries to kill his sister for defiling the family honor. But Romea hastens to rescue her beloved, fights the brother, a bullet is discharged and the brother falls and dies."
The lesbian element is not overly dominant, the director says, adding: "It's no different from the love between a man and a woman. Love is love, in every gender, and it even crosses genders. For me, same-sex love has to be considered one of the normal possibilities of love. The opera I directed doesn't try to raise the LGBTQ flag. In the simple unfolding of the plot, Julia's family doesn't know until the end that Romeo is a woman. The audience knows of course, as does the gang of Montagues, whose leader is Romeo. It isn't particularly expressed. It's enough that the two singers are women and look like women. 'Romea' has flowing red hair, there's no possibility of a mistake."
They dodged the feminine pronouns to avoid jarring the ear of the audience; I reckon Shakespeare might have been more irked about messing with his actual words – if not the gender.
There have already been loads of weird and wonderful versions of Shakespeare's plays anyway. I guess after nearly four centuries, some material can get a wee bit stale.
How about 'King Lear', as retold by the Beatles? 'Macbeth' staged by tiny ninjas? Fancy listening to a full version of 'Hamlet' translated into… Klingon? (They're the weird aliens from 'Star Trek', in case you didn't know). This new Israeli lesbian version of 'Romeo and Juliet' was beaten ages ago, anyway, by a gay-friendly version of 'Othello'.
So, then, Shakespeare's getting a new twist and Robin of 'Batman and Robin' fame has just come out – to the surprise of precisely nobody – as bisexual. What's next?
Also on rt.com
DC Comics making Robin bisexual is a lame attempt at political posturing that will get it retweets, but not comic sales
I reckon the 'Star Wars' franchise is just crying out for a rainbow makeover. Just think of all the possibilities! There could be a super-camp jazzed-up Darth Vader, maybe adding a little sparkle to that weird bondage outfit he's in already. Maybe Princess Padme, his love interest before he joined the Dark Side, could be a prince? Disney has gone woke anyway, and those "white slave traders" (George Lucas' words, not mine) own the rights. There's a mountain of cash to be made.
Ewoks? Can you actually tell a furry little warrior's gender? And I'm not sure what they'd do about Chewbacca; is that hairy groaning gimp male or female?
Like this story? Share it with a friend!
The statements, views and opinions expressed in this column are solely those of the author and do not necessarily represent those of RT.
You can share this story on social media: