Tara Reade: For all its 'concern' for mental health, the Washington Post is quick to disregard it when politically inconvenient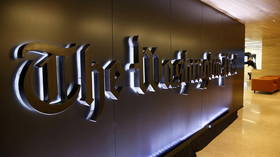 Jeff Bezos' paper was, rightly, full of praise for Simone Biles for prioritizing her mental health at the Olympics. Why, then, was it so dismissive of my complaints after printing hurtful untruths about me?
There has been a great deal of talk recently about mental health awareness. There should be no stigma attached to difficulties of this kind, especially for victims of crime. When you break your arm, you see a physician and fix it. When someone breaks your spirit, a different kind of doctor can help you recover. The healing from physical and sexual trauma is not linear. It takes as long as it takes.
Simone Biles stepped down so her teammates could step up when she knew she was struggling.
Also on rt.com
I was a victim of the Yorkshire Ripper. Why is he getting an inquest into his death, when my case has been ignored?
At her young age, she has endured sexual trauma and survived. To anyone who has not experienced this specific type of trauma, it is difficult to explain. It permeates your brain with a fight-or-flight response, or what experts refer to as post-traumatic stress disorder (PTSD). I am not a psychologist, and I am not diagnosing Simone Biles. She stated she had "the twisties" when her mind and body were not connected during her competition.
I can't pretend to know what it's like to be a young Olympic athlete, let alone the best Olympian her discipline has ever seen. Flying through the air, and suddenly not knowing where she was or how far up, must have been both terrifying and dangerous. That said, no trauma recovery is the same, nor are individual responses to it.
Whatever Simone Biles is enduring is a journey she alone is experiencing. I am not going to project my own experience or those of others on to her own, unique life. However, I do understand the lasting effects of trauma. To me, Simone Biles showed the courage and maturity of an Olympian. She allowed her teammates space to perform as she recovered.
I can share a personal experience in the hope it helps make others who grapple with trauma recovery feel less alone.
The Washington Post lies a lot. They are arrogant about it. Its reporters know they can use their paper's storied legacy to get away with it. It is increasingly considered a partisan rag (not my words) for the Democrats. The newspaper has become a joke, like the person who owns the Washington Post, Jeff Bezos, who treats his workers like dirt. Ordinary Americans recently watched with dull eyes as the oligarch ejaculated piles of money into the stratosphere with his phallic-shaped space vanity project.
I was the subject of one of the Washington Post's most recent falsehoods and asked them to correct it. To date, they have not. I am tired of being the corporate media's punching bag. I had already had a difficult day, and talking to WaPo reporter David Weigel made it exponentially worse. I do not have flashbacks with a physical reaction often; it's rare, but when it hits, it hits like a tidal wave that I must ride to survive. In fact, I tend to be calm and very effective in most emergencies or highly stressed circumstances. It is interesting that the rare occurrences cropped up over lesser stimuli, not during obvious times of extreme stress.
Two things wrong here @washingtonpost The sexual assault by Joe Biden was corroborated I was never "restricted" from speaking @M4M4ALL about Joe Biden and I don't know who Dunlap is .Correct this now and stop misstating facts to discredit me David Weigel wrote this 👇 pic.twitter.com/qvb273lKsc

— Tara Reade 🦋 (@ReadeAlexandra) July 28, 2021
In the parking lot of my local co-op on a very hot, aggravating day, sitting in my car after hanging up with the reporter who said he would probably not retract what was untrue in the piece, I started to feel my body shake. I had flashes of previous reporters grilling me and being accusatory when I answered, I had flashes of the actual sexual assault I experienced and other trauma like a montage. The brain does not parse out specifics about danger in this state. My brain was telling my body to run. RUN. I was not running.
I felt the uncomfortable warmth of adrenaline flood me; my heart was out of rhythm, my head hurt as my hands shook in front of me, my breath was not coming, and my chest tightened. It lasted 38 minutes, varying in degrees of intensity. I was breathing, as my heart kept pounding, watching time, and called my brother. Collin knew as soon as he answered, and I could not formulate my thoughts. He said, "You are safe, you are safe Tara, it's OK. I am here and you are OK. Now breathe. Breathe. This is just an adrenaline rush, you are OK." He said this slowly. My breathing normalized; his children had a dispute in the background that made me laugh as he tried to mediate their fight while talking me down from the mountain of stress I was on. My brother is a martial arts enthusiast and is close to a black belt in jiu-jitsu. Collin is the type of person to help you find balance during a panic attack. I have no shame about showing my vulnerability. I am a naturally well-balanced person that has experienced acute stress and complex trauma. Everyone experiences some form of trauma in their life, and our physiology has very ancient ways it responds, from back when humans ran away on foot from predators.
It had been a very intense day for me, in addition to the conversation with the callous Washington Post reporter. The primitive brain does not know the difference between a saber-toothed tiger attack and a reporter. It just ignites the chemicals in the body to run away very fast. In this moment, my brain just decided to leave and take the body with it. Who could blame this complex and ancient survival response?
Also on rt.com
The 'space billionaires' are leaving Earth's orbit in the same mess they've left the planet. So how about they clean it up?
I called my friend, Lou Godbold, a brain trauma expert. In her clipped British accent she said, "Why Tara, that is wonderful. Your body was shaking off the stress instead of internalizing it, this is much healthier. This is what prey animals do after they outrun a lion or wolf, their bodies shake off the stress. You tend to be cerebral like I am," she explained, "because of that, we feel like we are directing things with our conscious mind, but sometimes the survival instincts and brain take over. What happened to you actually means your brain and body is having a better reaction by all the physical shaking, instead of storing all that cortisol which causes long-term health issues."
After I hung up, I felt much better. It allowed me to sort it out. I muddled my way through the rest of the day. I completed my obligations, a meeting, my podcast interview scheduled and correspondence. I went swimming at a waterfall and spent time with my horse. I find that physical activities in nature heal me most, not talking. There was no one watching, nor an Olympic gold in the balance, it was just a regular day. I had the luxury of falling apart in front of no one except my cats, who just wanted dinner on time.
When we ignore trauma, it will find us and force the conversation. It is not about physical or mental strength; it is about brain chemistry. The best course of action I have found dealing with healing from the complex trauma that I endured is to face it, deal with it, and integrate it.
The greatest healing I have known is with nature and with my loved ones. There is no shame in having normal human biological responses to stress. It is odd our American culture piles blame on to victims of sexual assault for any lingering effects they may exhibit. Survivors may need help moving forward from the abuse. Also, many experts are finding that talk therapy does not always work for sexual assault survivors, and alternative therapies like somatic healing and EMDR provide better solutions. Everyone must find their own approach.
Let us turn that national conversation to why so many predators thrive in American culture and are rewarded.
I believe there is a strength in endurance with grace. To truly heal the individual, we must heal the collective culture around sexual assault in America. We need to truly honor those that have suffered, hold those predators back from power and accountable to those they harmed. When the conversations become circled around the sexual predators instead of the prey, that will be a glorious day.
Also on rt.com
I empathize with Simone Biles' decision to withdraw from the Olympics, but are we going too far with the mental-health movement?
In the meantime, I will not be deterred by the Washington Post hit pieces or anything else.
I will continue to stare down the world if I have to for survivors to be heard, and heard correctly.
Think your friends would be interested? Share this story!
The statements, views and opinions expressed in this column are solely those of the author and do not necessarily represent those of RT.
You can share this story on social media: