With its new $150 million Alex Kurtzman deal, Paramount is telling Star Trek fans: Resistance is futile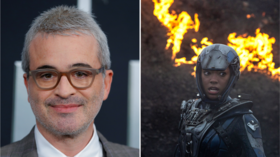 The reviled super producer's deal with CBS has been renewed for another five years, much to the bitter disappointment of most Trekkies.
In Star Trek lore, one of the greatest villains the United Federation of Planets ever faced was the Borg. They were a seemingly unstoppable force that would assimilate entire races into their collective, stripping away everything that made them special and unique before moving on to find something new to consume.
In this sense, Star Trek's current overseer – Alex Kurtzman – is very much like the Borg. He has been known to churn out one disappointing Star Trek series after another, each of which disregards established canon but still trades off nostalgic references from better series which came before, all to the growing ire of abused Star Trek fans.
But with the news that Viacom/CBS has signed Alex Kurtzman and his production company Secret Hideout to a new overall deal until the year 2026, the message to Star Trek fans is clear…
Resistance is futile
President and CEO of CBS, George Cheeks, recently called Alex Kurtzman "our future" in regards to the network. Kurtzman has a long history with both Paramount Studios and CBS. He and his former partner, Roberto Orci, cut their teeth on the popular syndicated shows Hercules: The Legendary Journeys and Xena: Warrior Princess. He then went on to team up with superproducer JJ Abrams on the shows Alias and Fringe.
Also on rt.com
Why Netflix's 'Knives Out' deal probably won't be the deadly blow for Rian Johnson's proposed Star Wars trilogy many fans hope for
But it was his feature film work that earned him the title of "Hollywood's Secret Weapon." Kurtzman and Orci's work on Michael Bay's The Island and Transformers movies, as well as The Legend of Zorro and the revitalization of Mission: Impossible (again, with JJ Abrams) led to Kurtzman achieving "golden boy" status, particularly at Paramount. All this led to Kurtzman being part of the creative team behind the Star Trek movie reboot, starting in 2009 (yet again, with JJ Abrams).
Despite being well-regarded in Hollywood, with his projects from 2005 to 2011 having grossed a combined total of around $3 billion, Kurtzman is widely known as being a "bad writer with good ideas." He's known for his high concept stories, but also for poor dialogue and nonsensical plotting. He's also widely known for having little-to-no artistic integrity and will make changes based on studio mandate, whether they make sense or not.
Of course, this reputation as a "wunderkind" in the entertainment industry stemmed from Kurtzman's strategic alliances with a group of tight-knit professionals including JJ Abrams, Damon Lindelof (LOST), Roberto Orci, Adam Horowitz (Once Upon A Time), Bryan Burk (Abram's longtime producing partner), and a host of others. However, Kurtzman's track record after breaking off his partnership with Roberto Orci in 2014 and stepping out from JJ Abram's shadow has been less than stellar.
After his stint on the JJ Abrams' Star Trek films, Kurtzman chose to move to Sony Studios to focus on the Spider-Man franchise, where he wrote The Amazing Spider-Man 2 and was tapped to write The Amazing Spider-Man 3 as well. He was gearing up to develop a cinematic universe around Sony's Spider-Man license and was going to oversee a series of films based on The Sinister Six characters. Kurtzman was also going to be the writer and director of the Venom film as well.
Also on rt.com
Sorry, Star Wars fans. Kathleen Kennedy has a long time to go, and her departure is far, far away
However, the box office disappointment of The Amazing Spider-Man 2 caused Sony to "re-evaluate" its plans for the web-slinger, and before long, Kurtzman had jumped ship over to Universal, where he was put in charge of that studio's proposed "Dark Universe", which Kurtzman conceived as a shared-cinematic universe for the studio's classic monsters.
The "Dark Universe" was set to kick off with The Mummy, which Kurtzman would direct, and Tom Cruise would star in. While this was going on, Kurtzman's TV production company at CBS, Secret Hideout, had been tapped to co-produce the flagship season of Star Trek Discovery – the first new Star Trek TV show since 2005 – alongside Bryan Fuller's Living Dead Guy Productions. However, Kurtzman's focus on Universal's "Dark Universe" meant he had little involvement (or interest) in any of his TV projects at the time. It wasn't until The Mummy flopped that Kurtzman would retreat back to TV.
With a reported $300 million budget, the film grossed only $80 million domestically and around $400 million world-wide (an abysmal performance for a movie starring Tom Cruise). Within days, Universal had ended its deal with Kurtzman and cancelled the plans for his "Dark Universe." Thus, after essentially killing two huge cinematic franchises, Kurtzman went to the only place left to him – CBS and Star Trek.
Since that time, Kurtzman has been actively involved in all aspects of the Star Trek universe, producing three seasons of Star Trek Discovery, two seasons of Star Trek Picard, two seasons of the animated show Star Trek Lower Decks, and one season of Star Trek Prodigy, another animated show aimed at young viewers.
But the advent of "Kurtzman Trek" has rubbed many longtime fans the wrong way. Under his leadership, Star Trek has become more expensive to produce, introduced nudity and foul language into these traditionally family-friendly shows, and has seemingly completely disregarded long-established canon, all along with the kind of nonsensical bad writing Kurtzman is known for. This has led to a massive fan backlash, with only the most loyal core of the Star Trek fanbase (who are willing to accept anything with "Star Trek" in the title) happy to watch these new offerings.
Many had hoped that CBS would be taking the Star Trek license away from Kurtzman and his Secret Hideout company when their initial overall deal with the network was scheduled to end in 2023. But the new deal (rumored to be in the $150 million range) now ensures Kurtzman's control over Trek until at least 2026.
Why CBS looks at Alex Kurtzman as its "future" has little to do with the quality of his offerings (his abysmal series Clarice, based on the iconic book The Silence of the Lambs, was cancelled after only one season) and more to do with his output. In a world where studios are scrambling for content for their streaming services, producers like Kurtzman, who are able to get multiple series off the ground simultaneously, are in high demand. Never mind the quality, just admire the quantity, perhaps.
In addition to the current Trek offerings, Kurtzman is actively developing three new series – Strange New Worlds, Section 31, and Starfleet Academy. He's also developing new original offerings for CBS's Showtime channel, the subscribers of which are important to Paramount+'s bottom line.
"He has an almost supernatural ability to keep separate train tracks in his head, this show, this show and this show, and he can jump from one to the other," Kurtzman's writing partner Jenny Lumet said in an interview with the New York Times. "He is one of the few people who can keep all the trains running."
Which is a great skill to have, if you don't mind a few of the trains going off the rails and crashing spectacularly. News of Kurtzman's overall deal hit Star Trek fandom like a nuclear bomb, causing numerous social media posts decrying the decision.
At the end of the day, this is another example of Hollywood being tone-deaf to their audience and continuing to work with creatives that care more about their egos than the long-term health of the franchises they've been entrusted with.
For now, Kurtzman and his control over Star Trek are here to stay – boldly going where no one wants to go.
The statements, views and opinions expressed in this column are solely those of the author and do not necessarily represent those of RT.
You can share this story on social media: