My life in a US death-row prison complex plagued by killings, Covid and abuse, while the executioners get busy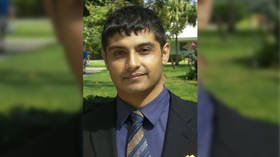 I'm doing 10 years in jail because I defended a child when many feared she'd be killed due to medical malpractice. Will Joe Biden, apparent opponent of the death penalty, end the obscenities I've witnessed here?
"You're killing an innocent man," uttered Daniel Lewis Lee.
He could feel the IV tubes in his arms as he maintained that he was at "the other end of the country" at the time of the murders he was being killed for. He asked that, after his death, the 10 mainstream media witnesses investigate why his trial judge had barred the crucial DNA testing of a hair sample.
Then the executioner started the lethal injection, ending a bipartisan 17-year moratorium on the federal death penalty. Twenty minutes later, Lee was dead.
That was July 2020. Democratic presidential nominee Joe Biden was on the campaign trail, pledging to restore America's soul. President Trump was at the peak of his administration's war on "the China plague," Covid-19.
Those journalists present at Lee's death have not yet acted on his final request. Instead some have described how Lee's execution affected them.
He was strapped to a gurney in Terre Haute, Indiana, aka home of the federal execution death chamber. I was a stone's throw away, locked down, serving 10 years for fighting to save kids from vicious medical abuses like these described in this Congressional testimony.
My crime? I'm doing 10 years in jail because I found out that an innocent, learning-disabled, 15-year-old girl named Justina Pelletier was being tortured by the nation's leading pediatric teaching hospital and that the authorities were too corrupt to stop it. So, without hurting a soul, I defended her life in a way that few others could. For this, I was arrested and prosecuted in 2018.
Also on rt.com
'Miscarriage of justice': Jailed hacktivist & his wife share their plight (EXCLUSIVE)
Big executions, big business
That week's particular lockdown at Terre Haute lasted five days while the Federal Bureau of Prisons (BOP) and the then US Attorney General William Barr put to death in rapid succession Lee, Wesley Ira Purkey, and Dustin Lee Honken, in the start of a last-minute killing spree during the final months of the Trump administration, even as Covid-19 ravaged the nation's prisons.
Here in Indiana – where Trump smashed Biden by 19 points – executions are big business. The sprawling, 1,145-acre Federal Correctional Complex (FCC) that I and 3,000 other prisoners reluctantly call home, is the sixth-largest employer in the city.
To administrators here, executions equal media attention, politicking and career advancement. They gather officials from across the US for each killing. Between Honken's date with the needle and Biden's inauguration six months later, they conducted 10 more lethal injections at Terre Haute, for a total of 13.
Eric Williams was the executioner for five of them. He routinely tells federal courts that the deaths are peaceful and painless, in order to counter claims that the drug used, pentobarbital, represents a cruel and unusual punishment in violation of the Eighth Amendment.
But media witnesses and others provide different accounts. Dying prisoners, according to the Associated Press, roll, shake and shudder, sometimes for up to a minute.
William Breeden was a spiritual advisor to Corey Johnson during his January 14 lethal injection, inside the execution chamber with him. "Corey said his hands and mouth were burning," Breeden filed in a deposition the next day.
Rick Winter, an attorney for the prison, filed a counterclaim swearing that neither he nor anyone else heard Johnson's statement. Not surprising perhaps, since the prison disables the audio feed from the chamber before each killing.
My cell, in medium security, is inside Terre Haute's old death-row building, which housed Oklahoma City bomber Timothy McVeigh before his 2001 lethal injection. Executions were later paused, and the authorities moved death row to another section across from me, behind the walls of the high-security US penitentiary.
Today, a man called Brian Lammer is warden of the prison where I reside. The week when executions resumed in 2020, he twice each day served us prisoners Chex party mix snacks, in apparent celebration. I filed a complaint over this in the US district court.
The head of the Death Penalty Information Center, Robert Dunham, condemns such tactics, saying: "The deliberate falsehoods that numerous Department of Justice and Bureau of Prisons officials told, the apparent enjoyment they received in inflicting emotional pain and mocking the suffering of the prisoners, suggests they weren't indifferent to the prisoners' needs – they were intentionally inflicting emotional distress."
Also on rt.com
'Really intense': Wife of inmate in Epstein prison tells RT how secure facility usually is
Southern District of Indiana Chief Judge Jane Magnus-Stinson, a 2010 Obama appointee, at least twice entered injunctions against federal executions due to the pandemic. Her first was July 10, three days before Lee's death.
The family of his victims had sued Barr, claiming his rush to kill Lee during the pandemic left them with an "impossible choice". Magnus-Stinson agreed, saying the date would force a family member "to choose whether being present for the execution of a man responsible for the death of her daughter and granddaughter is worth defying her doctor's orders and risking her own life."
The family had long requested that Lee get a life sentence instead of death. One relative said: "It's a matter of... saying, `This is not being done in our name; we do not want this."
Unmoved, Barr appealed, and claimed the BOP could "carry out these execution[s] without being at risk." The next day, the DOJ confirmed that an execution staffer had tested positive for coronavirus. Thus, some might have called the family's lawsuit and the injunction prescient.
Despite that, 48 hours later, three judges on the US Court of Appeals for the Seventh Circuit in Chicago stigmatized the family's case with the f-word of litigation: frivolous. It ruled that surviving relatives had no right to witness executions; therefore, pandemic or not, the BOP could carry on.
On the bench that day was the Seventh Circuit's newest member: Amy Coney Barrett. Three months after Barrett voted in Barr's favor, Trump favored her to succeed Ruth Bader Ginsberg on the Supreme Court.
The toll mounts
Six months later, a third of the deaths at Terre Haute weren't from pentobarbital, but coronavirus and one case of murder.
Jose Nieves-Galarza, for example, was never sentenced to die. Yet in 2020 he was the first to leave the prison in a body bag, having never experienced Covid-19.
The 59-year-old was found in his cell on May 5, months from release on a seven-year bid (a sentence) for being a felon in possession of a firearm. His cause of death was homicide by blunt-force trauma and terminal exsanguination. In other words, he was beaten then bled to death.
But that's not what Warden Lammer told the public, or Nieves-Galarza's family, or a senior judge. Although the BOP's press release expressly stated coronavirus didn't appear to be a factor in the prisoner's death, it omitted any mention of violence. To the judge, Lammer wrote that Nieves-Galarza had "passed away" from causes yet to be determined.
The FBI's been investigating the death, but answers remain unforthcoming.
The long, deadly reach of the Klan
The same week Lee, Purkey, and Honken met their fates in Terre Haute, the state of Indiana was still trying to exorcize its demons over its almost century-long connections with the Ku Klux Klan and a history of anti-black discrimination.
The present echoes the past. Before federal executions resumed in July 2020, 35 of the 62 federal death-row prisoners in Terre Haute were minorities. Blacks, 12% of the US population, make up nearly 42% of the federally condemned.
More common than complexion, however, those facing Uncle Sam's needle are universally poor.
Had Lezmond Charles Mitchell and Keith Dwayne Nelson knowingly downplayed the deadliness of a lucrative prescription opioid, that caused nearly 1.5 times the death toll of coronavirus, they might have paid the feds $8.3 billion to settle without jail time. Had they allowed shoddy equipment to spark repeated wildfires that killed 85, they might have bought their way out for $13.5 billion. And had they cut corners on an airliner that crashed twice, killing 346, they might never have been indicted.
But Mitchell and Nelson didn't know important people, or have money. The feds didn't let them declare bankruptcy and begin anew.
They strapped them to a gurney and injected each of them with five grams of pentobarbital. They died 46 hours apart, August 26 and 28, 2020.
Mitchell, who maintained that his juvenile co-defendant was the aggressor, was the only Native American on federal death row, and is now the only one in modern history to be put to death by the US government.
The day before his execution, I tried to mail a letter to Forbes journalist Walter Pavlo. Pavlo had unflatteringly, but accurately, covered the BOP's handling of coronavirus, so we'd corresponded.
The week leading up to Mitchell's lethal injection was noteworthy. We'd been on total lockdown as the virus was spreading fast.
Also on rt.com
'Protecting money at expense of children': Jailed whistleblower's wife details his confinement to RT
Our warden was again serving Chex party mix and I felt within my rights to mail Pavlo a letter to advise him of events: The BOP had earlier battled federal prisoners in court over the right to publish articles and lost. The Supreme Court held in 1974 that prison authorities cannot withhold or censor mail they find unflattering or even inflammatory.
But I was yet to learn the lengths to which Terre Haute's attorneys would go to hit the execution dates.
Purkey's attorneys claim Terre Haute "stonewalled" them from gathering evidence to show he was mentally unfit. Lee's attorneys say authorities executed him "while multiple motions remained pending and without notice to counsel."
Did officials mislead courts to ensure executions scheduled from July 2020 to mid-January 2021 happened before the apparent death penalty opponent, Joe Biden, became president? I've little doubt.
There was blatant, obscene politicking. After Lee's injection, Trump's campaign sent out an email saying he had "Ensured Total Justice for the Victims of an Evil Killer."
But the day after I handed in my letter for mailing to Pavlo, I was still surprised that an officer came to my cell to accuse me of violating prison discipline. My letter had been confiscated, and the prison's "counterterrorism unit" had charged me with circumventing protocols.
Under normal conditions, prison discipline is hazardous. But at Terre Haute, Covid added a new dimension.
Well into the pandemic, one officer, Jason Bradley, contracted the virus. But that didn't stop him from entering Terre Haute and sanctioning prisoners. And to say that Bradley loosely complied with masking and social-distancing guidelines during that time would be generous.
The prisoners unlucky enough to interact with Bradley found they were punished beyond whatever sanctions he meted out officially. Even those who didn't contract Covid were placed in weeks of inelegant quarantine in the form of solitary confinement.
I'd tried to write to Pavlo then, too (and to others). The BOP's "counterterrorism unit" also blocked that correspondence; however, I later filed a copy in court.
My earlier reporting on coronavirus at Terre Haute was also blocked, but made it into federal-court records.
Also on rt.com
Suicide (non-)watch: What we know about Jeffrey Epstein's death...and what we don't
Time for the black prisoners to die
Six and a half hours after the lieutenant read me my rights, a deputy US Marshal read Lezmond Mitchell his death warrant and motioned to start the pentobarbital.
"We are very confident they [at the prison complex] have it under control and contained," said department spokesperson Roni Elder. He meant Covid, rather than the pentobarbital, but both turned out to be wrong.
Eight days later prisoner Byron Dale Bird, 65, died of Covid-19. The day after, prisoner Tim Hocutt, 53, died within hours of testing positive.
There were more than 40 inmate cases in the complex 24 hours thereafter. Lethal injections carried on, uncontrolled and uncontained.
William Emmett LeCroy ate his last meal September 22.
Christopher Andre Vialva, the first black prisoner to face the needle in 2020, was executed September 24. Less than a week later, Barr scheduled that of a second, Orlando Cardia Hall.
"Five of the first six to die [by lethal injection] were white, which critics argued was a political calculation to avoid uproar," noted AP. "The sixth was Navajo."
An all-white Texas jury had agreed with prosecutors that Hall, 49, should die for his role in the kidnap, gang-rape and murder of 16-year-old Lisa Rene in 1994. He was one of five perpetrators, but the only one executed, on November 19, despite fears it would set off a racial "tinderbox."
Twenty-one days later, Covid cases at the complex numbered at least 326. Of the 1,316 high-security prisoners here, 128 had tested positive on December 8. In the medium-security section it was 198 of 887.
Two days after these numbers were reported, the DOJ executed Brandon Anthony Micah Bernard, its third consecutive black man.Twenty-three hours later, Alfred Bourgeois, also black, went to his death on the federal gurney, professing innocence.
By December 22, the high-security section of the complex that houses death row reported 281 coronavirus cases, the most in the BOP.
Also on rt.com
'Colossal and devastating' ransomware attack targets hundreds of US companies, cyber researchers say
At least four at Terre Haute died of Covid-19. Lifer James Lee Wheeler had tested positive two days before Hall's execution. Aged 78, he had multiple comorbidities. Yet the warden took eight days to send him to hospital.
While doctors fought to save Wheeler's life, Barr and the DOJ fought to expand their options to execute others. They moved to amend regulations to include not just lethal injection, but "any other manner [of death] prescribed by the law of the state in which the sentence was imposed."
The new regulation went into force December 24, allowing the DOJ to use nitrogen hypoxia, the electric chair, the poison-gas chamber, and firing squads.
At some point in December, Corey Johnson and Dustin John Higgs, who were scheduled to be the last prisoners executed before Biden's inauguration, also reportedly contracted coronavirus.
Counting chickens, wringing necks
While their executions were scheduled, a Twitter account named fozzythebear tweeted, "Don't count your chicken [sic] before they hatch, hopefully November and December will be a [sic] very busy month!" for death row. A lawsuit claims this was a prison officer called Andrew Sutton. He's since been removed from his job, but it's unclear if he's been fired or reassigned.
Sutton's not the only death-row staffer to face allegations of inappropriate conduct. One of my other official complaints – one that saw me thrown into solitary – concerns an officer called Todd Royer who is well known for his voyeuristic tendencies, and who burst into my cell while I was sitting on the toilet defecating.
Meanwhile, the killings continued apace. Instead of halting executions during the pandemic, a judge ruled the BOP could proceed so long as it enforced masks, tests and other requirements.
The same day, prisoner Joseph Lee Fultz, 52, entered Terre Haute. Four days later, he tested positive for coronavirus. It would be a busy week.
Also on rt.com
Doctors for Assange with Jill Stein, and Elon Musk's boring scam
It's time for a woman to die
Lisa Montgomery was the only woman awaiting federal execution at our prison. In 2004, she'd driven from Kansas to Missouri, ostensibly to purchase a puppy from a 23-year-old dog breeder who was eight months pregnant. Instead, Montgomery strangled her, cut her fetus from her womb with a steak knife and tried to pass the surviving baby off as her own.
Her attorneys argued she was not guilty due to mental incompetency and that she was unfit for execution. Her mother's excessive drinking while Montgomery was in the womb caused brain damage, according to court records.
"She was beaten, repeatedly raped by her stepfather and his friends, and sexually trafficked by her mother," noted The Topeka Capital­ Journal. "At 18, she married her stepbrother, who also beat and raped her. She had four children in less than four years before being sterilized. She lapsed increasingly into mental illness and repeatedly faked pregnancy."
Her execution had been postponed multiple times, including when her attorneys developed Covid-19 after visiting her.
By early morning January 13, Montgomery's stays of execution ran out. Her appeal to Trump for clemency was unsuccessful. At 1:31am, she was pronounced dead by lethal injection, the first woman executed by the federal government since 1953.
In its last week, the Trump administration was winding down. On January 14, as law enforcement braced for an uneasy transition in Washington, all 127 federal prisons were locked down from midnight January 16.
Did this shutdown stop the BOP from carrying out its thirteenth and final Terre Haute execution of the Trump administration? No.
Who's next for a body bag?
Dustin John Higgs was pronounced dead an hour and twenty-three minutes after lockdown began. He, too, died claiming to be innocent. But his was not to be the last death here.
On January 25, two weeks after Fultz tested positive for coronavirus, the warden classified the prisoner as "recovered." But the 52-year-old would see neither the fourth week of the Biden administration, nor an emergency room.
Staff found Fultz unresponsive in his cell February 7 and called emergency medical services, who pronounced him dead. He had been in Terre Haute for exactly a month.
The BOP knew Fultz had pre-existing conditions associated with high-risk Covid. But instead of taking him to hospital, he was put in solitary confinement. Alongside 13 executions, he was the seventh federal prisoner at this complex to die of other causes and the sixth to die of Covid.
He's unlikely to be the last.
My date with the discipline officer for writing to Forbes came on March 3, well into the Biden administration. Prison staff were still flouting social-distancing rules and defying the new executive order requiring masking on federal property.
An officer called D. Matthews came within inches of me and lowered his mask around his chin, exposing his nose and mouth as he spoke during the hearing. He sentenced me to spend an additional 27 days in prison, and it would be three months before I next spoke to my wife.
This is how the US justice system works. The claims of innocence asserted in the last words of the likes of Lee, Bourgeois and Higgs, as well others who remain on death row, remain untested outside federal courts.
The type of forensic hair analysis that federal prosecutors used against Lee was discredited years ago by a study undertaken in part by The Innocence Project; in one case, a hair that FBI analysts determined to be a likely match for the accused instead belonged to a dog. In Lee's case, the "likely match" remains unverified and unchallenged by DNA testing.
Lee's critics highlight that he was a white supremacist at the time of the murders.
That's true. But is that proof of murder, or a convenient pre-emption? Does the DNA from the hair found at the scene match him, or implicate another? Does Lee's alibi hold? Did Barr execute an American for a crime he did not commit? And do Lee's beliefs render these questions inconsequential?
Waiting for a new dawn
Merrick Garland has now been confirmed as the new US attorney general, while holdover BOP Director Michael Carvajal remains in place, as do almost 50 federal prisoners awaiting execution.
Although candidate Biden decried the death penalty "now and in the future," his administration continues with each passing day to fund federal death row at a cost of millions per year. If the transition in Washington has consequences, then Carvajal and Warden Lammer – whose arrival here coincided with Barr's push to resume executions–- are yet to feel them.
As I read the local Tribune Star, watch the TV news, and peer out at Indiana through the slats in my KKK-era brick-and-steel window, never do I see demonstrators holding signs to defund death row. Unless that changes, Biden can apparently bide his time as the one person who, in a pen-stroke, could put to death "death row" itself.
This is an edited version of an article that appears in full at FreeMartyG.com
If you like this story, share it with a friend!
The statements, views and opinions expressed in this column are solely those of the author and do not necessarily represent those of RT.
You can share this story on social media: