The real problem with US intelligence editing in disabled and blind people for its diversity report? It's still not diverse enough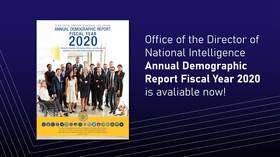 The Office of the Director of National Intelligence has been mocked for using images on the cover of its annual report that were clearly Photoshopped. Still, where were the Inuits, the Arabs, the Native Americans and Durin's sons?
To prove to the West's enemies in the espionage world – and the people the US intelligence services are sworn to protect – that operational effectiveness, safety and security is not the primary concern of American spies, the Office of the Director of National Intelligence released its Annual Demographic Report this week with a cover deigned to demonstrate the office's commitment to diversity.
It seems the report was moments from heading off to the print house when someone (perhaps Director of National Intelligence Avril Haines) realized the cover's group glamour shot wasn't quite diverse enough. So, a crack special farces team went to work badly editing in a paraplegic and a blind guy with a service dog.
I could point out how cynical this ponderous act of blatant pandering looks. I could argue that not a single citizen is safer because the US intelligence community wants to advertise what its employees look like (or don't, in this case). I could insist that the citizenry couldn't give a toss what cultural background the people defending their security and freedom come from as long as they get the work done.
Also on rt.com
Religion may be declining in the USA, but religiosity is on the rise, only this time the zealots have traded prophecy for politics
Finally, I could remind the folks working in this intel office that their enemies are too busy plotting bombings or hacking the oil industry to pick just the right clip art pooch to lead a blind spy across Pennsylvania Avenue.
Still, I want to be more constructive. Perhaps I can assist the DNI by politely pointing out how the addition of just two diversity subgroups comes up severely short of the mark. We need more minority communities represented, so – in keeping with the sledgehammer subtly of the edited photo's visual coding – these additions have to be made urgently clear.
First of all, the blind man they glued onto the edge of the shot doesn't quite scream "Sightless!" strongly enough for me. Let's turn him around the wrong way. I also think we might offend some disabled advocacy groups since the wheelchair lady still has both legs. Bring in that mitre saw.
I'm sensing a subtle, yet disturbing anti-Semitic vibe in the air, so let's throw off the brakes and get a Hasidic rabbi in the group – maybe taking a page from the template Mel Gibson used for 'The Last Temptation of Christ'.
We need a much stronger Latino/Latina/Latinx presence, so I suggest a Mariachi trumpeter with a llama pinata on a stick or one of those bandits from 'Treasure of the Sierra Madre', sans stinking badges. Jump back to Europe quickly and make sure we get a lady mime with a baguette playing an accordion alongside a tuba player in lederhosen smiling behind his beer stein. I wouldn't say no to a sheik in full 'Lawrence of Arabia' festoonery, standing next to a Jedi knight for visual balance.
For historical flair, pile in a Native American in full headdress. We could make that a dead Native American so onlookers can feel ashamed of the 19th century while acknowledging their inclusiveness. Table that for now.
Also on rt.com
War is peace, segregation is 'diversity'? A Chicago mayor banning white reporters proves the US has entered dangerous territory
Throw in an Edwardian cricketer, Crocodile Dundee, a lizard alien and a dwarf from 'Lord of the Rings'. Sneak in a wizard to keep the Jedi company and one of those "furries" in full anime raccoon costume to acknowledge more unusual sexual proclivities because I don't think the trans dominatrix in the rainbow flag rubber bikini I ordered will arrive in time.
In case that's too many men, be sure to add Rosie the Riveter and Bethany Hamilton (… she's attractive and a shark bit her arm off – checking off multiple boxes right there). We could absolutely use one of those 600lb women from reality TV shows as everyone in the photo is just a tad too thin.
My eyes keep going back to the blind man, if that isn't cruel to say. His dog barks of white privilege, so let's balance the beastial books. We need a cat. No. Make it a three-legged cat. No. Ignore the obvious dangers and get me a black panther – the animal version, not whatever Marvel comes up with next.
We'll keep the Noah gimmick rolling with a saltwater tank decorated with some endangered coral. Jam in a dolphin so fish are covered. Some pain in the backside will point out a dolphin is a mammal, so sink a sea dragon in the mix. They're interesting. Have you seen one? Don't get it if dolphins eat them.
Also, if I can just blue-sky here for a moment, how about a stoat?
This is really taking on a Sergeant Pepper's album cover ambiance here, and they're all leaving their egos at the door. Let's add some much-needed youth – the kids from the Vienna Boys' Choir, if that's still a thing. Was that forced to go co-ed yet? If not, fly in some of those young girl Chinese acrobat teams Cirque du Soleil employed by the gross before it went bankrupt. That's the Asian, communist and contortionist communities sated.
Make a note to strike the NAMBLA members. I'm not sure how they got past the bouncer.
Back to it. We can't call them Eskimos anymore, so get one of those in the shot without using that word – preferably with a freshly speared seal. An astronaut in full space walk kit wouldn't hurt. The Gandhi look alike might be overkill. Let's go with the Flemish merchant of the 15th or 16th century. (That's a deep pull, but someone will get it.)
Finally, if we must, if the Sears Portrait Studio stage this lot is standing on can stand a couple more pairs of shoes, I supposed it wouldn't break us to squeeze in a Canadian and/or a ginger. That's last resort, though.
Done. I feel like I've made as much of a contribution to the US intelligence service as Wild Bill Donovan or Jonna Mendez (… look her up, please, it's worth it). Sure, I'm tired – but it's a good kind of tired. All that matters is the physical and virtual security of the West is now guaranteed because those charged with maintaining the watch made sure no one on their team looks alike.
Rest assured every opponent from enemy spies to terrorist groups just tore up all of their long-standing plans because they face the right, indomitable mix of genders, colors, sizes and disabilities.
Like this story? Share it with a friend!
The statements, views and opinions expressed in this column are solely those of the author and do not necessarily represent those of RT.
You can share this story on social media: