By suggesting all Christians are Republican, Biden's IRS is making America more polarized than ever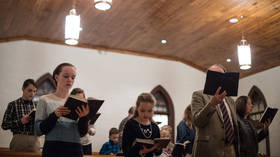 A non-profit group Christians Engaged has been refused tax exempt status due to apparent Republican leanings. Making judgements on people's politics based on religion is a bad idea that can only further divide the US.
Joe Biden is no stranger to controversies with the IRS. During his time as vice president with the Obama administration, there was widespread criticism of its targeting of conservative groups using the IRS as a bludgeon. There was always the possibility that history may repeat itself, but an IRS letter recently sent to the group Christians Engaged – which denied the non-profit organization tax-exempt status – could take things to a whole new level.
Christians Engaged's mission statement reveals its intent "to awaken, motivate, and empower ordinary believers in Jesus Christ to: pray for our nation regularly, vote in every election to impact our culture, and engage our hearts in some form of political education or activism for the furtherance of our nation." Sounds innocent enough.
However, Exempt Organizations Director Steven A. Martin didn't see it that way. His response to the group's application for tax-exempt status was that "biblical teachings are typically affiliated with the Republican Party and candidates." Part of his contention was an allegation of intervention in a political campaign, which is prohibited. He also suggested the group "operate[s] for a substantial non-exempt private purpose and for the private interests of the D [Republican] party."
According to First Liberty, which is representing Christians Engaged, what led to these accusations was not elaborated upon, which is alarming enough. But even more worrying is the assertion that biblical teachings are inherently Republican.
It's true that there are a great many Christians who do vote Republican. There is a reason that the Evangelical voting bloc is often talked about extensively whenever it comes to elections. However, to suggest America's Christian movement is exclusively Republican is preposterous.
For example, there will be many black pastors whose entire congregations likely do not vote Republican given the extent of black support for Biden at the last election. There's also a majority of Catholic Latinos who vote Democrat.
Those on the left have already lost a fair amount of ground with the average American, and this lazy assumption could see more votes lost. In a 2018/2019 Pew Research survey, 65% of Americans identified themselves as Christian. That's still a significant number. Should Christians start to be targeted – on the assumption that they're associated with the Republican Party – our already divided country is going to be more polarized than ever.
And is this in the interest of the Democrats in the long term? Some have argued that they seem to want to become more secularistic. But the question that the Biden administration, and the Dems as a whole, need to answer is whether or not they want to start cutting off people based on their belief in God? If they do, they're likely to face more backlash than they know what to do with. In fact, it might be the first thing that gets the US Christian movement on the same page in a long time.
Like this story? Share it with a friend!
The statements, views and opinions expressed in this column are solely those of the author and do not necessarily represent those of RT.
You can share this story on social media: