So much for tolerance: Don Lemon shows no respect for Catholics by demanding that Rome change its views on same-sex marriage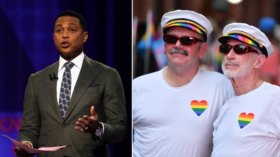 Don Lemon showed his lack of understanding for Christian beliefs when he said that Rome should reevaluate its teachings on same-sex marriage. It's an ill-informed comment that is similar to Lemon being asked to 'stop being gay.'
When Don Lemon went on ABC's The View on Monday and told the Catholic Church to "reexamine" its choice not to bless same-sex marriages – following the Vatican's decree that it "cannot bless sin" – he must have known what he was getting himself into.
Also on rt.com
I'm a devout son of a Christian pastor, and I think the church is creating atheists
During his appearance, he stated "...I think that the Catholic Church and many other churches really need to reexamine themselves and their teachings because that is not what God is about." Really? That's something of a silly idea, considering all you have to do is look at Leviticus 18:22 to realize that the policy comes straight from the Bible.
CNN's Don Lemon reacts to the Vatican declaring that God cannot bless same-sex unions:"God is not about hindering people or even judging people." pic.twitter.com/j2PTumaZXv

— Daily Caller (@DailyCaller) March 15, 2021
This is the common misunderstanding that seems to afflict many people who aren't Christians when it comes to church policy on same-sex marriage. To a Christian, the Bible is a static thing. It's considered to be God-breathed, meaning it is an absolute. If you don't adhere to it, you risk an eternal punishment.
So if you ask Catholics to do what Lemon is asking them to do, they're going to come to the same conclusions. What Lemon wants is for God to adapt and change to give approval to how he lives his life, and that's just not going to happen.
As a believer myself, I see a bit of an irony here, because it feels like a role reversal. For years, gay people have had to deal with Christian fundamentalists asking them, essentially, to 'not be gay.' The argument from those who are gay is that this is like asking a tiger to change its stripes. They are attracted to the same sex, and they can't just change that about themselves. But the truth is Christian beliefs are just as static as someone like Lemon says his sexuality is.
Christian belief is that God is eternal. As such, his word is as eternal as he is. So if Christians are being asked to change their views on matters of this nature, we may as well be asked to change God. To ask someone to change the nature of what they believe is like asking them not to be themselves any more. Lemon is someone who often talks about having empathy, but his inability to show any for Christians is rather odd. It's indicative of a form of hypocrisy that is far too common in politics these days.
Ultimately, most Christians have learned to live with the fact that same-sex marriage is legal. That element of the culture war has been won already, and it's over and done with. The thing about Freedom of Religion and Freedom of Association is that people are allowed to have different beliefs and choose who they do and don't associate with. Don Lemon has known for years that Christians aren't going to agree with how he lives, but he has the freedom to do so.
Also on rt.com
Holy smoke, the Pope's gone woke… but that's not what Christians want or need from a spiritual leader
Now he needs to respect that he's making the same unreasonable demands of Catholics that were made of him. And if he wants to bring more scripture into it? Well, he should remember "do unto others..."
Think your friends would be interested? Share this story!
The statements, views and opinions expressed in this column are solely those of the author and do not necessarily represent those of RT.
You can share this story on social media: