US would show no mercy to Assange if he's extradited, but Bush & Blair will never face justice for their crimes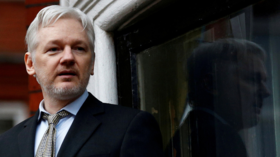 US assurances that Julian Assange will, or rather may, not be imprisoned under harsh conditions if he's extradited from the UK cannot be taken seriously because the entire case is built on fabrications and is rife with foul play.
A key witness in the US prosecution against Assange has admitted to having fabricated his testimony. Icelandic newspaper Stundin revealed that Sigurdur Ingi Thordarson, nicknamed "Siggi the Hacker," had lied in his witness testimony against Assange. This came a few days before the UK granted the US limited permission to appeal.
Thordarson's testimony against Assange was part of the "alleged conduct" added to the superseding indictment unveiled in June 2020. This indictment contained no new charges but included a narrative that painted Assange as a hacker and co-conspirator, alleging the WikiLeaks founder had asked Thordarson "to commit computer intrusions and steal additional information." This could be used to obtain a conviction and/or heavier sentencing.
Also on rt.com
Snowden declares 'end of case against Julian Assange' after newspaper reveals LIES by key witness in US extradition case
Thordarson is not the only witness for the prosecution with a questionable background. Another witness known as "Sabu," who turned informant for the FBI, also contributed to the false narrative against Assange.
These false testimonies and dubious expert witnesses show how seriously the US is trying to smear Assange both publicly and in court. They want to paint him as a cyber-criminal and a hacker for undertaking standard journalistic practices.
As part of a deal, Thordarson received immunity for his fabricated witness testimony. Usually with a bombshell revelation like this, the case would fall apart, and its legality be called into question. The US' entire case is built on fabrications, and is rife with foul play. US intelligence allegedly spied on Assange during his asylum in the Ecuadorian embassy in London and even discussed kidnapping him and poisoning him. His lawyers also had their offices broken into.
It's important to underscore that, even if this alleged conduct were true and Thordarson had not lied, it would not make any of the documents Assange published any less relevant to the public interest. It would not make America's war crimes any less horrific. Assange's activities as a publisher remain protected under the First Amendment, hence why the case against him is fundamentally a case against press freedoms.
There is nothing normal about the prosecution against Assange: It's rife with illegalities, foul play and government misconduct
On July 7, a High Court in the United Kingdom granted the United States limited permission to appeal the January 4 decision of Judge Baraitser not to extradite Julian Assange. This ruling was made solely on health grounds. The Biden administration, however, indicated it would be appealing this decision, continuing where his predecessor Donald Trump had left off. And now the UK has granted them permission to do so.
Baraitser accepted that Julian's mental health condition was precarious and would further worsen if extradited to the US. The US prosecution indicated that it will put Assange in ADX Florence, a federal super-maximum prison in Colorado, where he would be placed under a regime of Special Administrative Measures (SAMs). Prisoners placed under these draconian SAMs are locked in their cells 23 hours a day, with no contact to the outside world. They are allowed a single 30-minute phone call per month to a pre-approved contact. The phone calls must be arranged in advance so that an agent can be made available to listen in. All incoming and outgoing mail is screened. Lawyers representing prisoners under SAMs are placed under a gag order and client-attorney privilege is revoked as conversations between inmates and their lawyers are also monitored.
An extradition to the US would certainly elevate Julian Assange's risk of committing suicide, as corroborated by numerous health experts.
Also on rt.com
Assange may never recover from 'torture' at Belmarsh, suicide becoming more likely the longer he stays in prison – doctor to RT
Judge Baraitser cited section 91 of the Extradition Act 2003 in her ruling against extradition. Gary McKinnon and Lauri Love, whom the US attempted to extradite in previous years, also had their extradition requests blocked on health grounds, but only after a grueling, exhaustive legal battle lasting a decade. Gary McKinnon is accused of perpetrating the biggest computer hack of all time and was the first person in the UK to have the legal template of the Extradition Treaty tested on him. I spoke with Gary here about this exhausting legal battle and the false "assurances" the US provided him with.
Even though Judge Baraitser did block Assange's extradition on health grounds, she sided, however, with all the political charges put forward by the United States, such as espionage and conspiracy. This is not good for Assange, of course, but it's terrible for journalism, as her ruling effectively criminalizes everyday activities that journalists undertake, such as protecting sources, and soliciting classified information. That's not espionage or conspiracy.
In a High Court appeal, the US would now only have to argue against the health grounds cited by Judge Baraitser. Meanwhile, all of the political charges Assange is accused of will not be debated, nor Baraitser's approval of them, overturned.
The only possibility of having these political charges re-examined is if the Assange defense team decides to launch a cross-appeal. However, we have no indication at this time as to which direction they might go.
Also on rt.com
Aussie PM's refusal to back WikiLeaks' Assange is 'morally bankrupt' says MP in Oz who also tells US & UK: 'enough is enough'
In an attempt to quell concerns about the inhumane conditions of US prisons and Assange's deteriorating health, the US offers Assange promises it can't keep
The New York Times reported the US allegedly offered the UK some "assurances" in order to alleviate concerns surrounding Assange's health.
The first was that the US would not place Assange under SAMs. Ask anyone who's covered the case and they'll tell you this is highly unlikely. When I was in London myself, I recall how much time the US spent in court trying to convince the judge that SAMs were not all that bad. The notion that they've suddenly abandoned this seems extremely unlikely.
The mainstream media has misreported this as the United States saying it won't place Assange under SAMs – when the US is actually saying it might not, and still reserves the right to do so. The US makes clear that this depends on whether he does something to upset them – conveniently, they don't specify what that could be. The power to place Assange under SAMs lies with the CIA director and Attorney General. Given their contempt for him, does anyone think for a second they would show any mercy?
Assange's partner, Stella Morris, reacted to this by saying that the guarantees proposed by the US were "not worth the paper they're written on."
Lindsay Lewis, defense lawyer for Abu Hamza, an inmate at ADX Florence, explained previously in court that the US is highly unlikely to follow through on any such guarantees. Her client was punished for conveying his love to his one-year-old grandson, an innocent remark which the US interpreted as a violation. He was then placed for one year under SAMs.
Also on rt.com
Tara Reade: Assange's shameful treatment shows just how the US exploits fear to silence dissent… as I found out, too
In order to downplay the severity of SAMs, the US argued that inmates (placed in solitary confinement for 23 hours a day) were allowed out of their cells for "recreation." This "recreation" entails a prisoner leaving their cell, and being allowed into another empty cell, alone. Prisoners are also afforded the possibility to exercise (again, alone).
Maureen Baird, the former warden of New York's Metropolitan Correctional Center, oversaw prisoners subjected to a SAMs regime, and disclosed in detail how inhumane the conditions are. Robert Hood, the former warden of ADX Florence, has described the facility as "worse than death."
The second "reassurance" put forward by the US was that Assange could reportedly serve his sentence in Australia. Perhaps 175 years in an Australian jail might be better than the US option – however, I still fail to see why a journalist should be locked up in either one to begin with.
Assange recently turned 50, having spent the last decade being persecuted by various governments: Swedish, British and American. We heard in court how almost seven years in the Ecuadorian embassy had significantly damaged his mental and physical health, not to mention that, as of April 2021, he has now spent two years in Belmarsh prison – dubbed "Britain's Guantanamo Bay."
Also on rt.com
Zizek: Assange turns 50 in jail – a reminder of a Western democracy paradox he exposed, where non-freedom gives a sense of freedom
This is not so much about where Assange is jailed, but rather: why should he be jailed at all? Will George Bush, Tony Blair and all the other criminals who started the horrific Iraq and Afghanistan wars –exposed by Assange and WikiLeaks– be locked up for their part? Are they looking at doing two centuries in jail? What kind of society protects war criminals and jails journalists for telling the truth? Certainly not a democratic or civilized one.
Like this story? Share it with a friend!
The statements, views and opinions expressed in this column are solely those of the author and do not necessarily represent those of RT.
You can share this story on social media: