Worse than the Civil War? Biden's description of January 6 is designed to create even more division across America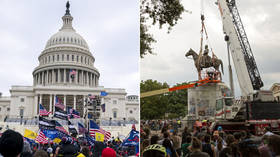 The US president took political exaggeration to the extreme when he said the Capitol rioters were worse than the Confederates. With this historical ignorance, he seems intent on framing all his opponents as enemies of the state.
Hyperbole is often commonplace within political theater. Many politicians know the worth of being able to tell a story or fashion an argument by using terms that will cause an emotional reaction. There are those who consider it dirty, but some of the best presidents in history were wonderful at framing things with the sort of storytelling that might have employed some poetic license.
Also on rt.com
Bumbling Biden's attempt to battle domestic terror seems doomed to end up targeting the wrong people
However, there is a limit to what's acceptable. And Joe Biden comparing the January 6 riot at the Capitol to the Civil War – as he did on Tuesday – is far too many bridges past being reasonable.
According to Biden, "The assault on free and fair elections is just such a threat – literally. I've said it before. We're facing the most significant test of our democracy since the Civil War. It's not hyperbole – since the Civil War. Confederates, back then, never breached the Capitol as insurrectionists did on January 6."
He then rather puzzlingly signed off by saying, "I'm not saying this to alarm you. I'm saying this because you should be alarmed."
Biden's words go well beyond acceptable hyperbole. They come across as if he is laying what happened on January 6 squarely at the feet of the Republicans. Indeed, you might even think he is suggesting the entire party is worse than the Confederates.
This is patently absurd, and a look at the numbers proves this. First, there was only one person who was actively killed during the January 6 riot: a woman named Ashli Babbitt, who was shot in the left shoulder. Four others passed away due to medical emergencies. Let's compare that to the 364,511 Union soldiers who died and the 281,881 who were wounded in the Civil War, bringing the Union casualty numbers to 646,392. If you look purely at fatalities on both sides, the total number of deaths was 624,511.
So, if I do my math correctly, for the Capitol riot to be comparable, 624,510 more people would need to have died. Now, it might be my bias talking, but I'm of the opinion that more than half million fatalities is far worse than a bunch of heads of state being rushed out of the building while a rabble of goofballs make a mess.
But then this isn't the first time that President Biden has used such insane rhetoric. During the 2012 election cycle, he claimed that Mitt Romney and the Republicans were going to put black people "back in chains" by unshackling Wall Street. (As a side note, the president should check his history books: it was the Republicans who freed the slaves, and if he wants to criticize anyone for the sins of slavery, maybe he should look at his own party first).
Also on rt.com
Team Biden & CNN's criticism of Facebook not censoring Trump BEFORE the election is wholly un-American
Obviously, the sort of rhetoric used by Biden is absolutely unacceptable. There is no logical reason to start comparing Republicans to the type of people who would want to actually own another human being. Statements such as this are so ignorant of history and so disrespectful to all of those who died securing freedom that any American should be disgusted by them. And as a side note, why aren't the Big Tech fact-checkers pulling Biden up for their blatant inaccuracy? Is it only Donald Trump whose speeches are policed?
Plus, if we're aiming to 'build back better' as Biden has promised, how on Earth are you supposed to get everyone on the same page when you're willing to dismiss half of the country in such appalling fashion?
Beyond the historical ignorance is a malice towards those with different ideas on how to govern this country that honestly has no place in modern politics. If the president really does want to unite America, he needs to realize that his current methods are failing – and that excessive hyperbole has no part to play.
Like this story? Share it with a friend!
The statements, views and opinions expressed in this column are solely those of the author and do not necessarily represent those of RT.
You can share this story on social media: