Bumbling Biden's attempt to battle domestic terror seems doomed to end up targeting the wrong people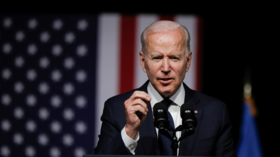 Joe Biden's administration has unveiled a plan to tackle domestic terrorism in the US. But with no definition of what is considered 'extremism' and a desire to get the public to snitch on neighbours, there's potential for chaos.
Most Americans despise terrorists, both foreign and domestic, and the US has experience of both. So, when the Biden administration came forward with plans to combat domestic terrorism, one would reasonably have expected some rather standard practices and understanding of what they are looking for.
But what has been revealed so far suggests America is being run by the party from George Orwell's 1984 if it were led by the three blind mice. The plans seem to revolve around encouraging people to rat on one another based on suspicions of radicalisation. And one of the goals is to draw up a list of prohibited 'extremist' activities for the Defense Department – even though what is considered extremism hasn't been properly defined yet.
The definition of extremism is the best place to start, because from a law enforcement perspective there needs to be a clear legal framework on what exactly is going to constitute 'extreme'. Normally speaking, domestic terror in the vein of white nationalism has been easy to define. The culprits are individuals who target others because they believe that the white race is superior to everyone else.
Also on rt.com
Crackdown on Capitol riot 'terrorism' may mean ARRESTS of people in Congress and around Trump, former FBI assistant director says
However, the person who has been put in charge of the Pentagon's Countering Extremism Working Group (CEWG), which has been tasked with implementing Biden's strategy, does not necessarily accept that definition, if his past comments are anything to go by.
Bishop Garrison, senior diversity advisor to defense secretary Lloyd Austin, has shown support for the 1619 Project (which has a much wider definition of white supremacy) and has slandered all supporters of Donald Trump as racists. Given that half of the country voted for Trump, it's a bit disconcerting for someone in such an influential position to think that half of the nation could fall into a category considered 'extreme'.
Silence from our Congressional leaders is complicity. He is only going to get worse from here, & his party and its leadership are watching it happen while doing nothing to stop it. Support for him, a racist, is support for ALL his beliefs.

— Bishop Garrison (@BishopGarrison) July 28, 2019
When we American citizens are told that this effort is going to be "agnostic as to political ideology", and one of the people in charge has very clearly demonstrated his political bias, the alarm bells start ringing. There's nothing politically agnostic about labelling half of the country racist based on who they voted for. There's also nothing politically agnostic about not having a definition set when it comes to what you're looking for in regards to law enforcement. When one of the people at the top is embracing ideas such as the 1619 Project and Critical Race Theory, the definition of 'extreme' could feasibly encompass anything.
What compounds this is the idea of opening up hotlines that encourage people to snitch on their neighbors for this same undefined 'extremism'. And if the definition that is settled on is as wide as the likes of Garrison apparently believe it is, this initiative starts to make even less sense. There are some people who subscribe to CRT that believe simply flying an American flag is a sign of white supremacy. Are those flag fliers 'extremists'?
Joe Biden's administration has been a mess from the very start, and this is just another example of it, but a much more frightening one. The end result will be nothing but embarrassment for all Americans, as our incompetence and sheer inability to come up with a plan to battle the actual bad guys is demonstrated to the entire world.
Like this story? Share it with a friend!
The statements, views and opinions expressed in this column are solely those of the author and do not necessarily represent those of RT.
You can share this story on social media: