China's vaccine diplomacy provides a glimpse of how a multipolar world might look... one free of suffocating US bullying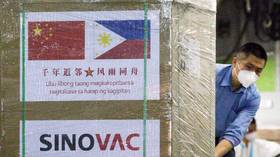 While rich Western nations have been busy hoarding vaccines and refusing to share them with the developing world, Beijing – and to a lesser extent, India – have increased their influence by helping poorer nations.
Broadly speaking, there are two ways to increase international influence. One is the Western way, through violence, imperialism and hard power: establishing colonies, destroying local cultures, extracting wealth, smuggling drugs, deploying gunboat diplomacy, enacting diplomatic coercion, engaging in economic bullying, imposing sanctions, waging war or carrying out bombings.
Another is to take the opposite approach: to attract people and other nations not by force, but by the gravitational pull of your ideas and values, your actions more than your words, by actually helping those in need. It's also called "soft power" – a term invented, ironically, by a US pundit (just the term, mind you, not the concept). India and China have been doing this for thousands of years.
One reason for India's positive reputation in Africa, for example, is its provision of affordable life-saving medicines. Indian-made generic drugs are far cheaper than those produced by Western pharmaceutical firms, which find lowering their prices as abhorrent as uplifting their humanity.
In fact, they even got the US regime to pressure the Indian government to restrict compulsory licensing and the aforementioned generic drugs, using the standard excuses of "intellectual property" rights. But New Delhi refused to cave in to Washington's pressure, US profits were severely curtailed, and countless lives were saved as a result – all thanks to India.
Also on rt.com
Real-world evidence clearly shows Russia's Sputnik V Covid-19 jab both 'safe & effective,' British science journal Nature reports
A pandemic of assistance
On the other hand, India doesn't exactly have a especially positive reputation in its own neighborhood, and for good reason, not least its disputed borders. Moreover, it has little material wealth to share with its neighbors. Unlike China, it has neither sufficient funds nor sufficient expertise for substantial infrastructure investment.
No wonder Indian officials and pundits keep touting "civilizational links" and "cultural ties" disproportionately. If cultural ties could fill stomachs, India's neighborhood would be the richest in the world.
Thus, when it came to the Covid-19 pandemic, India wisely initially played to its strengths. The country is the globe's largest vaccine manufacturer and accounts for 60% of its production – indeed, it's often referred to as the 'pharmacy of the world'. It sensibly recognized that strategic 'vaccine diplomacy' wouldn't only boost the Covid-19 immunity of the neighborhood, but also India's dented reputation within it.
Viral exports
Its initial resourcefulness was impressive. As soon as vaccines were available, and when its first wave began subsiding, India started donating and exporting vaccines – mostly the Oxford/AstraZeneca jab, manufactured in India as Covishield. The initiative was ambitiously entitled 'Vaccine Maitri' ('Vaccine Friendship').
However, a horrifying, unprecedented disaster was looming on the horizon, but one that officials should have anticipated: India's massive second Covid-19 wave. When it finally hit, New Delhi abruptly (and unofficially) halted vaccine exports, putting on hold multiple orders comprising tens of millions of doses.
Countries around the world were then compelled to import more from China than they'd originally planned. As India retreated, China stepped up. In April, Chinese Foreign Minister Wang Yi held an opportune virtual conference on Covid-19 with the foreign ministers of India's neighbors: Afghanistan, Bangladesh, Nepal, Pakistan, and Sri Lanka. India was invited, but refused to attend.
Such vaccine diplomacy has strengthened China's relationship with those same neighbors, who are also key partners in China's Belt and Road Initiative. So strong has been the momentum that even adverse events failed to derail it, such as a controversy late last year about Bangladesh refusing to share clinical trial costs with Sinovac; or an unhelpful remark by China's ambassador that bilateral ties would be damaged if Bangladesh joined the 'Quad' (a US-led anti-China alliance consisting of US, India, Japan, and Australia), which provoked a sharp rebuke from Bangladesh; or revelations of prices of Chinese vaccines sold to Bangladesh, Nepal and Sri Lanka that allegedly turned out to be much higher per dose than what India was charging.
If the allegations about the high pricing are true, it's possible that India, sensing an opportunity to save its plunging reputation in the neighborhood, had charged much lower prices. On the other hand, it's also possible that China sensed the desperation of India's neighbors and managed to drive a hard bargain. So, which of the rival states have done what and where?
Also on rt.com
Why does the long-standing, proven science of vaccines bring out foolishness and paranoia in the reactionary right?
Bangladesh: the murkiest of close ties
India and Bangladesh love flaunting their close ties, but the reality is far murkier. India's current home minister, Amit Shah, once referred to illegal immigrants from Bangladesh as "termites." Eager to salvage its reputation, India chose Bangladesh as the first destination for its donated vaccines.
By April, India had gifted 3.3 million doses and sold a further 7 million out of a total order of 30 million. China has so far gifted 1.1 million doses, and delivered 2m out of a total order of 15 million. Both nations are also working on co-producing China's CoronaVac vaccine in the country.
Sri Lanka: a one-horse race
Chinese and Indian vaccine exports to Sri Lanka have largely followed the pattern of both countries' infrastructure investments in Sri Lanka, with China far ahead of India. Sri Lanka initially ordered 10 million doses of Covishield, and eventually turned to China after realizing India's precarious situation.
China has so far gifted 1.1 million doses and sold 4 million, with 12 million more on the way. India has donated 500,000 doses, sold 500,000, and supplied 264,000 through COVAX before stopping exports.
Nepal: rifts and jealousy
India is jealous of Nepal's relationship with China, and often accuses Nepal of acting at China's behest. The gulf between Nepal and India has widened in recent years, and China has readily come to Nepal's aid with development assistance. Relations deteriorated further after India imposed a harsh blockade in 2015 (which India denies). The decades-old border dispute recently provoked controversy once again, with Nepal issuing a new map that was unanimously approved by its lower house of parliament. Hundreds of Nepali protestors took to the streets last year to protest India's inauguration of a road passing through disputed territory.
India has supplied 2.448 million doses: 1.1 million as gifts, 1 million as sales (Nepal has paid for 2 million but is yet to receive the other half), and 348,000 through COVAX. China has so far gifted 1.8 million doses, and Nepal has ordered a further 4 million.
Myanmar: a cautious tale
Both India and China released cautious statements regarding the government upheaval in Myanmar earlier this year. China, as usual, considers the event to be an internal affair. It is also, historically, a key ally of Myanmar at the UN, offering it diplomatic support and even using its veto on occasion to help it further its aims.
India has supplied 3.7 million doses: 1.7 as gifts and 2 million as sales. China has so far donated only 500,000 doses.
Pakistan: long-term adversaries / iron-clad brothers
Of all its neighbors, India has perhaps its most adversarial relationship with Pakistan. On the other hand, China is Pakistan's closest ally, and their relationship is often described with hyperbolic rhetoric – sometimes they are "iron-clad" brothers, sometimes "all-weather" friends. Pakistan's ambassador to China once went further, describing their close bond as "higher than the mountains, deeper than the oceans, stronger than steel, dearer than eyesight [and] sweeter than honey."
Understandably, Pakistan did not request any vaccine help from India. On the other hand, it was the first country to receive vaccine donations from China. China has gifted Pakistan 1.5 million doses and sold it around 15 million so far of about 64 million ordered.
Also on rt.com
Pfizer vaccine losing effectiveness amid Delta variant surge, Israeli Health Ministry says as it mulls 3rd shot & new restrictions
The vaccine Silk Road
China's vaccine supplies to the region have largely followed its global vaccine footprint. Beijing has emerged as an invaluable supplier of life-saving vaccines and other medical equipment to much of the world, particularly to low-income countries. Rich Western nations, on the other hand, have been busy hoarding vaccines. For months, they selfishly refused to share their stocks with the developing world, even after stockpiling enough for themselves.
Most vaccines available to low- and middle-income countries today are Chinese. China's supplies and assistance provide a glimpse of how a multipolar world might look – a world free of suffocating US bullying and incessant lecturing.
Numbers talk louder than Western propaganda. Of the approximately 3.29 billion Covid-19 vaccine doses administered so far, 1.3 billion have been administered in China and 480 million Chinese doses have either been administered, or are waiting to be, in 100 other countries. After controlling the pandemic at home better than perhaps any other nation, China is now helping others in South Asia handle it successfully, too.
Most countries in the region, many of them with pending deliveries from India, are empathetic to New Delhi's condition. Its unofficial ban on vaccine exports is understandable. Yet governments have to obtain doses from somewhere, and China – perhaps the only nation with the capacity to do so – has readily stepped in to fill that need. Multiple locations in the neighborhood are also looking at producing Chinese vaccines locally.
With India's second wave slowly receding and the country bracing itself for the inevitable third wave, it appears that extending the hand of Vaccine Friendship will have to wait a little longer.
Think your friends would be interested? Share this story!
The statements, views and opinions expressed in this column are solely those of the author and do not necessarily represent those of RT.