Bill Cosby is getting out of prison but, like America, he'll never regain his veneer of moral authority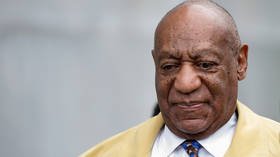 Once-beloved comedian Bill Cosby, a perfect representation of America's hypocritical, corrupt, deceptive and destructive culture, is getting out of prison soon, his conviction for a sex offense thrown out on a technicality.
The State Supreme Court of Pennsylvania overturned Cosby's conviction because a previous prosecutor on the case had made a deal stating the comedian wouldn't be charged criminally if he testified in a civil case brought by the alleged victim, ex-basketball player Andrea Constand. Cosby settled Constand's civil suit for $3 million in 2006 but was charged in 2015 for drugging and molesting her.
Thus far Cosby has served two years in a Pennsylvania prison on his three- to ten-year sentence, but won't be locked up on this particular charge anymore.
Also on rt.com
Bill Cosby sexual assault conviction OVERTURNED by court, actor released after more than 2 years in prison
Cosby, and the legal case against him, seem to me to be a perfect representation of America and its diabolically twisted culture.
The only reason Cosby was able to prey upon women, and long evaded his comeuppance, was because he had deceptively created a role for himself as the safest man in America – the nation's dad, the ultimate wolf in sheep's clothing.
Cosby's massively successful, curse-free, soft edged stand-up comedy routines of the 1960's led him to be a spokesman for such family-friendly brands as Coke and Jell-O, and to equally clean roles in film and TV, most notably as the creator and voice of the 1970's kid's cartoon Fat Albert, and Cliff, the ugly sweater-wearing patriarch of the Huxtable family on the 1980s smash hit tv series, The Cosby Show.
Cosby, who would be the first to tell you he had a Doctorate of Education from the University of Massachusetts, a fact highlighted every week in the credits of The Cosby Show, also wrote books with titles like "Fatherhood," "Love and Marriage" and "Childhood" to further reinforce his persona of being a gentle, loving dad.
Of course, while Cosby was wearing the Dr Jekyll mask of corporate American sainthood shilling for Coke and Jell-O, and mugging for the camera on The Cosby Show, he was actually Mr Hyde, drugging and assaulting women.
Also on rt.com
Bill Cosby denied parole after refusing sex-offender treatment therapy
And now Cosby is going to walk because he was wealthy, the victim was greedy, the former prosecutor was deferential to the rich and powerful and the current prosecutor was blinded by emotion amidst the panic of the #MeToo movement. This is why Cosby is such a perfect representation of America.
Like America, which talks incessantly of peace but only makes war, and touts democracy but deplores popular movements, Cosby was a voracious predator hiding behind the mask of respectability who lectured the world about their faults but was oblivious to the cancer metastasized in his own soul. And in the most American way possible, Cosby used his great wealth and fame to avoid accountability for his heinous sins by playing the rich man's rigged game in a desperately corrupt system.
Cosby is so American he even became the poster boy for the recent hysteria of the #MeToo era, which was emotionally satisfying to many but is now being exposed as having a legally dubious foundation. This is particularly egregious in the Cosby case, considering that it was good old American greed in the form of a payout via a civil suit that derailed the criminal conviction.
One can't help but wonder if power broker and pervert Jeffrey Epstein could have avoided dying by "suicide" if his legal troubles would've eventually vanished just like his mysterious black book with the names of all his famous "friends" and "clients" in it. Epstein, too, played the rich man's rigged game and had a strange agreement with a compliant prosecutor who was less interested in the law than in not ruffling elite feathers prior to the #MeToo mania coming for its well-earned pound of Epstein flesh.
Also on rt.com
Guilty or innocent, Ghislaine Maxwell is a morally bankrupt monster & she's exposed in all her horror in 'Epstein's Shadow' doc
As for Cosby, at 83, he is, like the nation he once so enraptured, decaying and on his last legs. Cosby may never be held accountable for his crimes but, like America, he will never escape the stench of his foul behavior. I suppose the silver lining in this ugly situation is that we won't ever have to watch a self-righteous Bill Cosby Ed.D lecture us on the virtues of being a good father or sell us Jell-O ever again because Cosby, like America, has forever lost his fabricated veneer of moral authority, and no overturned conviction or amount of self-deception, is going to bring it back.
Like this story? Share it with a friend!
The statements, views and opinions expressed in this column are solely those of the author and do not necessarily represent those of RT.
You can share this story on social media: