Why is the Biden administration still allowing the cartels and their coyotes to smuggle children across the US-Mexico border?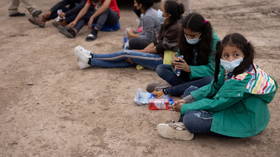 The crisis along the US' southern border is only getting worse as illegal migration hits a historic high, but Biden and Harris still won't address the issue, and young lives are being shattered as a result.
The now-famous footage of two small children, aged three and five, dropped over a 14ft border wall by human smugglers should horrify a civilized world.
Illegal immigration is at an historic high in America. Human smugglers are reportedly making $14m a day. Rafts carrying women and children are making the dangerous trip across the Rio Grande.
As AP recently reported, the Biden administration is holding tens of thousands of asylum-seeking children in an opaque network of some 200 facilities that spans two dozen states and include five shelters with thousands of children packed inside. This is a humanitarian disaster that is man-made. Yet the servile press doesn't report on what is happening.
Cui bono? Why is this not a bipartisan issue? Who is funding this? Why do some illegals wear Joe Biden T-shirts? Is the world aware that human trafficking is the fastest-growing business on the planet?
Almost 100 days ago, Kamala Harris was appointed the border czar. Last Friday was the first day she actually visited the border. However, she went to El Paso. It's 800 miles from McAllen. She went to where the height of the problem isn't. She showed up at the wrong address.
Senator Ted Cruz (R-TX) said recently that the Biden/Harris administration was "the last mile of the human trafficking and human smuggling network." And he added: "When Trump was in the White House, it was the lowest rate of illegal immigration in 45 years. Harris should go to ... look at the kids in the cages where Biden put them."
Senator James Lankford (R-OK) has been attempting to push Biden to secure the southern border and address the national security and humanitarian crisis. He has also called out the Biden administration for its continued failure to address the crisis while secretly recruiting a "volunteer force" of federal employees from NASA, the Department of Homeland Security, Health and Human Services (HHS), and the Department of Agriculture to work at the border transferring migrants.
The notion that this is a "volunteer force" is debatable. Most shelter or detainment centers are staffed by a mixed bag of often contradictory contractors and agencies. There are Federal Emergency Management Agency contractors, domestic terrorism contractors, Blackwater private military guys, and healthcare workers. One group of 2,300 boys between 13 and 17 are under the guardianship of special forces agents.
Also on rt.com
Fail to curb immigration, or anger fellow Democrats? VP Kamala Harris faces no-win scenario in new role as Mexico 'border czar'
According to an insider, it is "unprecedented" to see the range of government agencies represented. Also unprecedented were the NDA agreements that had to be signed. No one working in any of the facilities is allowed to carry a cellphone or record in any way what is going on. The reason stated is "for the protection of the children."
While there is talk of bad food, lice, and cramped conditions, there are worse human rights abuses. Some children claim they have been given Covid and chickenpox vaccinations against their will by people who have no interest in their medical history, least of all seeking the consent of their parents, which would contravene proper practice. Others cry, claiming they've been vaccinated before. "There were seizures, and ambulances came frequently," I was told by one who pleaded with me to keep her identity anonymous. "But HHS does whatever they want to do."
Public health officers look like they are military. They wear combat boots and are not accountable. There are tales of sexual abuse of minors and of gang-type violence breaking out at the detention centers.
Some of the kids have walked a thousand miles from Nicaragua, from Honduras. They each have a different story to tell. Some are only 15, but they talk about their wives and kids back home. Some say they came trying to get away from the cartels. But it is the cartels and plaza bosses who forced them to carry drugs across the border in their backpacks. The vast majority had coyotes, or smugglers, bring them into the US in convoys of vehicles. They are packed into the cargo area of box trucks, the trunks of passenger vehicles, and the rear of tractor trailers.
The temperature inside these conveyances can exceed 120°F (48°C). Human smugglers have scant regard for the lives of their human cargo. Many children have seen friends die in the searing heat of the desert. Some have been raped along the way. Even the boys talk about it openly.
From the border detention camps, they are taken, under cover of night, in unmarked buses and chartered aircraft, to the interior of the country. They are owned and have a debt to pay to the cartels. Many want to go home, but they say, "I have to pay off my debt."
According to Tom Homan, former acting director of Immigration and Customs Enforcement, the Biden administration intends to relax the vetting measures of those to whom the children are released. They're sent to work in meat-packing factories, chicken farms – and yes – the sex industry. They are indentured slaves. A war was fought to end slavery. This is the new slavery.
One eyes-on observer at a camp told me, "They are good kids in the main, and have been well parented."
But not all. Those from Honduras and Guatemala are different. Many Salvadoran kids are members of the crime gang MS-13. They are heavily tattooed and boast about being gang members. Sometimes, coyotes pose as boys. They have earrings and tattoos, and pull up one of their pant legs as a shibboleth. MS-13's motto is "Kill, rob, rape, control." They are said to be "the most ruthless gang in the world," and aggressively recruit in high schools and will even target children as young as eight or nine
Also on rt.com
Shootings in Mexico-US border town leave at least 18 dead as mass crossings & crime spike force Texas to launch security crackdown
Unaccompanied minors are eligible for food stamps, medical care, and social services support. Those states that have implored Biden to staunch the flow of illegals because they don't have the resources to deal with the invasion have had their constitutional rights rescinded by his diktats. The president's signing executive orders to take powers away from states in order to impose his tyrannical laws. Why is his administration allowing the cartels and their coyotes to smuggle children across the border?
The American experiment was based on just laws that protected the weakest: the unborn, children and women. Under this administration, the weakest – the children, the women and the unborn – are being exploited. A tragedy is unfolding while the world is silently watching.
Like this story? Share it with a friend!
The statements, views and opinions expressed in this column are solely those of the author and do not necessarily represent those of RT.
You can share this story on social media: