Forget 'white privilege', the privilege of being attractive (or not) has a much greater impact on our lives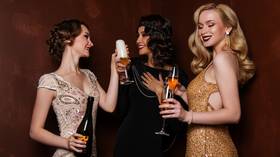 How we look – even though it is superficial and immutable – has a huge influence on whether we succeed or fail in life. So why is no one raging about lookism, rather than obsessing about racism or sexism?
The woke empire is getting weirder. A firestorm was launched this week following the news of a report by the British Education Select Committee, which warned against using the term 'white privilege' in schools, as it's a divisive term and deeply inappropriate for nearly 1mn underachieving white pupils.
Soon, an array of divisive race-obsessed statements about 'white privilege' was being batted back and forth online, the media was in a frenzy, and it became the topic of a heated discussion in the news.
The report was an opportunity for a perfect storm to rile up race propaganda. Emotions were fired up, with activists all too ready to impose their vague all-purpose invocation of identitarian ideology upon anyone who dared to question the narrative of 'white privilege'.
Also on rt.com
Term 'white privilege' disadvantages white working-class kids, MPs' report finds, reigniting Britain's race row
This is nothing new – the bizarre woke orthodoxy has for a while pushed the narrative that white people have a kind of lifelong privilege due to the colour of their skin, and that the fate of black and brown people depends on white people recognizing their racial privilege.
This idea that white privilege is the only or most fundamental type of 'privilege' in society is vastly over-emphasised, over-exaggerated, and is, quite frankly, wrong.
The truth is that the obsession with 'white privilege' and race based 'victimhood' fails to recognise other, more prevalent privileges that can determine where a person will get in life.
For example, class privilege and family structure are often underestimated. Poor, marginalised white children from working-class backgrounds may feel neglected in schools due to not having the privilege of being from a higher social class. It is well documented that being from a deprived background can often be a barrier to achieving well academically, as the government's education report highlighted.
Also on rt.com
Rows over 'white privilege' may dominate the debate over underachieving poor white pupils, but it misses the real culprit
The truth is that there are countless privileges, such as attractiveness, intelligence, age, social class, culture, and family structure, all of which are factors that can have a fundamental impact on the outcome of a person's life.
It is not often that we hear about the privilege of an attractive individual gaining opportunities simply due to their looks, or someone being born in a well-off family using their resources to achieve further upward social mobility, or a very intelligent person winning prizes simply due to being talented or gifted.
The list of privileges is endless and can influence where an individual will reach in society. However, these types of privileges rarely get the same level of attention as white privilege.
The privilege of being attractive, in particular, is widespread in society, and the association between appearance, discrimination, and health has been studied for years; various studies show that there is cross-cultural agreement on who is deemed objectively attractive.
In fact, there has been an increase in some not-so-beautiful individuals reporting that they've suffered from 'lookism' during the pandemic with the shift to remote working and online video meetings.
'Lookism' is a term that describes differential treatment of people with varying degrees of attractiveness; it hurts those who are considered physically unattractive, while attractive people are able to get unfair advantages. This form of discrimination is often swept under the rug, yet it is rampant.
Research carried out by the employment law specialist Slater and Gordon has revealed that a quarter of women were asked to dress more provocatively for video meetings during the pandemic. More than a third of women were asked to wear more make-up or to change their hairstyles.
In fact, the study shockingly revealed that a third of male and female job hunters said that they faced difficulties online regarding their appearance, which they may not have experienced in person, due to the volatile impact the pandemic has had on the employment market.
Discrimination based on looks can occur in a variety of circumstances, and transcends the issue of race; as attractive people are found in all walks of life. How good-looking people are can affect how well they are treated in life and impacts aspects such as personal earnings.
Unfortunately, lookism has received less mainstream attention than other forms of discrimination, such as racism and sexism. Unlike racism and sexism, lookism does not have legal protection and legislation designed to protect people from human biases against them.
To understand this phenomenon more, former Victoria's Secret model Cameron Russell, during a TEDx Talk, revealed how she became a model. "I always just say I was scouted, but that means nothing," she said. "The real way I became a model is that I won a genetic lottery, and I am a recipient of a legacy. This is a legacy that was built for me, and that I've been cashing in on."
Russell essentially highlighted the impact of having the privilege of being an attractive woman in society, adding: "How we look – though it is superficial and immutable – has a huge impact on our lives."
This raises an uncomfortable discussion of how looks really do matter in society and the privilege of being attractive can significantly help an individual's chances. It also highlights that the talk of white privilege is a much easier debate compared to other debates such as lookism, which is often considered a taboo topic as it reveals that beauty can overcome talent and hard work in various circumstances.
Sadly, the rising influence of identity politics from the identitarian left is helping to reduce important conversations about other more prevalent factors than white privilege which equally deserve to be taken seriously.
The truth is that making everything about race is a political agenda that only serves to further divide us. The demand to normalise controlling, identity politics upon every possible issue is helping to intensify the issue of race, and takes away from other various causes of inequality and discrimination in society.
If having or not having 'white privilege' is how the decision-making process of judging individuals is implemented, then the future of our society remains bleak and dangerous.
Like this story? Share it with a friend!
The statements, views and opinions expressed in this column are solely those of the author and do not necessarily represent those of RT.
You can share this story on social media: