Boris Johnson has backed Matt Hancock following his affair…but what else could the UK's famously philandering PM do?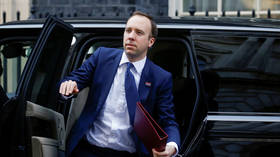 It may well prove to have been the smartest move of his political career, as UK Health Secretary Matt Hancock is caught in a tryst with an aide. And it's proof times have changed in the once moralising cesspit of Westminster.
Not so long ago, if a politician was caught with his pants down then he was generally toast. His career was over. The theory being that if he couldn't be trusted by his wife, how the hell could the electorate trust him to be in power, to act in our name?
There have been loads of these scandals in Britain over the years, from the Profumo affair in the 1960s in which the Secretary of State for War John Profumo's affair with 19-year-old Christine Keeler helped bring down Harold Macmillan's government, to Cecil Parkinson in the 1980s – a favourite of Margaret Thatcher who had a love child with his mistress and was forced to resign as secretary of state for transport.
The press, and the public, loved these stories. Though, the one about Prime Minister John Major's affair with Edwina Currie when they were both MPs wasn't quite as juicy – nobody wanted to picture those two hideous lumps naked, let alone having sex together. And, anyway, it didn't come to light until long after they'd left office.
On the other side of the pond, of course, there was Bill Clinton and his infamous placement of a cigar inside an intern called Monica Lewinsky. It got the 42nd President of the United States impeached, but he hung onto his job.
Boris Johnson could never sack a minister on moral grounds, it would be impossible. BoJo is a man who has long been incapable of keeping his own pants on, how could he possibly sack any of his ministers for doing the same?
And so it came to pass. Health Secretary Matt Hancock was quite possibly in line for the chop pretty soon. Seeing as the PM had already branded him 'hopeless' and the Queen called him that 'poor man'. He was looking, quite frankly, adrift and hapless – Haplessly Hopeless Hancock.
Ah ha. But now he's been nabbed by the Sun in a steamy clinch with a woman he handed a cushy job to. Hancock and mum-of-three Gina Coladangelo are both married. Hancock apologised for breaking social distancing rules but notably did not apologise to his wife, nor their three children.
"I accept that I breached the social distancing guidance in these circumstances," Hancock said in a statement. "I have let people down and am very sorry. I remain focused on working to get the country out of this pandemic, and would be grateful for privacy for my family on this personal matter."
The opposition parties, of course, called for the prime minister to sack him immediately. "If Matt Hancock has been secretly having a relationship with an adviser in his office – who he personally appointed to a taxpayer-funded role – it is a blatant abuse of power and a clear conflict of interest," said Labour chairwoman Anneliese Dodds. "His position is hopelessly untenable. Boris Johnson should sack him."
No chance. A statement was quickly put out from 10 Downing Street accepting Hancock's apology for breaking social distancing rules in order to snog his mistress and that the PM now "considers the matter closed."
Hancock, quite frankly, didn't look like he had it in him. And it could well prove to be a veritable boon to his career prospects. He has something in common now with BoJo. Johnson's list of sexual shenanigans is long and varied, including an alleged four-year affair with adviser Jennifer Arcuri when he was mayor of London.
Also on rt.com
'Hands, face, space': Brits troll health secretary for not following own guidance over reports of sneaky affair with aide
The health secretary's affair with his aide was, apparently, common knowledge in Westminster circles. It's a wonder the Sun didn't get those pictures sooner… I bet BoJo's spurned aide Dominic Cummings knew all about it. And Dom, it's fair to say, isn't a big fan.
Ah, what a bummer though. As a journalist, it used to be fun to chase philandering politicians and slowly prise their fingers away from power, but now it could turn out you'd just be handing the unfaithful git a career boost. In fact, if they time it just right for when their job prospects are truly in the toilet, they could even get promoted.
Like this story? Share it with a friend!
The statements, views and opinions expressed in this column are solely those of the author and do not necessarily represent those of RT.
You can share this story on social media: