Out with The Don, in with The Ron: Trump should pass the Republican torch on to DeSantis for 2024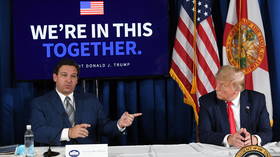 If the Republicans are serious about retaking the White House, it's time they looked beyond Donald Trump to the next generation. And Florida governor Ron DeSantis could be the man to lead the fight, according to a new poll.
Over the weekend, a straw poll which produced some intriguing results was taken at the 2021 Western Conservative Summit in Colorado. Participants were asked who they believed would be the best choice for president, based on an approval rating.
And among high-profile names like Texas Senator Ted Cruz, Mike Pompeo, South Carolina Senator Tim Scott, and former President Donald Trump, it was Ron DeSantis who was ranked most highly. He has been quite the champion for conservatism within his own state of Florida, and it appears the rest of the country is taking notice.
His policies in regards to the Covid-19 lockdown, transgender students in female sports, economics, and support for law enforcement have struck the right chord with many conservatives. The recent ban of critical race theory being taught in Florida schools has also proven popular too, with several Republican-led states quickly following suit.
In a sense, DeSantis is setting the agenda for conservatism and there are many people looking at Florida as a microcosm of what they would like the entire United States to look like. Well, policy-wise anyway – Florida can keep the hurricanes...
Joking aside, the Colorado conference poll also asked respondents what they considered the most important issues for Republicans to be, and among those which featured prominently were border security, election integrity, religious freedom, the federal budget and gun rights.
DeSantis is strong – some would say unwavering – on all of those issues. And therein lies the reason that some people are seeing him as a potential successor to Trump. He carries that same sort of fighting attitude that drew conservatives to the real estate tycoon in the first place.
But there is one thing that separates DeSantis from Trump, and that's his ability to fight in a way that doesn't offend half of the country. A lot of the downsides of Trump, which were almost all oriented around public perception, simply aren't relevant with DeSantis.
Also on rt.com
Florida Governor DeSantis declares victory as federal judge slaps down CDC 'overreach' on Covid-19 cruise ship rules
You don't see him picking fights with members of the media, spending ungodly amounts of time on Twitter or anything of the sort. He seems to do all of his campaigning in his office rather than through a smartphone.
Now, more than ever, Republicans seem to be united in thought. The only major thing that really divided many people within the party was Trump himself. His policies were not the problem, but rather his attitude. As such, I'm of the belief that if he does try to run again —as has been hinted at – and loses to DeSantis in the primaries, he should quickly endorse the Florida governor and pass on the proverbial torch.
I have previously argued that Trump should step back and become a consigliere for Republican hopefuls, and those feelings have not changed. He did a lot in the White House, and the experience he gained during that time will be invaluable to any conservative who wants to battle progressives.
The media are already afraid of DeSantis. Jimmy Kimmel, who was last funny when Limp Bizkit topped the charts, seems to be devoted to mocking DeSantis constantly. Then there was MSNBC's Joy Reid and her baseless allegations against DeSantis in regards to the Matt Gaetz sex-crime investigation. You can bet if they didn't fear DeSantis, they would be much less vocal and simply ignore him.
And that's why, ultimately, he seems like the best choice to run in 2024, alongside Senator Tim Scott. It's time for Trump to recognize this and let the new generation come in.
Like this story? Share it with a friend!
The statements, views and opinions expressed in this column are solely those of the author and do not necessarily represent those of RT.
You can share this story on social media: