Tara Reade: I told my story, but there are countless others too afraid of the Democrat protection machine to come forward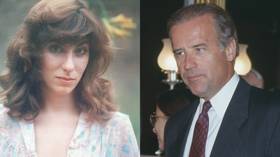 It takes courage to come forward about the abuse you suffered at the hands of someone who is, arguably, the most powerful man in the world. Some never do – and in fact, we will likely never know the real number of victims like me.
"I told my story, my love, so that you could tell yours." Ophelia, by Semi Chellas
I was silent for a very long time. I had a child to raise alone after my divorce in a culture that creates many obstacles for women under the best circumstances. In 2019, my daughter was an adult. Seven women came forward that year about Joe Biden's inappropriateness and unwanted touching. The press immediately couched their revelations with an emphasis on those touches being "nonsexual."
The Biden protection program via corporate media outlets kicked in. In the midst of all this, I came forward as the eighth woman and told part of my history. The same day the article was released online and in a local paper, Edward-Isaac Dovere, a staff writer at The Atlantic, attacked me on social media. The death threats from online randoms began. Between his obsession with me being some sort of political conspiracy and the other reporters' reaction, I shut down.
Soon, I regained my strength and knew I should tell my whole history. I reached back out to a New York Times reporter with my entire history with Biden that included the now well-known account of the sexual assault. It took several months before it was fully reported.
Recently, Dovere, whose opposition research and connections to Democrats are well known, released his book, 'Battle for the Soul'.
In it, two lies, in particular, stand out to me. First, that I was a political conspiracy theory to harm Biden's nomination and second, that my mother's call to Larry King was unverified. There are others, too. I was never a "Bernie bro." I showed support for many Democrats before I settled on Bernie Sanders.
I reached out to journalist Ryan Grim at the time it was rumored that Biden would drop out of the presidential race and I thought I had the legal protection of Time's Up. I had no idea that Anita Dunn (the founder of Time's Up) was already working for Biden's campaign. I did not actually connect with Grim until some months later. I never spoke with David Sirota. I never spoke with anyone from the Sanders campaign. In fact, I reached out to Sanders and other politicians before I went public and received no response. There was no conspiracy.
I came forward with no lawyer and no public relations machine. I came forward to expose the truth about Biden because he sexually assaulted me. My mother called the Larry King Show and gave her name because that was required even with anonymous calls. Several reporters confirmed and verified it was my mother. I know my mother's voice. My brother knows my mother's voice. During his recent appearance on The Hill's 'Rising', Dovere desperately tried to say that it was not my mother as he defended his position to Grim.
The reality is I wanted to tell my history with Biden so that the next generation of women, including my now-adult daughter, could have a different reality if something like this happened to them.
As a result of speaking about the sexual assault, I was threatened in 1993, 2019 and again in 2020. I understand the visceral reality of fear. I have stood in that fear and pushed past it so that I could live freely and not remain bound to an ugly secret.
However, I do not judge those that remain silent. I understand the personal sacrifice it takes to come forward. I care for my fellow citizens and that was my motivation. I think that the leader of the country that I live in should be held to a higher standard and reflect our best, not our worst behaviors.
I know of several other stories of women who were inappropriately touched or worse. I am not an investigator and I do not judge the veracity of anyone's account. I know that several women are fearful to come forward because of the way women are treated when they do speak up against a powerful man.
One such person reached out to me months ago, carrying the story of a friend who decided not to speak up. I spoke with her under very protected circumstances. The fear of reprisal by the Democratic machine both personal and professional is so great, it is having a chilling effect on truth, any truth, coming to light.
We may never know the full account of what happened between Biden and these silent women. Just as he arrogantly left me cold and shivering in that hallway in 1993, he strides on, elevated to power with no consequences for his past behavior.
There was much hype and anticipation in the Western media about the relations between America and Russia in regards to the meeting between Biden and President Vladimir Putin. As the post-summit autopsy began, the American media machine pushed the hysterical anti-Russia narrative with interviews slanted with a myopic, Western lens.
Biden gave no long-form interviews. Just before the summit, Putin sat and endured a 90-minute NBC interview as the reporter interrupted him and tried to play "gotcha" the entire time. After the summit, it was noted on social media that Russian media was not even allowed into Biden's press conference.
Biden read from a list of reporters with pre-approved, obsequious questions. In contrast, President Putin allowed Russian, other foreign outlets and American media to attend his press conference and called on them for more than an hour. When reporters brought up Alexey Navalny's name, Putin remained composed. In Biden's case, it took only one unscripted question to spark his famous temper.
As the American media continues to drag Putin and all of Russia, providing a distraction, the blatant attempts to hide the collective decline of America are evident.
I am reminded of William Butler Yeats' famous poem, 'The Second Coming':
"Turning and turning in the widening gyre
The falcon cannot hear the falconer;
Things fall apart; the centre cannot hold;…"
America is headed down a dangerous and ruinous path under the current leadership. We can all collectively hope Biden's reckless diplomatic blunders will not take us into war. How long before all the lies, corruption and misdeeds catch up with him and the rest of the Democratic establishment?
How does Biden talk to another country's leader about human rights and not have Julian Assange's name brought up to him? Meanwhile, his public relations machines and sycophants desperately cling to the narrative that Biden is some sort of savior.
The truth? Joe Biden cannot possibly save the soul of America when he cannot even save his own.
The statements, views and opinions expressed in this column are solely those of the author and do not necessarily represent those of RT.
You can share this story on social media: