Activists want 'white saviour' film about Ardern's response to Christchurch shooting axed – but doesn't she deserve recognition?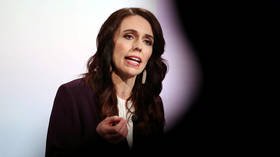 'They Are Us' is set to chart the New Zealand PM's actions in the wake of the attack, but activists claim it sidelines victims and survivors in favour of a white woman. Should Ardern's response really be ignored due to her race?
If a crazed gunman slaughters a group of innocent people, should a leader take action or do nothing? It seems some in New Zealand wished it had been the latter, or at the very least don't think that action deserves recognition.

Everyone remembers the horrific Christchurch attack in 2019, when 51 worshippers were killed as Brenton Tarrant indiscriminately used several rifles at two mosques, minutes apart. Adding to the twisted nature of the incident, Tarrant live-streamed most of it on Facebook. He is now serving a life sentence without parole.
Also on rt.com
Film about New Zealand mosque shootings that focuses on PM Jacinda Ardern faces boycott & accusations of 'white saviorism'
In the wake of it, New Zealand's Prime Minister Jacinda Ardern stepped up and led from the front. On top of bringing a frightened nation together, six days later she had put in place temporary laws that were made permanent within a month, banning all semi-automatic weapons and assault rifles. She said: "Our history changed forever. Now, our laws will too."
It was a response almost as sudden as the attack, and the fact all this took place in sleepy, friendly New Zealand only added to the shock. That's why it's with great anticipation some will look forward to the movie, 'They Are Us', which will tell the story of Ardern's actions in the wake of the killings, but campaigners are attempting to block it. Their gripe is that it "centres white voices and therefore will continue to white-wash the horrific violence perpetrated against Muslim communities."
A public petition, which has more than 67,500 signatures, has been launched calling for New Zealand's film industry to boycott it by refusing to provide crews or filming locations, and asking all media platforms to do the same.
The backlash has already caused a producer to quit: "I now agree that the events of 15 March 2019 are too raw for film at this time and do not wish to be involved with a project that is causing such distress."
That same producer did concede that research interviews have been undertaken with Christchurch's Muslim community.
The petition was also drawn to Ardern's attention, who commented: "In my view, which is a personal view, it feels very soon and very raw for New Zealand. And while there are so many stories that should be told at some point, I don't consider mine to be one of them."
That's a typically humble reply, and with campaigners using terms like "white saviour", there was no other way for Ardern to handle it without looking arrogant. However, for now, the project is still on and should remain so.
Also on rt.com
Christchurch mosque shooter sentenced to life for murdering 51 people asks court to review his max security solitary confinement
The allegation of 'whitewashing' violence against Muslim communities is a bizarre claim, as most of the terrorist attacks on them in the West are done at the hands of white people. It's shameful but the perpetrators usually have their skin colour in common; such as the family recently murdered in the Ontario car attack, the six killed in the shooting at a Quebec City mosque in 2018, or the man who drove a van into worshippers outside a mosque in London in 2017 and was jailed for 43 years.
The difference in Christchurch was Ardern didn't mess about with endless commissions or inquiries, she took ownership. Some places in the world, like Texas and Louisiana, have decided to loosen gun laws, meaning a permit is no longer needed – known as constitutional carry.
It's admirable Arden gauged the temperature of her citizens and went to work, and unfathomable why a movie telling the inside story of how she regrouped and took direct action would be offensive.
It can't be easy for a group to be targeted for their religion, but they can't claim sole ownership. Yes, the dead were part the Muslim community, but they were also part of New Zealand society. They will have friends, families and work colleagues, some who won't be Muslim and will be white. Ardern is white and grew up as a Mormon but didn't let any of that cause her to hesitate, and neither should it have. Why should her colour and religion be a barrier to portraying her role in the incident?
It's sad but it appears as if some of the campaigners have developed a complex around being victims. They may feel guilt or pain for those who died and want to grasp that grief tightly. They seem to feel that allowing anyone else to be acknowledged will lessen the damage done to their community.
It's understandable but it's a naive belief, which causes an unnecessary feeling of separation with the wider community, at a time when the nation should be coming together.
It was Ardern who changed the law and took on her role as leader, celebrating in a way that doesn't diminish any other individual's tragedy. This movie won't and shouldn't be the definitive portrayal of that fateful day and its aftermath. It appears only the campaigners are suggesting it is.
They shouldn't allow themselves to be influenced by their peers or social media and fall into a perpetual state of victimhood. They should be proud that their leader immediately changed laws, making it harder for something similar to happen in the future.
Also on rt.com
New Zealand's PM sorry after report slams country's 'almost' exclusive focus on Islamist terrorism before Christchurch massacre
Other opportunistic politicians would have seized on an attack of that magnitude to score points and manipulate the optics to their benefit. Ardern didn't, she simply tried to protect and to remove the danger of a repeat.
New Zealand's Muslim community should be thanking Ardern and following the example she displayed. Trying to cancel this movie is a horrendous own goal. Muslims are a minority in New Zealand; this film should be supported so as many people as possible learn from what happened.
Like this story? Share it with a friend!
The statements, views and opinions expressed in this column are solely those of the author and do not necessarily represent those of RT.
You can share this story on social media: