Other states should follow Texas in trying to fix the border crisis… because you can bet that the White House won't do it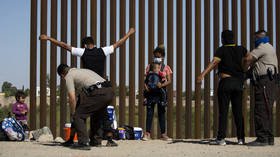 Texas Governor Greg Abbott has said his state will crack down on illegal immigration to protect its borders. Every state should take this approach, as security is too politicized an issue for the federal government to deal with.
Ever since Donald Trump lost the election in 2020, the southern border of the United States of America has been nothing more than a mess, with the number of undocumented migrants at a 20-year high. The situation has been described as a "humanitarian crisis," with footage showing large cages of migrants awaiting processing – all, of course, in the middle of a pandemic.
With criticism of his administration's poor handling of the crisis escalating, President Joe Biden has assigned Vice President Kamala Harris to take care of the issue. To this point, it appears she hasn't actually visited the border at all, and the most notable thing she has done publicly is simply tell people from other countries: "Do not come."
Now, words are all very well. But actions are better. The fact of the matter is that if there's nothing to deter someone from crossing a border illegally, words aren't going to be enough. Most of the people trying to get into the US don't care who the vice president is, let alone what she has to say. There has to be some sort of action taken to show that those words have some sort of weight. As it stands, not much is going on.
Also on rt.com
Biden's silence on border policy is proof that it isn't working and America risks being swamped by illegal immigrants
And so Governor Abbott has seized control of the issue by announcing that his administration will be taking more steps to enforce border law in his state. Barriers are going to be built, and law enforcement will be enabled to punish those who break the border laws.
"You're not going to have a pathway to roam the country. You're going to have a pathway directly into a jail cell," was Abbott's firm warning. Encouraging words, but then he diluted their impact by adding: "In the end, only the federal government and Congress can fix this, but as it stands right now, the state of Texas is going to step up and we're going to start making arrests."
Can the federal government ever be relied upon to sort this mess out? Frankly, I doubt it.
Let's consider the effort that it took to even get a partial barrier built at the border during the Trump administration. A law to finance it was never passed, and when the barrier finally started being erected, it was only after Trump diverted funds from other programs into the wall as a national security measure.
Also on rt.com
Why must Americans rely on foreign media to expose the deplorable conditions of Biden's child migrant detention centers?
Now, that was within his power to do so. But as was evidenced when Biden entered the Oval Office, it only takes a signature on one piece of paper to undo everything. So, within a four-year timespan, a full wall was never built, and the whole program can be completely undone far too easily anyway. In fact, you might realistically argue that the only thing keeping Biden from tearing down the current barriers is the reality of the situation that he created.
With that in mind, I believe that each of the southern states that border Mexico should consider doing what Texas is doing, and should never have to rely on the federal government to secure their own borders. US states have their own autonomy, and those individual state governments have a responsibility to protect the rights of their own citizens. They shouldn't need the federal government for anything, because it is a mess and takes too long to do anything anyway.
Very simply, each state within the US should never be in a position where they need to defer to the federal government when it comes to ensuring the safety of their own citizens. Currently, the political situation around something as simple as border security is nothing short of ridiculous. So why wait on the federal government to get its act together? Every state should be confident that they can protect their own people – because one thing is for sure: Washington won't do it.
Like this story? Share it with a friend!
The statements, views and opinions expressed in this column are solely those of the author and do not necessarily represent those of RT.
You can share this story on social media: