Biden's silence on border policy is proof that it isn't working and America risks being swamped by illegal immigrants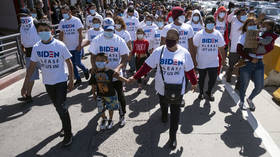 Joe Biden's pledge for a more humanitarian approach to immigration than Donald Trump's has failed. The number of people coming into the US at the Mexican border is rising sharply, and he won't acknowledge there is a problem.
It's not really a revelation, but the Democratic Party isn't a fan of strict border control. The influx of people to the US has seen calls for more government programs to be available for illegal immigrants, and there have even been op-eds that have argued that they should be able to vote. Not exactly sound policies, but the Democrats are unlikely to care, because ultimately they assume that they will benefit from it.
Also on rt.com
MAGA's ironic legacy will be amnesty for millions of illegal immigrants
Although Joe Biden himself has not expressed favor for either of these particular ideas, even if we accept his desire to provide a more humanitarian solution to the problems surrounding immigration, his actions still don't make sense. A more open border policy enables traffickers to place children in harmful positions, for example.
The United States now has a crisis on its hands. By removing the 'Remain in Mexico' policy, it has been reported that thousands upon thousands of people are crossing the border illegally. Representative Michael McCaul of Texas, a member of the homeland security committee, predicted that we'll see a million illegal immigrants unlawfully enter the USA by the summer. Many of these people will be brought across by Coyotes, who have been known to abuse and even kill the people trying to cross the border. And of course, on top of that, we are still in the midst of a pandemic and it's inevitable that some of the immigrants will be infected by Covid.
It's obvious that Biden's more relaxed approach to border policy is backfiring very quickly. There's nothing wrong with encouraging people to come to the US, but loosening the restrictions will always create a crisis, because there are bound to be people who will be more than happy to take advantage of our generosity. A less secure border makes it easier for criminals to get across, as well as those legitimately looking for jobs. But while this thoughtless policy has obviously caused much ire among Americans, Biden's administration seems fearful of actually answering its own constituents.
Earlier this week, White House press Secretary Jen Psaki snapped at a reporter who was asking about the issues. She attempted to pass the buck on to Homeland Security, apparently forgetting that department answers to Joe Biden. On the same day, an aide for President Biden shouted over the press when they tried to ask the president questions as he made an appearance at a Washington DC hardware store. These actions are not those of an administration that has any sort of confidence in its own policies. Some may consider them the result of arrogance, but I am of the opinion that it is cowardice that drives them instead.
Also on rt.com
Crises go unresolved, but for Team Biden, virtue signaling is top priority as it WOKIFIES Washington's lexicon
The Democratic Party, as it is now, seems to treat policies as religion. That is part of the reason why it has made politics its own morality. It is a worldview to the Democrats, not just a way to run a government. As a religious person, this behavior reminds me of how some Christian fundamentalists behave whenever discussions on evolution and the existence of God happen.
There's an absolute fear of discussion, because there is a fear of their way of looking at the world being shattered. I believe the same mentality is at play here. If someone like the president or the press secretary had to admit that this policy was not working, it would destroy part of how they see the world. Suddenly they are no longer the hero of their own story.
This is the inevitable failing of the political left when it comes to the American border and how the situation is being handled. This idea that President Trump's more robust approach was somehow racist or discriminatory falls apart when reality bites and the numbers coming in keep rising and rising.
Turns out that it's not humanitarian to just ignore the truth of the situation, act like a hero when you do so and then completely botch the job. In Joe Biden's attempt to be Superman for thousands of illegal immigrants, he probably would have done himself some justice if he'd realized that Clark Kent wasn't an idiot.
Think your friends would be interested? Share this story!
The statements, views and opinions expressed in this column are solely those of the author and do not necessarily represent those of RT.
You can share this story on social media: