I'm not given to hyperbole, but the coming week is one of the most important in British history – if not the most important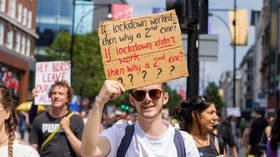 If Covid-19 'Freedom Day' on June 21 is postponed, as seems likely, and the public complies with it, Britain will never return to normal. If curbs can't be lifted when deaths 'with' the virus are near zero, when will they ever be?
Don't say you weren't warned. Having predicted correctly, before Christmas, the very day (January 4) when Boris Johnson would announce the next lockdown, on January 1, 2021, I tweeted: 'My inside source says that there will be no significant easing of restrictions until July at the earliest. Govt mentioning Easter as they need to take backbenchers with them & want public compliance.'
The tweet received some abusive replies. "Drivel," wrote Pete Hayward. "What a load of rubbish," said Phil Moor. How ludicrous to say restrictions will still be in force deep into 2021!
Now, however, here we are in June, and we are still living under restrictions. And in terms of overseas travel, more restrictions than we had last summer before anyone was vaccinated!
Also on rt.com
Keeping us masked forever? The Davos set's dystopian ambitions are very clear
We can talk about the government moving the goalposts, but in truth, they've uprooted the goalposts and taken them off the pitch altogether. 'Three weeks to flatten the curve' has proved to be the longest three weeks in history. Currently, it's 63 weeks and counting.
Back in January, we were told by Health Secretary Matt Hancock that once the "most vulnerable" had been vaccinated, our freedoms would be restored. But then we had to vaccinate the over-50s. The over-40s. The over-25s.
Now we're told that we should delay the June 21 unlocking until everyone has had their second jabs. After that – rest assured – it'll be 'until the children are vaccinated'. And then 'we need to wait until everyone has had their booster jabs'.
The much-maligned 'conspiracy theorists' who predicted that this thing was never meant to end and that every time restrictions are supposed to end, they'll find new excuses to keep them (with the latest being 'variants'), have been proven right. The question everyone needs to be asking is: If restrictions aren't lifted in high summer when deaths 'with' Covid-19 fall to close to zero, as they have done this month, then when will they ever be lifted?
Deaths in England and Wales have been below the five-year average for 11 of the past 12 weeks. Given that 80% of adults now have COVID antibodies, what possible grounds could there be to delay the full reopening? https://t.co/97J2qNLeuS

— Toby Young (@toadmeister) June 9, 2021
I'm not given to hyperbole, but the coming week will, I believe, be one of the most important – if not the most important – in British history.
Because if Johnson does, as expected, announce a postponement of 'Freedom Day' on Monday and there is not a major (and I mean major) public backlash, the delay will not just be for two weeks or even a month. It will be forever.
If people – and businesses – simply 'take it on the chin', even if it means the destruction of their livelihoods and everything they have worked and strived for, then the government will take it as a green light to maintain a level of restrictions throughout the summer, before more lockdowns/increased restrictions are imposed in the autumn, and once again we'll be told it's "to protect the NHS".
Public acquiescence will mean it'll be full steam ahead for the next phase of the 'Great Reset' – which means an extension of domestic vaccine passports (already being used for England's home games in the Euros football tournament), and a genuine and permanent end to 'free movement' for the masses.
If you're enraged by the sight of Johnson arriving in Cornwall in a large jet for the G7 bash and tweeting about how he was going to 'Build Back Better' and 'greener', while ordinary Brits are not allowed to go abroad on holiday, well, get used to it, because this is the 'one rule for us, one rule for you' future that the Davos set is planning for us.
That the UK political elites had no intention of voluntarily restoring the basic freedoms we all enjoyed prior to March 2020 – and have been pursuing a sinister and very authoritarian anti-human globalist agenda that had nothing to do with fighting a virus – was clear to anyone who paid close attention to what they actually said.
Also on rt.com
'It's lockdown what done it': Is Boris lauding lockdowns because he's planning another for October? It certainly looks that way
In April 2020, Home Secretary Priti Patel said, "The fact is we will not go back to how we were in early March – there will be new norms that will inevitably come off the way in which social distancing is dominating our lives and has affected society. We would expect social distancing in every single work area, whether it's an office or a construction site, and on public transport going forward."
A couple of weeks later she declared: "I think we all recognise now social distancing is here to stay", adding, "Our lives are going to be very different".
On May 22, 2020, Scottish First Minister Nicola Sturgeon tweeted about a path to 'a new normal', not to normal.
This week, we learned the Scottish government is planning to extend 'emergency' powers until at least March 2022, with the option of a vote to extend them still further, until the end of September 2022.
We also have lockdown hardliner Susan Michie, a member of both SAGE and 'Independent SAGE', saying on television that we'll have to be wearing masks and socially distanced from our fellow human beings 'forever'. To add insult to injury, she laughed when she said it too.
In openly admitting there is no plan to return us to the world of early March 2020, a world without anti-social distancing, travel curbs and mandatory face coverings, Patel, Sturgeon et al are only echoing the words of the World Economic Forum's founder Klaus Schwab, co-author of the book 'The Great Reset', who has made it very clear the 'New Normal' is meant to be permanent.
Also on rt.com
Back to the 1640s: Witch-hunt against 'Covid denialists' in UK is just a continuation of previous campaigns against dissenters
"The people assume we are just going back to the good old world which we had and everything will be normal again in how we are used to normal in the old fashioned. This is, let's say, fiction, it will not happen, the cut which we have now is much too strong in order not to leave traces," he has said.
The chances of the Great Reset being derailed don't look good. Furlough – always a very good guide to what the government has planned – has been extended until the end of September. With plans to vaccinate schoolchildren, it's worth remembering that the Covid-19 vaccines only have emergency approval, and if the 'emergency' is declared 'ended', what happens then?
However, all is not yet lost.
Opposition to restrictions is growing by the day – and many people who have up to now accepted lockdowns are saying "enough is enough". Andrew Lloyd Webber, the impresario, has announced he will open his London theatres without social distancing on June 21 come "hell or high water" and said he is prepared to be arrested. There are also reports that the nightclub sector may open its doors on June 21 too, regardless of what Johnson announces on Monday. Such defiance is what we need to see a lot more of – providing that the full reopening does not involve the use of vaccine passports.
Freedom in Britain hasn't been lost for good just yet, but, make no mistake, it is in terrible danger. The next seven days will prove absolutely crucial.
If you like this story, share it with a friend!
The statements, views and opinions expressed in this column are solely those of the author and do not necessarily represent those of RT.
You can share this story on social media: