As long as you're not white & heterosexual, all are welcome on the new Progress Pride paint chart parody of a flag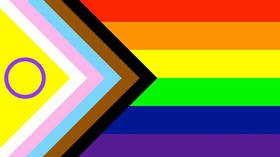 A popular form of the iconic rainbow flag, the Progress Pride version, has been updated and now features colours or symbols to represent nine different groups. In trying to include everyone, it's actually benefiting no one.
Everything has a breaking point. There comes a time when too much weight causes a structure to falter and it comes crashing down.
So, will the latest update to the Pride flag tip the balance and cause everything to splinter, like a metaphorical giant Jenga tower?
The traditional rainbow flag, introduced in 1977, is known across the world. Its eight stripes became the global symbol championing the rights of lesbian, gay, bisexual, transgender, and queer people's equality.
Since then it's gone through various iterations and there's now a version used around the world known as the Progress Pride flag.
It was created in 2018 and added a left-hand side chevron of black, brown, light blue, pink, and white stripes to represent people of colour, trans individuals and those living with or who have died from HIV/AIDS. The chevron forms the shape of an arrow to depict the need to drive forward movement.
But now even that has been updated. Inside the chevron is a yellow triangle with a purple circle to represent intersex people.
Yes, these are all groups who need representation, as society, by and large, has marginalised them. However, what was once a potent symbol, the flag, is now a weakness.
The intentions are noble and well intentioned, but by adding so much, its message is becoming ever more muddled.
The momentum it created for LGBT people is holding back those who are trans, living with HIV and who are intersex. Their struggles and experiences are not the same. So why should they all be lumped together around a single flag?
The kind of problem this can create has already been seen with British LGBT rights group Stonewall. Until recently, it had been hailed as a positive force, and was widely credited for helping to overturn a ban on gay and lesbian people serving in the British Army.
It also spearheaded a campaign for the normalisation in the age of consent for LGBT people and issues over equal pay.
But now Stonewall is under fire, with a host of organisations quitting its Diversity Champions scheme for its aggressive stance on trans rights. Among those to have opted out are broadcaster Channel 4, the Equality and Human Rights Commission, and a slew of British universities.
Also on rt.com
Stonewall's reign as the gender gestapo is coming to an end as it feels the heat for its 'trans-women are women' stance
The scheme is designed to encourage employers to make workplaces more inclusive, with those enrolled paying £2,500 for the privilege of signing up.
However, leaked documents showed that some of the extreme guidance provided by Stonewall included advising a university to not use the word 'mother' but instead 'parent who has given birth' and telling a police force to use 'pregnant employee'. Employers were also urged to outlaw single sex toilets and changing areas, causing widespread unease.
The right or wrong on issues like these come down to personal optics, but what can't be debated is that what was once a force for equality has begun to cannibalise itself.
The Progress Pride flag is making the same mistake. It is essentially morphing into a symbol for anyone who's not white and heterosexual, and that creates a gigantic imbalance. It is leading us down a path where there will be two general groupings, viewed incorrectly by some as normal and abnormal.
Others will just dismiss the Progress Pride flag as a gimmick and make jokes about its general worth. These have already begun, setting back the struggle to grant everyone respect and dignity, no matter their sexuality or gender identity.
God its getting ridiculous, soon the Pride Flag will just be the paint color chart at Lowe's.

— @GOPpoliticianswantyoudead 🏳️‍🌈🚵‍♂️ (@nipperdawg) June 9, 2021
Then there are people who are detrans, those who have reversed their transition. Will they be next to be shoehorned onto the flag with another colour or symbol? Where will the drive for inclusion stop?
Also on rt.com
Detransitioning: The female who wants her boobs back after removing them to be male & the boy who became a woman to become a man 
What the latest update to the flag shows is that perhaps the best solution is for groups to stay in their lane and not view things as 'us against them'. One group of people can prosper and advance, independent of others.
But sadly, not all groups will move at the same speed. To put them all under one umbrella and hope they flourish is a naïve, flawed idea.
The Progress Pride flag has become nothing but a token that no one outside of those communities will bother to understand. It's preaching to the converted and that's the fundamental error of the modern activist.
You have to stand for something. But trying to stand for everything and everyone ultimately benefits no one.
Think your friends would be interested? Share this story!
The statements, views and opinions expressed in this column are solely those of the author and do not necessarily represent those of RT.
You can share this story on social media: