Joints! Jackpots! Burgers! States offering gimmicky incentives only make those suspicious of Covid-19 vaccines more concerned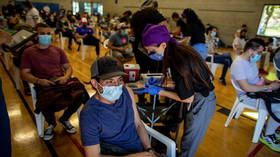 Washington state has become the latest to offer incentives for residents to get vaccinated against Covid-19, this time handing out marijuana joints, the latest desperate attempt to sell to unwilling buyers.
Considering the ridiculous amount of prizes being offered from state to state as vaccine incentives, one would think the country would be well past President Joe Biden's July 4 goal of 70% of US adults being vaccinated against Covid-19.
That is simply not the case. Vaccination rates have plummeted in recent weeks. Daily vaccinations in the US have dropped below one million after hitting a peak of 3.4 million shots daily in mid-April. These rates show that much of the country will likely not hit Biden's 70% goal.
Polling shows the plummeting of vaccinations has nothing to do with a lack of supply, but rather lack of demand.
Also on rt.com
Facebook's autocratic Trump ban has tightened big business's grip on democracy & freedom of expression. We should shudder in fear
A recent Gallup poll showed that nearly 80% of those who have refused to get a Covid-19 vaccination thus far are unlikely to change their minds. Only 20% of respondents who identified themselves as vaccine hesitant said they were even open to changing their position.
Add to this reports of vaccine sites across the country emptying, and it's clear the gimmicky PR-stunts aren't working. You have to give points for effort though.
As previously mentioned, Washington's Liquor and Cannabis Board permitted legal dispensaries to give out complimentary joints to those who have received at least one jab of a Covid-19 vaccination.
Washington, as well as other states such as Maryland, have also offered to enter vaccinated Americans into lotteries for prizes that are often worth millions.
Gambling seems to have become essential to numerous states' selling points on the vaccine. The Kentucky Lottery, for instance, offered a free lottery ticket to those who could prove they had been vaccinated. The Kentucky Cash Ball game being offered has a maximum nightly payout of $250,000.
Other incentives offered have not been as glamorous, but are just as questionable. In New York City, for instance, Mayor Bill De Blasio told residents, while wearing a Brooklyn Nets jersey and stuffing his own face, that Shake Shack would be offering free food to the vaccinated.
Also on rt.com
Fauci continues his opportunistic cult of personality with a new 'life philosophy' book...all thanks to a pandemic
While health officials and Covid-fear mongers wonder aloud why some remain vaccine hesitant, it may benefit them to look at how this vaccine is being sold to the American people. A vaccine that offers a way out of a pandemic that has destroyed lives and businesses should be able to sell itself. Those who aren't interested will simply not be interested. No amount of drugs or fast food are going to sway them, as we are seeing now.
It's worth noting too how poor these schemes make public officials look. They are, on the one hand, selling us science and health-first narratives by promoting getting vaccinated, but they are also, on the other hand, promoting gambling habits, greasy fast food that can lead to serious comorbidities, and a drug that the federal government itself refuses to recognize as non-threatening enough to legalize.
This dual salesmanship and tacky promotion does not help 'sell' vaccines, nor does it convince people with concerns to throw caution to the wind. They simply feed into anti-vaccine narratives and hesitancy. Perhaps it's best to drop the tricks, offer the vaccine, and then accept whatever medical choices people decide are best for them. If they want fast food or scratchers, that can be another choice they make that the government takes its nose out of.
If you like this story, share it with a friend!
The statements, views and opinions expressed in this column are solely those of the author and do not necessarily represent those of RT.
You can share this story on social media: