Border farce...as UK coastal towns are overwhelmed by illegal migrants, why are we so utterly incapable of stemming the flow?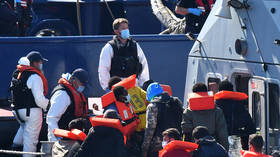 Politicians talk tough, but then we see a Border Force vessel entering French waters to pick up migrants and bring them here, adding to record arrivals. Why is no one consulting the man with the answer to this mounting crisis?
The migrant crisis that unfolded a few years ago in the Mediterranean has now firmly arrived at the UK's shores. This year alone, more than 4,500 would-be asylum seekers have crossed the English Channel – compared to around 1,750 in the same period last year – including 1,058 in the past seven days.
The rate of arrivals will undoubtedly only increase over the summer months when the weather is more favourable and Channel waters calmer. On current projections, it is estimated that over 20,000 migrants will have arrived by the end of the year.
I predict that 20,000 migrants will cross the English Channel in 2021.Priti Patel is one of the worst Home Secretaries ever. pic.twitter.com/dZMfzoAUxm

— Nigel Farage (@Nigel_Farage) June 4, 2021
Of course, this is having a detrimental effect on those who live near the shoreline, particularly around Dover, which is the favoured point of entry. Things have now got so bad that Kent County Council, which is the local authority around Dover, is suing the British government because it has been overwhelmed by the number of unaccompanied child migrants. Indeed, 242 have arrived this year, with 50 coming over the last Bank Holiday weekend alone. The legal action taken against Home Secretary Priti Patel is aimed at ensuring that other councils take 'their fair share' of unaccompanied child migrants.
Also on rt.com
Tone-deaf do-gooders claim free pass for people trafficker accomplices while British public wants tougher action on Channel boats
The answer, however, is not making other councils responsible for taking 'their fair share', it is preventing people from making the journey in the first place. To ensure this happens, and it is the only solution, some difficult decisions will need to be taken. But it can be resolved, and it has been done before; moreover, the answer is staring the government in the face in the form of Tony Abbott, the former Australian prime minister.
When Abbott became prime minister in 2013, his country was encountering a migrant crisis not too dissimilar to the UK's today. Indeed, in 2013 alone, upwards of 20,000 migrants arrived in Australia illegally by boat, similar to the projected numbers that will reach the UK this year.
To put an end to this unacceptable situation, Abbott pioneered Operation Sovereign Borders, which aimed at preventing the would-be migrants from attempting to enter Australia illegally. The operation was controversial in some quarters because it handed over the control of preventing illegal immigration to the Australian armed forces, with a three-star general in overall command.
The action was augmented by a communication campaign, which made it clear in no uncertain terms that boats would be turned around and those who did make it ashore would be deported. The processing of migrants was offloaded, with cash incentives, to third countries such as Papua New Guinea and Nauru. Words were also backed up with action and boats were simply towed out of Australian waters by the Royal Australian Navy.
What was the result of Operation Sovereign Borders? The boats simply stopped coming. A message was sent that Australia would no longer be a soft touch and the people smugglers, who make money out of human misery, quickly understood the message.
It was so successful that in June 2014, Abbott was able to announce that there had not been a single boat carrying illegal migrants landing in Australia in the previous six months. Some have claimed that the operation, which is still in existence, is inhumane; but surely there is nothing inhumane about upholding the rule of law and ensuring that people do not board boats to make a perilous, and in some cases fatal, journey.
So where is Tony Abbott now and why hasn't the British government turned to him for advice? Well, he is right under their noses, because Abbott, who was born in London, already works for the UK government. He was appointed last year as an adviser to the Board of Trade and counsels the International Trade Secretary Liz Truss on post-Brexit Trade deals.
So, given he is already in London and on the government payroll, it beggars belief that the Home Office has not asked for his advice. To get to grips with this crisis, it would be sensible to transfer Abbott to the Home Office where he can impart his extensive knowledge on to Priti Patel, the home secretary who talks tough on this issue but doesn't deliver.
The British government must get a handle on this crisis. It is no good for the home secretary to make empty promises like processing asylum seekers on an island 4,000 miles away or blame social media for the crisis, as she did this week. And why on earth have we had the nonsensical farce of a UK Border Force vessel entering French waters to pick up migrants and bring them to the UK?
The 27-mile journey across the English Channel from Calais to Dover is a perilous one. We were reminded of that this week when the remains of a 15-month old baby who drowned during an attempted crossing washed up in Norway. The boat carrying him and his family sank last October, killing them all.
Not only are the currents in the Channel famously extreme, but it is also one of the busiest shipping lanes in the world. If the government does not act now in a fair but firm manner and prevent the migrants from boarding the boats, more bodies will no doubt wash up on Kent and other coastlines this summer. It is merely a case of when and not if.
The Home Office's ineptness and weakness on this issue has been nothing short of a scandal, which is harming the government's reputation. Indeed, the Home Office is not only failing the British people, and particularly those in Kent, but also the migrants themselves, who are almost being encouraged to make the trip.
This impending tragedy can be prevented – it only takes willpower on behalf of the Home Office and some sound advice from Tony Abbott. Give him a call, Priti, before it's too late.
Like this story? Share it with a friend!
The statements, views and opinions expressed in this column are solely those of the author and do not necessarily represent those of RT.
You can share this story on social media: