The British elite lauded Ai Weiwei when he criticised China, but it's the opposite when he highlights their treatment of Assange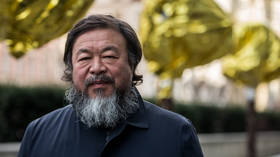 The Chinese dissident artist Ai Weiwei says he's hypocritically been removed from a British exhibition because he chose to design a piece that addressed WikiLeaks founder Julian Assange's incarceration in a London prison.
'One person's terrorist is another's freedom fighter' is a flowery way of saying actions can be interpreted differently, depending on your viewpoint.
It's a scenario acclaimed Chinese artist Ai Weiwei has often encountered and, unfortunately, is in again.
He fled his homeland for being deemed too controversial for the state's strict censorship. He's recounted how he was arrested, beaten by Chinese police, placed under house arrest and then imprisoned for tax evasion.
On his release, he described being subjected to psychological torture, being detained in a tiny room with constant light and two guards never more than 30 inches away, even when he used the bathroom.
In 2019, he fled to Berlin, but didn't stay long, "I don't like a state or culture that so obeys authority", he declared, adding: "They would say in Germany you have to speak German. They deeply don't like foreigners."
He now resides in the picturesque city of Cambridge in the east of England. So it was understandable when last year The Great Big Art Exhibition asked a world famous artist, who called the UK home, to take part.
However, Weiwei is no longer part of the project despite his reputation being used to draw attention to it.
Why?
Because he wanted to feature in the exhibition a postcard with the image of Julian Assange's treadmill. The WikiLeaks founder used it for exercise during his almost seven-year spell in London's Ecuadorian Embassy, where he'd sought refuge.
The exhibition hopes to encourage Britons to make art and display it in their windows, a tonic to beat the gloom of the pandemic. Weiwei opted for his contribution to be a Postcard for Political Prisoners, which members of the public could send to political prisoners around the world, their addresses supplied by Amnesty.
Although people could send it to themselves to display in their own window if they wished.
Weiwei wanted to inspire them to engage in art-activism, a practise that has made him globally admired.
However, his idea was rejected.
Weiwei claims that Sally Shaw, the director of Firstsite, who are leading the project, "seemed too afraid to give us a straight answer" and added: "I think the reason is related to Assange who has been incarcerated in HM Prison Belmarsh in London since his arrest on April 11, 2019, and that they don't want to touch on a topic like Assange."
Shaw has denied Weiwei's claims: "The sending of a postcard takes us away from this intention. I must assure you, sincerely, that this is in no way a reflection of our appreciation of the idea itself, which is remarkable and profound, and equally our esteem for Weiwei and his work."
Weiwei has managed to break a glass ceiling, his art is widely admired for the aesthetic and then also its deeper meanings – very few artists share that ability. To have someone like him involved would undoubtedly have elevated the credibility and sophistication of the project.
Weiwei said of the rejection: "I feel ashamed that nowadays all art does is whitewash. My artwork has once again proven how the art world is corrupt."
Also on rt.com
Snowden says Assange prosecution shows Biden's lip service to 'brave journalists' on World Press Freedom Day rings hollow
Assange is a figure who, despite the best endeavours of the British establishment, won't disappear. He remains locked up in Belmarsh despite America's extradition request being denied. He is behind bars because bail was controversially denied, while an appeal is mounted by the US government.
The whole matter is a stain on the British justice system, as Assange is guilty of nothing but revealing atrocities committed by America's armed forces.
That's why Weiwei's latest artistic beacon is to be lauded.
In the same way British society lauded Weiwei when he was standing up to causes that suited them.
Back in 2011, Foreign Secretary William Hague called for China to release him "immediately." The same year, someone called Boris Johnson wrote a column entitled 'The world must speak up over the detention of Ai Weiwei.' (Not sure we'll get a similarly-entitled one now about Assange, do you?).
Former Prime Minister Theresa May even personally got involved when she was Home Secretary to issue him with a six-month visa after he was only offered a 20-day permit due to being detained for political reasons in China.
The prestigious Tate Modern in London also rapturously received and hosted Weiwei's Sunflower Seeds – millions of handcrafted porcelain seeds which explored "the complexity of the Chinese individual's relationship with society, the authorities and tradition."
Also on rt.com
Caitlin Johnstone: Everything the West claims it values is invalidated by its treatment of Assange
So when Weiwei rallied against Chinese oppression he was to be admired – but when his artistic torch illuminated Britain's dark side, the script was flipped.
As a country, we should be welcoming individuals like Weiwei but strictly adhering to consistency. It's arrogant to shut down his work when it embarrasses our own transgressions, and that's what the treatment of Assange is.
Sally Shaw was awarded an MBE in the The Queen's Birthday Honours List only months ago for services to the Arts and yet decides to cancel Weiwei.
We're a closed shop, but don't like to admit it. And world-class hypocrites. Why else would we censor a globally recognised artist?
The message is clear; criticise those who it suits us and we'll support you, but come looking for us and we'll erase your platform.
Hypocrites? Nah, spineless cowards.
Like this story? Share it with a friend!
The statements, views and opinions expressed in this column are solely those of the author and do not necessarily represent those of RT.
You can share this story on social media: