Florida's brave ban on trans athletes isn't a cultural shot across the bow. It's a line in the sand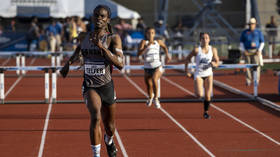 The state's governor, rising Republican star Ron DeSantis, shrugs off 'woke' critics with a sensible statement few could disagree with: "In Florida, girls are going to play girls' sports, and boys are going to play boys' sports."
As the National Collegiate Athletic Association (NCAA) threatened to pull any events from states that ban transgender girls from competing in sports with biological girls, the Florida governor did not even blink. Judging by an interview with Fox News, DeSantis seemed to have been completely prepared for this particular type of backlash. He appeared on Tucker Carlson to discuss the bill's passage, and why he was willing to face whatever action the NCAA takes.
FL Gov Ron DeSantis signed a law banning trans female athletes from competing against biological girls in sports. He did this, he tells #TuckerCarlson, despite pressure from corporate interests. pic.twitter.com/6iSOCGvoF6

— (((Jason Rantz))) on KTTH Radio (@jasonrantz) June 2, 2021
"You can't be cowed by these organizations, or particularly by woke corporations from doing the right thing," he said forcefully. "And so my view was throughout this whole time, we have to protect our girls, it is discriminatory to force them to compete against biological males. And so if the price of having a tournament is that I have to deny equal opportunity to hundreds of thousands of young girls and women athletes throughout Florida, I am much more willing to stand with the girls. And to hell with these events."
Also on rt.com
No, it's NOT 'tantamount to murder.' It's about protecting children. Celebrity whining over a new trans surgery ban is plain wrong
Opponents of the ban, which prohibits someone competing in school girls' sports if they were not assigned the female gender at birth, claim the law further alienates transgender people.
When asked about whether or not he was worried about being punished for his stance, Governor DeSantis said he simply wasn't. When it comes right down to it, he's taking a sensible approach that really shouldn't surprise anyone.
I'm certain that some people will complain that the law was passed during Pride Month, and they will likely be other corporations who'll clutch their pearls that Florida has done such a thing, but all of those reactions are denying the reality of the situation. Florida is doing what many other states have wanted to do whenever it comes to the idea of transgender women competing in women's sports. They are drawing a line in the sand.
I've long had the hypothesis that American culture has a certain level of tolerance to it. We are largely able to live and let live. However, when certain lines are crossed you will find a united front. In this particular case, you have parents of biological girls whose children are working as hard as they can to be top athletes, only to then lose decisively when a biological male who identifies as female enters the fray. Human beings are sexually dimorphic, and though we all have equal rights we all do not perform equally physically. This will always apply to sports, and to deny otherwise is to deny science.
Families will always be protective of their children, and that is why anything that affects their children will find massive resistance. The purpose of the family is to raise children, and it should surprise no one that there is substantial resistance to anything that will affect these children.
So if their children cannot compete fairly, of course people are going to do something to stop that from happening. If the school districts won't do it, or if the county won't, they're going to go to the state level. You can't throw out the equality of competing by gender and substitute it to include someone of the opposite gender. Trying to say that is somehow fair is pure Orwellian doublethink.
With DeSantis and the people of Florida taking such a strong stance, I have no doubt that other states are going to follow in their footsteps rather quickly because Florida seems to be the trendsetter among red states as of right now. Little wonder DeSantis is heading the early polls of likely non-Trump Republican candidates for 2024; taking popular, decisive action like this is bound to do him no harm.
What are organizations like the NCAA or other corporations out there going to do when other states follow his lead? Just stop doing business in what may end up being half of the country? Of course not. It's time for these progressives to understand that the cultural line is right in front of the children of the United States, and if you try to push across that there will be a major pushback.
Think your friends would be interested? Share this story!
The statements, views and opinions expressed in this column are solely those of the author and do not necessarily represent those of RT.
You can share this story on social media: