No, it's NOT 'tantamount to murder.' It's about protecting children. Celebrity whining over a new trans surgery ban is plain wrong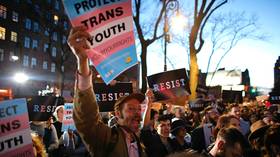 Why do Hollywood actors and other stars always feel the need to blab on social media, even when their posturing on a complex issue is so generally ill-informed? Such constant virtue signaling and self-insertion helps no one.
The state of Arkansas recently passed a law that forbids trans surgery for minors. Like any other new law that flies in the face of progressives, celebrities have decided to put their two cents in as if it were asked for in the first place. Actors Sophia Bush and Rahul Kohli, and even Ben & Jerry's ice cream company, are under the impression we should take their views on transgenderism and trans surgeries seriously.
Arkansas legislators seemingly have nothing better to do during a global pandemic and economic meltdown than to pass hateful, discriminatory laws denying healthcare to people?Trans rights are human rights 🏳️‍⚧️ https://t.co/WfvKAKg6rs

— Ben & Jerry's (@benandjerrys) March 30, 2021
Everyone is entitled to their opinion, but it's not smart to treat all opinions as if they were equal. Some are worthless, and some just don't help a situation. Child transgenderism is complicated. We don't yet really understand enough about gender dysphoria, and the politics are complex. This is not an issue that should ever be oversimplified, because it involves important and life-changing issues. Random platitudes are the last thing that are needed.
Considering the existence of detransitioners and the gravity of a decision to permanently alter one's body, this is not a situation where hyperbole or virtue signaling belong. We're talking about something that will affect a child for the rest of their life. This isn't just a tattoo.
Such decisions are not ones that should be made by children – they are incapable of understanding the consequences of their actions. If anyone doubts that, they should read the heartbreaking testimony of Keira Bell and think again. She was 16 when, believing she would be happier being a male, she was fast-tracked towards gender reassignment surgery and prescribed hormone blockers after just three one-hour appointments at a clinic in London. Later, she had her breasts surgically removed. She now bitterly regrets the advice she was given.
Also on rt.com
As a socialist and a trans woman, I never thought I'd agree with Rand Paul. But on this issue of protecting children, he's right
In most countries, if a young person is getting a tattoo, there must be consent by a parent or guardian. We don't allow 12- or 13-year-olds to drink alcohol, smoke cigarettes, or drive vehicles. Yet many in the medical profession, such as those at that London clinic, believe that, while they're too young to actually have sex, it's fine for children to take a decision to undergo sex change surgery.
Look at the language that these celebrities use, such as calling this permanent transition surgery "gender affirming" and paralleling it to normal health care, and acting as if Arkansas is killing children rather than protecting them. It shows they have no clue what they're talking about. Sophia Bush – who, last time I looked, was the star of the TV series 'One Tree Hill' and a left-wing activist, rather than a medical doctor or a child psychologist – condemned the new legislation as "tantamount to murder." Really?
These celebrities clearly don't take the discussion that seriously. If they did, they wouldn't make such stupid assertions. The fact of the matter is that these decisions should be made by a mind that is capable of consent. If we don't trust kids under 18 to vote, how on earth can we expect them to know anything about their own bodies or understand the long-term consequences of what they're doing?
Situations like this should be handled by the parents, and they shouldn't have the option to allow the mutilation of their child or distort their growth just because of an emotional state that may pass, just as in Keira Bell's case and that of many others. If, as adults, they still feel the same way, then trans surgery will be their right.
Also on rt.com
Has the ACLU become the Anti Civil Liberties Union after advocating for an anti-trans book's censorship?
Arkansas will not stand alone for long on this issue, because other states have already passed bans on transgender athletes in women's sports and will likely go further to protect children. Ultimately, what we need in this situation is less ignorant posturing and more thinking.
Think your friends would be interested? Share this story!
The statements, views and opinions expressed in this column are solely those of the author and do not necessarily represent those of RT.
You can share this story on social media: