Sasha Johnson's shooting should spur BLM UK to focus on the internal, as well as the systemic, problems facing black Brits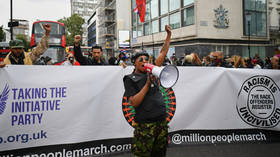 There is no question black Britons face racism in society, and that must be fought, but it doesn't have to come at the expense of tackling issues within the community. Failure to do so only serves to confirm racist narratives.
As high-profile Black political activist Sasha Johnson fights for her life after being shot in the head at a birthday party in Peckham, south London, racist loons, right-wing grifters and left-wing shills are out to prove once again that anything America can do, Britain can do lamer.
While the US was gearing up to commemorate the first anniversary of George Floyd's murder at the hands of Minneapolis rogue cop Derek Chauvin – a tragedy that sparked a wave of global Black Lives Matter protests against systemic racism – in the early hours of last Sunday, 27-year-old mother-of-three Ms Johnson fell victim to what may well prove to be a far more prosaic assault on human rights.
Also on rt.com
Politicising the shooting of a black activist in the UK is wrong. We should be more worried US's casual gun crime has hit Britain
Struck by a single bullet while attending what the Met Police say was "an organised party taking place in the back garden of an address in Consort Road" attended by some 30 guests, no sooner was the self-styled "Black Panther of Oxford" on the gurney than the social and MSM rumour-mill had gone into overdrive. In the immediate aftermath of the shooting, and speculating on the cause, depending on which side of the extremist commentariat you buy into, Ms Johnson was either the victim of an attempted assassination by "white supremacists" or yet another "drive-by" casualty of "black-on-black crime".
The truth, however, is probably somewhere in between. Given the contempt for which the current Tory government holds Britain's black community and continues to undermine its relationship with the police and criminal justice system through declining resources, political apathy and whitewashing a la its Commission on Race and Ethnic Disparities, a growing number of thugs are acting with impunity within the community.
Meanwhile, those tasked with policing London, a city of nine million, feel unable to do their jobs effectively in the face of budget cuts, which have seen the Met reduced to managing just 36 police stations having lost a staggering 106 bases. Across the UK, since 2010, 660 police stations have closed down, reducing capacity by 50%. Ask any copper if there's a correlation between rising crime and a lack of police presence on the street and they'll look at you, slack-jawed. Under these circumstances, is it any wonder that violent criminals, regardless of colour or motive, think they can just walk into a party and shoot it up without a care in the world?
A statement from the Taking the Initiative Party (TITP), which Johnson co-founded last year as "Britain's first black-led political party", suggested, unsurprisingly, that darker forces than the usual mindless violence we've come to know and loathe in Britain could've been at play. "Since the incident, we have been receiving emails and social media messages celebrating Sasha's attack, messages wishing she dies, calling her a racist, and wishing better luck to the shooter next time for not killing her and so on," TITP stated, suggesting that Johnson may have been "targeted" by right-wing extremists. The party also rounded on the Met police's characterisation of the shooting after it described the suspects as "four black males wearing dark clothing" and briefed the press with, "We are also not aware of any reports of threats made against her prior to this incident".
Also on rt.com
London police arrest 5 men on suspicion of attempted murder of BLM activist Sasha Johnson who was shot in head
Now that Southwark police have arrested five males on suspicion of Johnson's attempted murder the truth will out, soon enough.
With Covid-19 having a disproportionate impact on their health, wellbeing and livelihoods, violent crime on the rise, and the traditionally supportive Labour Party being bereft of ethnocentric vote-winning ideas, many black Britons feel beleaguered and desperate for answers. So, when a black activist is gunned down, confirmation bias dictates that there must be more to it than meets the eye, because we want the perp to be a white man to change a relentlessly anti-black media narrative. If it's just another shooting in the 'hood, the maniacal right wins, again. No matter that most of the paedophiles, child murderers, armed robbers, burglars, fraudsters, rapists and homicidal maniacs in Britain are white: it's "black-on-black crime" or "county lines" or "mugging" and whatever comes out of Rod Liddle's scabby gob that counts. The 82 percent of Britain that's white needs its own biases constantly fed on the altar of casual racism. And this week's sacrificial lamb just happens to be Sasha Johnson.
Curiously, Johnson's name, let alone details of her shooting, is absent from BLM's website. In fact, her connection to BLM, at least publicly, seems largely based on the British news media telling us she's "a prominent Black Lives Matter activist". The hammering home of this micro-narrative is of course based on her profile-raising antics, "controversial" statements and neo-Black Panther aesthetic, which came to the fore following the killing of George Floyd. But since last year's summer of discontent, what has she done to warrant so much tabloid attention – attention that has included a classic hatchet job by the Daily Mail? Is she a genuine political threat or simply an eccentric, fringe character, a Farage with a clenched-fist salute, tailor-made for winding up reactionary fruitcakes who secretly get off on being scared witless by black people for reasons one can only guess?
Many have looked to the UK's chapter of BLM not just as a catalyst for change, but for more direct political and cultural leadership within the black community. For instance, according to recent data from the National Crime Agency, Black people accounted for 14% of missing people in England and Wales between 2019 and 2020, over four times (3%) their relative population. I know there are black vigilante groups forming around this and other issues; but what's BLM's position? Why is it conceding ground to right-wing shills on problems within Britain's black community when it should be taking ownership of them, as other black-led organisations have done, historically?
Also on rt.com
A year on from George Floyd's murder and his memory is still being used by grifters from Left and Right to further their agendas
BLM will argue that its mission is to "eradicate white supremacy and build local power to intervene in violence inflicted on Black communities by the state and vigilantes. By combating and countering acts of violence, creating space for Black imagination and innovation, and centering Black joy, we are winning immediate improvements in our lives." Nowhere in this mission statement does it say BLM is committed to reducing so-called "black-on-black crime", cutting black unemployment or focusing on intra-community problems.
Without taking anything away from Sasha Johnson, she's no Angela Davis. But if, hope of hopes, she survives and makes a full recovery, she'll be perfectly placed to use her own tragic experience of violent crime to great effect.
Think your friends would be interested? Share this story!
The statements, views and opinions expressed in this column are solely those of the author and do not necessarily represent those of RT.
You can share this story on social media: