I never thought I'd feel sorry for Bill Gates, but the media's pro-Melinda propaganda has again proved rich men should NEVER marry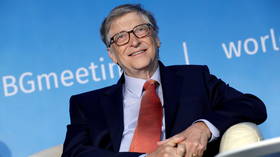 The couple's separation was only recently announced, but the New York Times, the Wall Street Journal and the Daily Mail are already assassinating Bill's character. Impartial journalism? Not a chance, just more media misandry.
He's spent the past few months pushing Covid-19 vaccines – even though he's not a doctor and the jabs have had some questionable side effects.
He is also one of the world's most powerful men, a highly respected philanthropist and a long-standing resident of the Forbes Rich List (with an estimated fortune of $128.3 billion, no less).
Also on rt.com
'America has a very nasty oligarch problem' – RT's Keiser Report
So, there are certainly other people who are more deserving of our sympathy than Bill Gates. However, that's exactly what I've felt for him in recent days.
The tech titan Harvard drop-out, who made his name creating Microsoft in 1975, has been subjected to a ferocious media onslaught ever since the end of his marriage was announced on May 4.
Earlier this week, the New York Times – which previously never said anything bad about him – published a scathing piece entitled 'Long Before Divorce, Bill Gates Had Reputation for Questionable Behavior'.
Hmm. If that's the case, why did the Times never bother to report on it?
Then, the Wall Street Journal joined the pile-on, publishing claims he had an affair with a female colleague (the insinuation being that it was all one way and that no women ever pursue men in the workplace).
A spokeswoman for Gates acknowledged the fling took place, but stressed it was two decades ago – and denied it had anything to do with his decision to step back from Microsoft's board of directors.
"Bill's decision to transition off the board was in no way related to this matter. In fact, he had expressed an interest in spending more time on his philanthropy starting several years earlier," she said.
Also on rt.com
Bill Gates stepped down from Microsoft board after company launched probe into affair with female staffer – media
Then, as if by magic, the Daily Mail followed it up with its own spread, which painted Gates as a sleazeball with questionable links to Jeffrey Epstein (you know, just like Bill Clinton – who gets a free pass).
The message was clear: Bill Gates is cancelled.
Forget all the good he's done as part of the Bill and Melinda Gates Foundation, which includes promoting gender equality and reducing rates of child mortality in developing countries. 
Also forget that he's given away billions of dollars in aid to people less fortunate than him, such as persecuted asylum seekers and poverty-stricken African Americans (who tick all the left's boxes).
He's now public enemy number one because he's human.
However, just like the Indian strain of Covid-19 is a mutation of the original virus, this example of cancel culture is also a variant strain.
Rather than being motivated solely by left-wing politics, this drive to 'cancel' is propelled by feminism's thirst for revenge.
See, Gates couldn't be more of a woke, globalist Democrat, which means he should be (and has long been) immune from criticism. But, in a post #MeToo world, none of these rules apply. Now, the knee-jerk reaction is to assume the guilt of all men without due process, while hailing all women as victims/goddesses.
To a generation of demented gender warriors, Gates is the personification of patriarchy and must be toppled. Hence, journalists are now leaping to the defence of his wife with what appears to be a coordinated hit job.
Presumably, this pro-Melinda propaganda is designed to lay the foundation for her pending alimony demands, which will see her get at least half of her husband's fortune – and a slice of his future earnings, too.
Also on rt.com
Melinda Gates 'warned' husband Bill about meeting sex predator Jeffrey Epstein, divorce reportedly 'not friendly' – reports
Likewise, when Jeff Bezos split from wife MacKenzie in 2019 she walked away with $38 billion, making it the biggest divorce settlement in history.
When model Liberty Ross divorced Hollywood film director Rupert Sanders, she was so intent on revenge that she even got his supermarket loyalty points.
This is standard for men, both rich and poor, who also tend to lose their home, their children, their reputation and their pensions.
Such eye-watering division of assets, combined with the wider media bias in favour of women, is a painful reminder why men should never marry. All of the interlocking establishments – including the media and the law – are stacked against us.
Ergo, the only way to protect ourselves from divorce is not to marry in the first place.
Sadly, Gates is late to the party on this – but, if there's one good thing that may come from his costly separation, it's that it could deter others from the same trap.
Also on rt.com
As Bill and Melinda Gates split up, it's time to divorce the Microsoft billionaire from calling the Covid shots for us
On the flip side, it may encourage more gold diggers to rinse naive men for all they're worth.
Personally, my money's on the latter. If he has any leftover from his divorce, Gates' should be, too.
Like this story? Share it with a friend!
The statements, views and opinions expressed in this column are solely those of the author and do not necessarily represent those of RT.
You can share this story on social media: