The BBC and the Princess Diana 'conspiracy': will we ever find out the truth?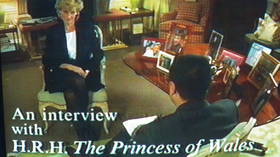 It's widely accepted that unethical methods were used to persuade Princess Diana to take part in the BBC's famous 1995 interview. But now the corporation's own investigation into what went on is shrouded in mystery, too. Why?
The BBC is adept at conspiracy theories in its detective shows and political dramas. But now there are suspicions that it may be indulging in real-life plotting of its own.
As with any serious conspiracy, the story goes back a number of years, specifically to November 1995. And it involves the most famous woman in the world at that time: Princess Diana.
An extremely secretive deal was brokered for her to spill the secrets of her marriage to Prince Charles and life inside the British royal family.
It was so hush-hush that even the BBC's Board of Directors didn't know about it. There were concerns chairman Marmaduke Hussey would tell his wife Lady Susan, who is a lady-in-waiting to the Queen. Oh, and she is also one of the godmothers to Diana's eldest son, William.
So, right from the outset, there was secrecy and a fear of double-cross. The worry was that if the Queen found out, she'd apply the screws and stop the broadcast.
The interview with Diana was filmed at Kensington Palace, with the camera equipment smuggled in under the pretence of being a new stereo system. Once the royals were made aware, the Queen Mother brought forward a hip operation so that if she died, it would detract from the interview's impact.
It aired and the content was nothing short of explosive. Back in the days when media was not consumed 24/7, Diana's comments made headlines in every corner of the planet. She opened a Pandora's box for 23 million British viewers, revealing how demanding it was to be a royal and how she felt she was being used as a promotional tool.
She also laid bare her battle with bulimia and anorexia, both made worse by Charles continuing an affair with his now wife, Camilla Parker Bowles.
Famously, Diana commented, "There were three of us in this marriage" and said that people around Charles made her feel "that [she] was again unstable and sick and should be put in a home of some sort… [she] was almost an embarrassment".
One of her final and most damning points was to explain how the royal family perceived her as a "threat".
The interview was conducted by Martin Bashir and it set him on the path to fame and fortune as a star reporter. It was controversial, but remained a supreme piece of journalism and proved how even those in powerful positions relish the chance to tell their story.
But cracks started to appear when it transpired that the BBC had behaved less than impeccably. It was alleged that fake bank statements had been created to show that people close to Diana's brother were selling information about her. Bashir was also accused of telling Diana that a watch owned by her then young son William had a secret listening device that the security devices had used to spy on her. That was the leverage to push her to spill the beans. BBC Director General (now CEO of BBC Worldwide) Tim Davie felt compelled to issue an apology to Diana's brother, Charles Spencer, last year.
Another part of any conspiracy is the cover-up. The Mail on Sunday did report on the fake documents in 1996, but the BBC conducted a brief investigation and found no cause for concern. Matt Wiessler, the former BBC rising star and subsequently freelance graphic designer who created the bank statements, said he was offered no further work by the corporation after that probe was concluded.
And that was it. Everything remained relatively quiet. Until now.
On Monday night, the BBC's Panorama was set to screen its own investigation into the whole affair. But a few days before it was due to air, it was pulled.
Shortly before that, it had been confirmed that Bashir, who had returned to the BBC as religion editor, had resigned.
Another key component of any conspiracy is an enquiry. And we have one here too, as Davie has commissioned an independent investigation to be carried out by former judge Lord Dyson.
Now, it could be argued the BBC is trying to find out the truth and deal with it. But it already has Dyson's completed report. It subsequently took the decision to scrap the Panorama programme, and also agreed to Bashir's resignation. Although he does have heart problems, requiring a quadruple bypass, and has suffered the complications of having been seriously ill with Covid-19, he could have been placed on long-term sick leave until the findings had been made public.
Charles Spencer feels there is foul play afoot, and tweeted: "Well there's a surprise. What's next? My guess: a rush by the BBC Director General to get Lord Dyson's report out, before its expected publication date on Friday, so he can claim, with apparent regret: "Sadly this Panorama is now no longer relevant".
The crux of the matter is that Spencer is adamant he would not have introduced his sister to Bashir without the forged bank statements. And the irony is that, due to Freedom of Information requests, we know the BBC had once claimed Spencer created the fake documents himself. This is all refuted by Wiessler, who is adamant that Bashir told him to create them.
That makes it laughable that the BBC boss back in 1996, Lord Hall, wrote at the time, "I believe he [Bashir] is, even with this lapse, an honest and an honourable man. He is contrite." Forging documents to manipulate a vulnerable woman into laying bare her secrets is a strange definition of honour.
And then there's the subtext: what is the royal family's role in all of this? The gushing blanket coverage of Prince Philip's death was met with a record number of complaints, but it proved that the corporation is beholden to Buckingham Palace. It would require a leap of faith not to believe the palace knows the contents of Dyson's report. It is probably aware of what the Panorama investigation reveals, too.
Why wasn't Dyson's report released unredacted to the public at the same time it was handed to the BBC? The only privacy at stake is that of someone who is dead. And the BBC is more than a global news organisation; it's funded by British taxpayers, who pay a mandatory licence fee. It is unacceptable that it is engaging in removing staff, shuffling reports about in the shadows and cancelling investigations.
The corporation often adopts a holier-than-thou attitude to certain countries and exposes their lack of press freedom. But not only has it been shown that the BBC's biggest-ever scoop was based on unethical journalism, but it's now up to its knees in suspicion when it comes to a report that was supposed to be transparent.
The one question we all need to ask, which will likely never be answered, is what the BBC has done since it received the report, pushed Bashir out and hastily cancelled the transmission of an examination of its ethics. Its behaviour is only adding to the mystery. Some may say that sounds exactly like a conspiracy.
Think your friends would be interested? Share this story!
The statements, views and opinions expressed in this column are solely those of the author and do not necessarily represent those of RT.
You can share this story on social media: