Princess Diana's 'three in this marriage' interview was the scoop of the 90s, not cause for a hand-wringing BBC witch hunt today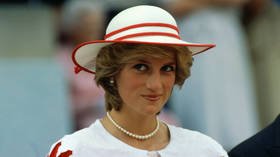 Martin Bashir's 1995 sit-down with the Princess of Wales was a groundbreaking royal tell-all that gripped the world. Now, 25 years later, today's liberal media gatekeepers seek to discredit the biggest interview of the decade.
When the oh-so-serious national broadcaster landed the prize that its media competitors so envied, it made journalist Martin Bashir's career and saw 23 million people tune into the normally interminably dry 'Panorama' programme to hear the wife of Prince Charles admit "there were three of us in this marriage."
So before Bashir, now the BBC's Religious Affairs editor, is dragged from his sickbed, having had a quadruple heart bypass and Covid-19, and whisked off to the Tower of London, can we just acknowledge one thing about his 1995 interview with Princess Di? It was a bloody great scoop!
The investigation now underway into whether the journalist duped the princess into agreeing to the interview is really an irrelevance. With the princess now dead for more than 20 years, it's not as if we can hear her side, despite what her brother, Earl Spencer, might be suggesting.
Sure, Bashir might have pulled a swifty, allegedly asking a put-upon freelance graphic designer to doctor a couple of bank statements he could show to suggest there were enemies within Diana's camp that were selling her out. His trick, apparently, was to suggest that she should take the initiative and give her side of the story, in her own words. And it worked.
As a journalist working on the dreaded tabloids of the 80s and 90s, I was right in the middle of this, and fully complicit in feeding the insatiable appetite for stories and photos of Diana, Charles, and the cast of co-stars in this real-life royal soap opera.
At one point, I was working at the Sunday Mirror when a colleague passed me a pile of photographs to flick through. Grainy, fuzzy, taken with a telephoto lens from nearly a mile away, they showed a barely distinguishable princess canoodling with Dodi Fayed, the man who would later die by her side in a car accident on that fateful night in Paris just a year later.
Also on rt.com
Galloway: Netflix's The Crown reminds us Thatcher was just like Trump – an outsider to the ruling class, surrounded by a 'swamp'
The newspaper had just outbid everyone else for the world exclusive rights at a rumoured £250,000, and I was holding the only copies in my hands. I couldn't help but marvel that the media's Diana machine had brought such riches to the photographer who had managed to grab this small pile of illicitly taken snaps.
In those Diana-obsessed days, from her ill-fated marriage to Charles in 1981 until her untimely death in 1997, paparazzi were treated like rock stars by tabloid editors. Whenever we spied one of their ranks sneaking into the newsroom and heading for the boss's office in the latest round of a bidding war, there would be loud declarations of "Kerching!" all round as another massive payday beckoned.
They were selling contraband and we couldn't get enough. Often compromising, sometimes illegally gained, photographs of the woman destined to be the queen of England, caught unawares by sneaky snappers in helicopters, hiding behind bushes, or chasing her on motorcycles. It was thrilling, devilish stuff, and we wanted more.
While the broadcast media loved to report the latest tabloid intrusion, they kept their distance from such behaviour themselves, snootily looking down their noses at the gutter journalism that apparently made Diana's life such hell.
Then Bashir landed his interview and the tables were turned. Now it was the newspapers having to play catch up with the BBC. And to rub salt into that wound, Princess Diana had actually AGREED to this cosy sit-down chat.
It was a massive coup. And while the BBC may now be looking at how Bashir managed to secure Diana's co-operation, there is no denying that she took part in this brilliant one-to-one entirely of her own volition, with her own motivations and, no doubt, hopes for the outcome. Her divorce from her husband was still a year away, and the public was gripped by rumours of infidelity in the royal household.
Also on rt.com
Let's end the deification of Diana: New movie needs to show the good, the bad and the ugly of the Princess of Wales
As one who has played both poacher and gamekeeper in my journalism career, one thing has remained constant: no one has to talk to the media. It's not compulsory. You don't owe press or broadcast journalists anything. Go ahead if you feel you must, but no one is twisting your arm. And that was the case with Princess Diana talking with Bashir.
He didn't force the princess to 'fess up. He simply provided the right environment for her to feel comfortable in, and the rest was left up to her. She could have replied to his gentle questioning with bland platitudes, but instead she seized the initiative, declared she'd like to be the nation's "Queen of Hearts," and the rest is history.
She was very much in control. Bashir might have engineered the interview using a few tricks, but once Diana sat down, it was all up to her – and it arguably secured her position as, in the words of Tony Blair, "the people's princess".
And before all the liberals now working in the press and the BBC start bleating about how important it is that we "get to the bottom of this" and ensure it will never happen again, they need to remember that, thanks to the Leveson Inquiry into press intrusion, those days are long gone.
Journalists are held to far higher standards than they ever were in 1995, and using deception or simple trickery to pressure a subject into agreeing to an interview proves a little more problematic than it once did. Everyone has press advisers, PR people and lawyers to consult before agreeing to play ball.
Also on rt.com
The Crown just cast an Australian to play Princess Diana and I am in a woke-fueled rage!
So let's move on. Remember our beloved and emotionally fraught princess unburdening herself to the world on TV, and give Bashir his due for some unforgettable work.
Because it's how he managed to coax the pain out of Diana, as his willing accomplice in this TV first, and her candid responses to his questions that will forever be remembered as a benchmark in journalism. Not how the pair arrived there.
Like this story? Share it with a friend!
The statements, views and opinions expressed in this column are solely those of the author and do not necessarily represent those of RT.
You can share this story on social media: