New York Pride banning cops proves they aren't about 'inclusion', they just want to follow the latest lefty trend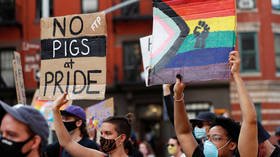 Despite having been involved in New York Pride events for nearly 40 years, police have been banned for the foreseeable future. Is Pride about inclusion, or is it just about ticking whatever woke idea is flavor of the month?
Ever since the Stonewall riots in 1969, acceptance of gay and lesbian lifestyles has increased and increased in the United States. There are Pride marches every year, with an entire month devoted to LGBTQ Pride. Same-sex marriage is legal in every state in the Union, and gays in America are safer here than virtually any other place in the world. The reason they are safer is because we have laws that protect them and the means to enforce them, so why exactly is New York Pride banning Police from their events?
The organization stated it wants to make a "safe space for the LGBTQIA+ and BIPOC communities," but added that the presence of law enforcement could be "dangerous." Dangerous for whom? Lawbreakers? There seems to be much confusion in New York law enforcement. Detective Brian Downey, president of the NYPD's Gay Officers League, told the New York Post:
"I don't know what the end game is here. When you create an echo chamber and you take a dissenting voice other than the voice of these activists, who don't want reform [of the police] they just want abolition."
Also on rt.com
LGBT activists BAN police from Pride events in New York City to create 'safer space' for 'marginalized,' leaving gay cops baffled
In researching this particular decision, I was led to an article by Reuters that attempted to give some sort of sense to it. The issue that I found here was that there were a lot of surveys on about feelings and beliefs, statements about old laws that have now changed, but nothing definitive about why a New York Pride event which has had police officers participating in it for almost four decades would suddenly need to change for safety concerns.
The aforementioned Stonewall riots have come up, but that was fifty years ago and an occurrence on that level hasn't been seen since. That's why gay police officers started marching in the first place, and why a formal apology was made later on for what had happened. Life has changed a great deal since 1969 for LGBTQ people here in the United States. So with no logical justification, what is the actual reasoning here?
Also on rt.com
The next big things: Plus-size models grace catwalks & Playboy covers as 'fat acceptance' movement starts to win its battle
It seems like New York Pride is a little bit too concerned about coming across as properly progressive, as opposed to actually representing the group it claims to. If you are part of the LGBTQ community, you're more than welcome to join the march, provided you're not a police officer. There's no actual reasoning for it, no other professions have been expressly excluded; it is purely because modern progressives have decided being anti-police is fashionable on the left. It's because that's the attitude expected of you if you're progressive, as opposed to the original purpose of Pride, which was leading a march to represent LGBTQ, whatever their profession, and let them know not to be ashamed for the life they lead. Why shouldn't a gay New York cop, who defends citizens and does his best to be the best he can, be allowed to march with the rest of the community?.
The fact of the matter is that progressivism loves to tout inclusion right up to the point when it doesn't. As soon as the wind blows in a vague different direction and you are cast as the oppressor du jour, you are on your own. Pride was once about challenging the prevailing narrative; now it waxes and wanes on the whim of social media, which is nothing to be proud of.
Think your friends would be interested? Share this story!
The statements, views and opinions expressed in this column are solely those of the author and do not necessarily represent those of RT.
You can share this story on social media: