The next big things: Plus-size models grace catwalks & Playboy covers as 'fat acceptance' movement starts to win its battle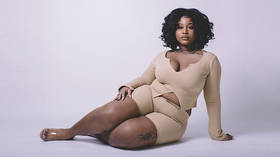 Being overweight once meant you were shunned, laughed at, and discriminated against. Now a group of large & increasingly vocal and powerful women are leading the campaign to reclaim the F-word as a positive. RT speaks to them.
Kat Henry – whose Instagram page is here – came third in last year's Miss Great Britain beauty pageant.
Her dress size is 16-18, and she's FAT.
That three letter F-word used to be taboo, but there's now a burgeoning 'fat acceptance' movement sweeping the world. The new emphasis has elevated the movement from its humble beginnings – a 'fat-in' which included the burning of diet books, held in New York's Central Park back in 1967. Since then, it's largely been under the radar, but that's no longer the case.
The new wave is led by a group of young, beautiful, plus-size women who are fat and proud of it; they are championing a different, more inclusive beauty ideal than the traditional, skinny one, promoting body positivity and self-love.
Many of them are achieving breakthroughs for plus-size women, from catwalk appearances to appearing on the covers of Vogue and Playboy, and they are helping to turn a neglected fashion market for large people into one worth $178 billion globally. Last weekend, the UK's Sunday Times featured its 'plus-size power list' of women who are at the forefront of the fat acceptance movement and who, it said, are sparking "conversations across the world about back fat, cellulite and every inch in between."
Among them are Hayley Hasselhoff, 28, the daughter of actor David and one of the world's best-known plus-size models (she's a UK size 16-18), who has just graced the cover of Playboy. Other pioneers include model Ashley Graham, 33, (the first plus-size woman to appear on the cover of Sports Illustrated and Vogue, and to make Forbes' highest-paid models list) and Tara Lynn, 38, who is represented by the IMG modelling agency.
And like Henry, who's from Croydon in South London, they're big. Sorry, fat. "I don't find the term fat negative," Henry explains. "I used to in the past when I was growing up, as I associated it with negative connotations, but as I've got older I've realised it's just a descriptor. It doesn't define me, but it is something that I am.
"It takes a lot of soul searching and self-worth to know that term doesn't have to have negativity – you can take back ownership of it.
"I wouldn't recommend overall use of the term without knowing the end point. It wouldn't offend me personally to be called fat, but for someone else that could be hurtful and carry a stigma.
"But your body is not the only thing that defines you in this world."
Fashionable clothes for big people, please
Henry, 37, wants to raise awareness even more by winning Miss Great Britain this year.
However, even if attitudes are changing, a beauty queen of her size still struggles to buy clothes. She explains: "It's important for me to be out there representing people of colour and plus-size women, as usually the women that are picked at pageants are slim, slender with statuesque beauty – I'm trying to shatter ceilings by winning.
"When I was younger, there was only one shop, Evans, I could go to, but all the clothing was bland, it wasn't fashionable, it was tent-like. We are leaps and bounds ahead of where we were, but are we there yet? No. A lot of shops just accommodate oversized clothing and assume that's ok. We should be allowed to wear fashionable clothing like our smaller counterparts. It's nigh-on impossible for me on the high street to pick up something off the rail."
Another plus-size model Noxie Matthews, from Pietermaritzburg in South Africa, shares the experience of how her body has been interpreted. She recalls: "Back when I was in primary school, I developed much quicker than the other kids and I got teased by the boys for the way my body looked, but when I got to high school it completely changed.
"All of a sudden my wide hips, big bum and boobs were now cool and acceptable, which was weird and caused a lot of self esteem issues which I would say I 'outgrew'.
"The older I got it became very important for me to be happy with me, not for other people, but for myself, because I'm stuck in this body, so if I don't love it, who will?"
Fat and fabulous
Matthews, 29, admits that she would not be offended to be called fat: "I see nothing wrong with the word, and especially if it's not used with malicious intent. I think as a society we've become so oversensitive about everything and we give words too much negative connotation. For example, it's not okay to walk up to somebody and say 'You're fat and disgusting,' but I can look at somebody and think 'she's fat and fabulous,' and I genuinely mean it."
Some critics rail against fat acceptance, as they feel it promotes unhealthy lifestyles and encourages people to gain weight and become obese. In January, TV presenter Piers Morgan criticised an issue of Cosmopolitan that featured 11 different covers of plus-sized women, all with the cover line "This is Healthy."
"It is irresponsible of Cosmo to be celebrating obesity in the middle of a pandemic when we know obesity can kill you," said Morgan, in the middle of an interview with David Hasselhoff.
But as his daughter told the Sunday Times: "Being healthy is a mindset, and if you aren't their doctor, there's no place for you to have a say on what healthy is."
'You can't catch fat'
Others plus-sizers point to how thin models such as Kate Moss can cause health problems in others, as admirers develop eating disorders as they attempt to achieve the same look.
Salt Lake City-based Kelsie Jepsen, a body acceptance coach, says: "Promoting obesity is not a thing. You can't catch fat.
"Fat bodies are expected to be ashamed, to hide, to only work on 'fixing their fatness' before they do anything else. So the fact that we tell a fat woman who is just living her life or who dares to feel herself that she is promoting obesity spells out just how fatphobic our culture is."
According to Jepsen, 37, the diet industry earned $82 billion last year, and to her that indicates how influential messaging around being fat is.
Also on rt.com
Current health guidance is utterly WRONG: Full-fat milk & red meat are good for you. It's the vegetable oils that can kill you
She explains: "We are taught that if and when we achieve the ideal body and social norm of idealised beauty then all of our dreams will come true – we'll find true love, acceptance, admiration, worthiness, get the job we've always wanted, and live our happiest, best lives, which is something the majority of people desire.
"This desire has then translated into millions of people investing all their time, money and energy into trying to achieve the ideal body."
'It's time to dismantle fatphobia'
Jepsen, who also models and is a size 18-20, agrees that the term 'fat' should be used and the negativity reversed: "I myself, identify as a fat woman. I realise it's a shock to many people that I use the word so often.
"The good news is the story about fat is something we've learned and we can unlearn it. We can do that by normalising the idea that there are fat bodies and there always will be."
Coming from a different side to the debate is Bobbi Reidinger, a sociologist at Kent State University in Ohio.
She also advocates reclaiming the word fat: "Personally, as both a fat woman and an academic, using fat is an important act of reclamation geared towards not only working to dismantle internalised fatphobia but also forcing others to sit with their discomfort with the word.
"Why do people feel uncomfortable with it? Most often, it's because they understand that language has been traditionally used negatively. I want others to be reflexive – to think about their own reactions to the language they're hearing/using and not just discount it."
One issue around fat acceptance is that in some countries, people with that body type are the norm and others are the outliers.
"Fat people want options," explains Reidinger. "They want to feel stylish and follow trends. We also have money, which you think would be a motivating factor for larger, more mainstream fashion houses, but it's not. You have to look at the sizing – if a fashion house is touting a new size-inclusive range up to a 4X but that translates to an 18/20 or even a 22/24, it's nothing more than lip service."
Racist fattists
This is seen directly when it comes to female models, she says. "When the average woman in the US wears a size 16-18 and plus-size models are a size 10, there's a large disconnect in representation. The majority of models and advertising we still see and consume on a daily basis push a narrative of what's acceptable in terms of attractiveness and worth.
"There needs to be a larger conversation about bodily diversity in modelling in all forms – race, gender, ability, weight, age, etc."
Kat Henry, who is black, agrees; she believes her colour has held her back in the plus-size world and explains the issue is more complex than it can appear.
"I would never get the opportunities my Caucasian counterparts would," she says. "Representation matters. It's important for young women to look at the TV or magazines and see the everyday person, so they can aspire to a sense of worth.
"No one is saying 'because I am this size, go eat seven cheeseburgers to gain weight so you can look like me.' All we're saying is, look at how happy I am to be the size I am, and I want you to achieve the same level of happiness and acceptance."
Another advocate for the movement is 23-year-old model Taty Geneste, who is a size 16 and hails from Brooklyn, New York. She urges against shying away from bigger bodies and encourages others to banish the idea of fat being something to feel embarrassed about.
"I embrace the fact that I'm a plus model, without a doubt," she says. "I'm a model regardless, and in that sense that's also why I go as hard as I do in all that I do.
"I can do anything thin models can do. I'm versatile and dedicated while also representing a group of people in society that's been alienated and told they weren't beautiful for years. I take it seriously and it's really an honour to be a source of inspiration for others."
Things change over time, and what was once considered anathema or wrong can become embraced as normal. Think of the journey from excluded to included and celebrated that homosexuals and transgender people have gone on over the past few decades – fatness appears to be on a similar trajectory.
Think your friends would be interested? Share this story!
The statements, views and opinions expressed in this column are solely those of the author and do not necessarily represent those of RT.
You can share this story on social media: