'No immigration for five years': Ex-EU negotiator Barnier's bid for French presidency is straight from the Brexit playbook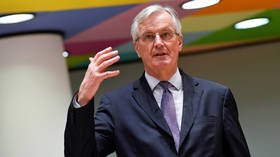 Britain's EU bête noire Michel Barnier is eyeing the French presidency and has shocked observers with his tough talk on immigration. Had the UK been allowed what he is proposing, Brexit would never have materialised.
There is clearly no chance that lofty, self-regarding political careerist Michel Barnier, the former EU chief negotiator on Brexit, will ever understand the sweet, sweet irony of the shameful politicking behind his bid to become president of France.
The 70-year-old former minister under Presidents Chirac and Sarkozy, who spent nearly five years of his life orchestrating the departure of Britain from the EU – detailed in his newly-released book, La Grande Illusion – has surprised many with his suggestion that France should consider a five-year ban on non-EU immigration.
Does he not realise that if the EU had given Britain such an option five years ago, then Brexit would never have happened?
Also on rt.com
Watch out Macron & Le Pen? TV firebrand Eric Zemmour has topped French ratings with his takes on immigration, Islam and Napoleon
Had that been on the table at the time, PM David Cameron would have returned from Brussels in February of 2016 with an offer that far exceeded the relatively unambitious demands he put before the European Council – which it refused – and hailed a success rather than an abject failure. It was as a result of the failure of that trip to the Belgian capital that Cameron agreed to the in/out referendum.
The very same Michel Barnier is the chap who sneered in La Grande Illusion at former UKIP Leader Nigel Farage, suggesting, "posing in front of a poster representing a crowd of migrants, from Syria and elsewhere, on the roads, will remain as a pinnacle of cynicism and amalgam, recalling the outrageous caricatures of the propaganda from another time."
And now, here Barnier is on TV saying, "There is a risk of an explosion, particularly on the topic of immigration. I think that effectively we need to take some time, between three to five years, and suspend immigration."
He spoke of reviewing the Schengen agreement. He spoke of 10,000 uniformed border guards defending Europe. Mon Dieu, Monsieur! Having warmed to his theme, the outside presidential candidate hopeful for Les Républicains said, "We need to take time to evaluate, check and if necessary, change our immigration policies. We need to take stock of the situation, stop family reunions. We need to look at the way we give residency permits, health-related permits and the way we use resources."
French TV viewers must have been waiting for Barnier to peel off a mask – like Arnold Schwarzenegger in Total Recall – to reveal himself to be National Rally leader Marine Le Pen.
On reading his 500-page diaries, one claim that Barnier made at the outset gave me pause for thought. "Je n'ai jamais confondu le sentiment populaire et le populisme," (I've never confused popular sentiment and populism), he wrote. It is a neat distinction, giving establishment figures like Barnier plenty of wiggle room to change their declared outlook, depending on the circumstances, while fending off accusations of ideological chicanery. Some might call it political expediency, but they would be the cynics.
Also on rt.com
Obsessed with his place in history, EU negotiator Barnier's Brexit diaries reveal reaching an amicable deal was never a goal
And while Barnier's latest comments are certainly in tune with French popular sentiment, that might not be enough if he is to fulfill his wish to challenge for the right to have a tilt at the Élysee Palace. President Emmanuel Macron and Marine Le Pen already occupy the space on the right that Barnier has his eye on, and they are unlikely to cede any ground whatsoever to an opportunistic Republican still a long way off being chosen as his party's candidate.
That freshly-minted concern for what the little people think will sell a few more copies of his newly-released book, but it's unlikely to ever make him a serious challenger for President of the Republic. It's a little too late for this arch-European to convincingly reinvent himself as a French nationalist. Nigel Farage will be laughing his Union Jack socks off.
Like this story? Share it with a friend!
The statements, views and opinions expressed in this column are solely those of the author and do not necessarily represent those of RT.
You can share this story on social media: