The UK's absurd ban on 'junk food' adverts will outlaw products that have lots of fat and sugars. Watch out, breast milk…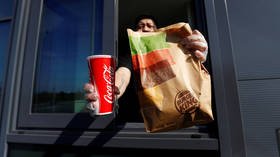 If anything shows the inanity of nanny-state prohibitions aimed at tackling obesity, it's that, if breast milk were a commercial product, it would be close to falling foul of the rules. And is there really even a weight problem?
We need to talk about the absurdity of a state taking measures that won't work to solve a problem that is widely over-exaggerated.
Among the many things mentioned in the Queen's Speech this week, setting out the legislative plans of Boris Johnson's British government, was that "measures will be brought forward to support the health and wellbeing of the nation, including to tackle obesity." One of these will be a ban on advertising so-called 'junk food' before 9pm on TV and totally online. This censorious idea is illiberal and pointless.
Also on rt.com
Childhood BMI linked with risk of anorexia nervosa, bulimia nervosa and breast cancer in later life
The idea has been floating around for a long time. There is already a prohibition, since 2008, on advertising food high in fat, salt and sugar (HFSS) in programmes aimed at children. But, as health campaigners have long since pointed out, children watch lots of programmes that aren't specifically aimed at them, and they have been lobbying for the ban to be extended. For example, in 2014, both the Children's Food Campaign and Action on Sugar separately demanded a complete ban before the 9pm 'watershed,' when children are supposed to be in bed, or at least not watching TV.
Last July, Boris Johnson – fresh from his serious bout of Covid – launched an anti-obesity campaign, of which the proposal to ban advertising was a major part. His government launched a consultation on the idea, and has now concluded that it should be enacted into law.
Yet even the consultation document doesn't set much store behind the idea, justified on the basis of terrible levels of childhood obesity. Apparently, children's food choices can be influenced by advertising. But the evidence of this seems to be mainly that children can remember the adverts (and therefore, can remember the brands). But children have long chosen to eat sweets, crisps and sugary drinks. Advertisers are trying to get them to choose their brand over other brands. There is little evidence that advertising itself encourages kids to eat tasty, nutrition-lite food or that such consumption inevitably leads to obesity.
Also on rt.com
Obesity increases risk of severe Covid-19, particularly in young people, study finds
In fact, childhood obesity isn't rising and it is routinely overstated. The Health Survey for England 2019 (HSE 2019), for example, notes: "The proportion of children (aged 2 to 15) who were overweight or obese increased between 1995 and 2004, from 25% to 34%. In 2019, 30% of children were overweight or obese." Or, to put it another way, childhood overweightness and obesity has fallen over the past decade or so.
Moreover, childhood obesity is measured in an odd way, based on whether children's weight would have placed them in the heaviest top five percent over 30 years ago. It was assumed that this proportion of children was 'obese' – but it was simply a guess.
To illustrate how mad this assumption is, when people turn 18, the adult measure of obesity (having a body mass index of more than 30) is applied, and suddenly their rates of obesity drop off a cliff. As Christopher Snowdon pointed out last December, government statistics would have us believe that male obesity in the 13-15 age group is 24%, but just 13% in the 18-24 age group. Or does it all miraculously just melt off between ages 15 and 18?
Even adult obesity seems to be going nowhere fast. The obesity rate rose from 15% for the first year of the survey (which began in 1993) to 26% in 2010. But, by 2019, it had only risen a further two percentage points, to 28%, and that was actually down from 29% in 2017. The much talked-about 'obesity time bomb' – an idea promoted by campaigners like Jamie Oliver in the past – has failed to go off. On average, people have got a bit chubbier over the past three decades, but for most of them, this has little consequence in terms of health.
Also on rt.com
'Are they trying to kill fat people?' Internet baffled by Cosmo promoting plus-sized 'wellness' despite Covid risks
The number of very fat people has increased more rapidly, but if anyone thinks that a ban on adverts will make any difference to people who are 100 pounds (45kg) or more over the 'normal' range, they are simply deluded. Even the government's consultation admits that the evidence that advertising influences food choice is "not conclusive," simply that it is "possible."
But on the basis of such flimsy evidence, the government is demanding the censorship of a very important segment of advertising. Even big businesses should have some degree of free speech. As long as they don't make claims that are untrue – even I would draw the line at claims that sweets, crisps and cake are healthy, for example – companies should be allowed to present us with their products and allow us to choose between them. Ultimately, it is us, consumers, who are being treated like children, to be told what we might be allowed to see by the 'nanny state.'
It gets worse, because there isn't even a reasonable definition of what food should be banned that doesn't include lots of things we would reasonably regard as healthy eating. A good illustration of this came two years ago, after the mayor of London, Sadiq Khan, introduced a ban on 'junk' food on the city's transport network. One of the first companies to fall foul of the rules was Farmdrop, an organic-food home-delivery firm, who had the temerity of wanting to put up posters of a happy family enjoying such things as bacon, butter and jam. Adverts for foods such as cheese (high in fat and salt), peanut butter (very high in fat), honey (pretty much pure sugar) and more would be banned by Boris Johnson's new rules.
No one would argue that breast milk is unhealthy, yet it can contain two percent saturated fat and seven percent sugars. If it were a commercial product, would it fall foul of the rules, too? According to the government's nutrition profile rules, it's sailing close to the wind, scoring three points when the trigger level is four.
Also on rt.com
Fat chance! Nannying BoJo's plans to get Britain eating healthily and exercising are doomed to failure
Being very overweight is frustrating, possibly disabling in extremis and certainly not ideal from a health point of view. If there were a simple solution to it, the vast majority of obese people would take it, yet substantial and sustainable weight loss is very hard, bordering on the impossible. Yet policy wonks, campaigners and politicians carry on pretending that simple policy changes are in any way a solution.
The new government's advert ban won't reduce our waistlines, but such a ban would be incoherent and illiberal. Boris Johnson claims to be a libertarian at heart, yet all the evidence suggests that he's very willing to be our authoritarian 'nanny' after all.
Like this story? Share it with a friend!
The statements, views and opinions expressed in this column are solely those of the author and do not necessarily represent those of RT.
You can share this story on social media: