EU aid money sent to Palestine has ended up in the pockets of terrorists – but Brussels doesn't seem to care that much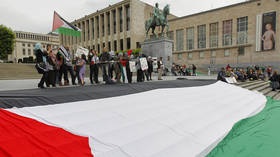 Recent revelations that millions of euros have ended up in the hands of a Palestinian terrorist group reveal dangerous contradictions in EU aid policies that damage both its foreign-policy prestige and its partnership with Israel.
A Palestinian terrorist outfit blacklisted by the EU has siphoned off millions of euros in EU international-development funds over several years, despite Brussels having rules in place since 2019 banning the funding of terrorist groups.
Israel's internal-security service, Shin Bet, revealed that the Popular Front for the Liberation of Palestine (PFLP), a Marxist-Leninist terrorist group dating back to the 1970s, used charities and non-governmental organizations (NGOs) as fronts to receive and then spend EU aid money on terrorist actions and propaganda. Four PFLP individuals involved in the deception operation are set to be charged in an Israeli court for a fraud that fooled aid organizations at the EU and EU member-state levels, raking in over €200 million from the EU, the Netherlands, Spain, Belgium, Italy, Sweden, Denmark, Ireland, Germany, France, Norway, and Switzerland from 2014 to 2021.
According to a statement released by Shin Bet, "PFLP institutions deceived aid organizations in Europe through a number of methods," including making up fake projects, forging bank signatures, and creating false paper trails. After being sent through the front charities and NGOs, the European money was diverted, under the aegis of a 'health workers' committee', to fill the PFLP's terrorist ranks with new recruits, compensate the families of dead PFLP terrorists, and spread PFLP propaganda in the West Bank, the Gaza Strip, and East Jerusalem.
Shin Bet and its adherents in official Israeli circles are by no means shining beacons of unequivocal moral superiority in the ongoing – and recently escalating – Israeli-Palestinian conflict, where each side's grudges are as long-running as they are notorious. The internal-security service of Israel is enrobed in secrecy, with a history of repressing some Palestinian Israeli citizens whose views have dissented from the government's, whether or not they have represented terrorist tendencies. Allegations of its use of torture continue to surface. But its rigorous, perhaps even obsessive, mission of rooting out Palestinian threats to the Israeli state has in this instance revealed an important set of truths: a terrorist group blacklisted by the EU abusing an EU funding system to expand its terrorism, as well as a set of EU anti-terrorist funding regulations that EU leaders are unwilling to properly enforce.
Also on rt.com
Trade with China is key to Europe's economic recovery, so why is the EU harming that trade with pointless political posturing?
Israel and the EU
Israel, which enjoys a bilateral trade agreement with the EU and exports billions of euros' worth of goods and services to the bloc annually, has long been attuned to the worrying ease with which EU aid can line the pockets of Palestinian terrorists. In February 2020, the Jerusalem-based research institute NGO Monitor identified eight Palestinian NGOs funded by EU and member-state aid money that were linked to the PFLP. These were Addameer, Al-Dameer, Defense for Children International-Palestine, Health Work Committees, Palestinian Center for Human Rights, Union of Agricultural Work Committees, Union of Health Work Committees and Union of Palestinian Women's Committees. NGO Monitor's report even identified five staff members of these NGOs who were among those indicted for the terrorist murder of a teenage Israeli girl in 2019.
Professor Gerald Steinberg, the organization's founder and president, said EU support for Palestinian terrorist-linked NGOs "has grown into a massive funding program with some $100 million annually [and] almost no accountability."
In May of that year, with the PFLP already known to Israeli officials as a major recipient of EU funds, Gilad Erdan, then the country's public security minister, warned,"The EU has given in to the Palestinian steamroller of pressure … This is a dangerous precedent." A 28-page official Israeli report was released at that time, detailing how the funding relationships "shared between certain terrorist organizations and various Israel-delegitimizing and boycott-promoting NGOs have deepened, and these terrorist organizations are continuing to whitewash their activities through NGOs that have credibility in the West." As a pertinent example, the 2020 report cited the NGO Addameer, a recipient of up to €2 million in EU aid despite its known links to the PFLP.
Also on rt.com
Russia calls on Israel to 'immediately' end settlement of Palestinian territories & maintain peace at Jerusalem's sacred sites
Values vs influence
This unsustainable contradiction between EU values and its funding decisions has become increasingly apparent recently: as it commits to a flurry of programs combating anti-Semitism, money laundering, and terrorism, Palestinian terrorists are laundering large portions of EU money to promote anti-Semitic attacks. Though spokesperson Margaritis Schinas has announced that the bloc is looking to present a detailed plan worth more than a billion euros to combat anti-Semitism later in the year, these efforts are undermined from the outset by the EU's funding of anti-Semitic groups affiliated with Palestinian terrorism, hampering its ability to strike a consistent chord in its aid disbursement.
The EU has not been totally idle in attempting to address the problem, but its lack of thoroughness brings into question the sincerity of its efforts. In June 2020, Brussels canceled a three-year contract worth €1.7 million with the BADIL Resource Center for Palestinian Residency and Refugee Rights, after the organization refused to abide by the contract's anti-terrorism clause. That particular clause, approved for insertion into EU foreign-aid contracts in December 2019, stipulates that "grant beneficiaries and contractors must ensure that there is no detection of subcontractors, natural persons, including participants to workshops and/or trainings, and recipients of financial support to third parties, in the lists of EU restrictive measures." The PFLP is one of five Palestinian organizations designated as terrorist groups on that list, which also includes Hamas, Izzedine al-Qassam Brigades, Al-Aqsa Martyrs' Brigade, and Islamic Jihad. In its annual budgetary report, finalized on April 28, the European Parliament called for a thorough vetting process on allocated funds, and urged that any EU money that found its way to a terrorist entity should be "proactively recovered, and recipients involved … excluded from future union funding."
However, these actions are belated half-measures amid the high volume of siphoned funds going to the PFLP, and they may have been taken simply to save face over earlier EU accommodation of Palestinian groups refusing political conditions on their EU funding. Shortly after the EU anti-terrorist rider clause in foreign-aid contracts came into effect in December 2019, the Palestinian civil-society umbrella group, known as the Palestinian Non-Governmental Organizations (PNGO) network, issued a letter to the EU, signed by 134 NGOs, that vehemently argued against the new rule. The PNGO's chief, Amjad Shawa, remarked that, "In principle, Palestinian law prevents us from receiving any politically conditional funding."
Even though Minister Erdan, referring to the mounting evidence from Shin Bet investigators that EU money was being siphoned off by the PFLP, wrote to the newly appointed EU foreign policy chief, Josep Borrell, in January 2020 to ask that funding be stopped to "any organization that is affiliated with terrorist groups," EU officials were already accommodating Palestinian abuse of European aid systems.
The then-acting EU representative to Palestine, Thomas Nicholson had told Palestinian representatives in December 2019, just days after the conditional-funding rule's passage, that the rule did not stop the EU from funding any Palestinian organization on its blacklist, because that list did not include the names of any Palestinian individuals. In January 2020, Borrell himself endorsed this policy from the very top of the EU foreign-policy machine: he and several other senior European Commission officials assured the Palestinian representatives that the new clause would not bring "any new or different commitments" for the Palestinian groups then receiving EU funding. Two months later, Nicholson's successor, Sven Kühn von Burgsdorff, issued a letter to the PNGO reaffirming his predecessor's statement, offering what would appear to be a virtual primer on dodging the EU's political conditions for receiving aid money: "It is understood that a natural person affiliated to… any of the groups or entities mentioned in the EU restrictive list is not excluded from benefiting from EU-funded activities unless his/her exact name and surname (confirming his/her identity) corresponds to any of the natural persons on the EU restrictive lists."
Also on rt.com
France, Germany, Italy, Spain & UK urge Israel to halt West Bank settlement expansion plans that 'threaten prospects for peace'
So, why doesn't the EU seem to mind?
The reasons EU officials have gone to such lengths to placate Palestinian groups channeling EU funding into terrorism are twofold: the EU wants to keep its position as the dominant development funder in Palestine at all costs, and international development is big business. With its money covering roughly 70% of the aid projects in Palestine, it is the largest contributor of foreign aid to the territory. EU influence in Palestinian development has recently taken shape through a funding allocation of €1.28 billion from 2017 to 2020 and, historically, through paying millions of euros per year for the salaries and pensions of Palestinian Authority (PA) officials since 2001. Foreign aid is lucrative for the EU, bringing with it fast-track access to business connections and contracts, and sizeable revenue streams for the European firms that are paid to help carry out the procured projects. Private corporations are playing a large role in this sector, on which EU institutions and member states spent over €75 billion euros in 2019, turning it into a highly profitable, market-opening enterprise.
Other evidence indicates the EU's humanitarian aid in Palestine, like its commercial relations there and elsewhere, is being weaponized to serve wider foreign-policy goals that undermine bilateral relations with its trade partner Israel. In October 2020, months after giving a tacit go-ahead for Palestinian terrorist affiliates to keep seeking EU money, Representative Burgsdorff visited a PA school constructed illegally on Israeli territory with EU funding. The EU money for Palestinian NGOs, some of them with ties to terrorism, is part of a broader EU strategy to undermine the Israeli government of Prime Minister Benjamin Netanyahu, according to NGO Monitor:, which says, "Under the guise of human rights, democracy, and good governance, EU support is transferred to Israeli, Palestinian, and European NGOs that promote anti-Israel [boycotts, divestment, and sanctions, or BDS]."
These policies seriously call into question the credibility of EU pledges to make its humanitarian aid in Palestine abide by its own democratic standards. They also erode trust between the EU and Israel. Maintaining EU foreign-aid primacy in Palestine – as well as the commercial and political advantages that come along with it – has superseded an honest audit of where that aid money is actually going, even as its recipients blatantly violate the EU's own policies on anti-Semitism, money laundering, and counterterrorism.
Think your friends would be interested? Share this story!
The statements, views and opinions expressed in this column are solely those of the author and do not necessarily represent those of RT.
You can share this story on social media: