Left-wing social justice collectives have captured Britain's premier art prize. This 'artivism' is destroying the museums we love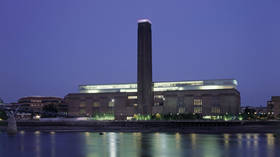 The most provocative, politically woke Turner Prize shortlist so far has been announced, and it signals not only the death of the individual artist but, in time, the end of our great art institutions.
The Tate, Great Britain's national museum of art, today [Friday] announced the triumph of collectives over individual artists in the Turner Prize 2021 shortlist. For years, activist curators have been undermining the principle that great art is made by exceptional individuals. This week has seen the coup de grâce: social justice activists have captured Britain's premier art prize, ensuring that a political collective must win the prize when the winner is announced on December 1.
The shortlisted groups are a who's who of radical leftie groups: Array Collective, Black Obsidian Sound System (B.O.S.S.), Cooking Sections, Gentle/Radical and Project Art Works. Array are Belfast-based political campaigners, Gentle/Radical are "community workers" from Cardiff, Project Art Works "explore" art "for and by neurominorities," "Cooking Sections is a London-based duo examining the systems that organise the world through food," and finally, "formed by and for QTIBPOC (Queer, Trans and Intersex Black and People of Colour), B.O.S.S. challenges the dominant norms of sound-system culture across the African diaspora through club nights, art installations, technical workshops and creative commissions."
Tellingly, no single participant in these collectives is named in the press release.
Also on rt.com
Equity's woke indoctrination of theatre critics will cause cultural segregation
Turner Prize travails
The Turner Prize, named after painter J.M.W. Turner, was founded in 1984 in order to stimulate interest in contemporary art. In its early years, it succeeded in attracting publicity and creating genuine debate, especially regarding Rachel Whiteread's House (1993) and Damien Hirst's cases of animals preserved in formaldehyde.
Recently, it has stumbled. The art it has chosen to laud has been incompetent, patronising, absurd and – worst of all – forgettable. The prize is hurtling towards irrelevance, as contemporary art is now in galleries nationwide and available on the internet.
The 2021 shortlist is the latest sputtering after a string of serious failures. The 2019 prize was shared by four nominees when they refused to accept the idea of hierarchy in art. It effectively undermined the whole idea of a prize for contemporary art when the nominees are sympathetic to the leftist opposition to the idea of exceptional accomplishment. The 2020 prize was cancelled after the UK-wide government-imposed lockdown due to Covid-19. Instead, grants were given to numerous artists and collectives.
The merit of the 2021 shortlist is that it makes explicit the fact that arts venues are run by activists who no longer feel constrained to support art. Art has no place in art galleries, progressivist curators have declared. No one seems prepared to oppose them.
Also on rt.com
My proposal to bathe the British Flag in 37 litres of blood: A Statement from Santiago Sierra on the cancelled Union Flag project
The death of the individual artist
This will not be the first time the Turner Prize will have been won by a collective. The 2015 prize was awarded to Assemble. Assemble works on community architecture projects, "whilst retaining a democratic and co-operative working method that enables built, social and research-based work at a variety of scales." They refuse to name individual members. The collective's persistence makes its anonymous workers irrelevant and easily replaceable.
Collectives combine the patrician desires of the middle-class practitioners to guide working-class beneficiaries, to push for social collectivisation and to undermine the view that art is a demonstration of aesthetic excellence and manual skill. Collectives are a means to access income that should be spent on actual art; post-modernism is the Trojan Horse that allows the untalented opportunists into the country's most prestigious museums.
Art departments have been encouraging "artivism" for years and art curation has been promoted as a viable route for social justice. Now these graduates have positions of influence in the UK's taxpayer-funded venues, they are becoming bolder because the weak Conservative government fails to oppose the appropriation of venues by campaigners. Funds earmarked for art, artists and museums are now routinely parasitised by political groups, discrediting the funding model that had previously nurtured serious art and served the public.
Also on rt.com
Spanish artist's blood-soaked Union Flag may cause uproar but it raises unprecedented awareness of Australia's indigenous people
Parasitisation of public funding
RT has previously exposed the parasitisation of publicly-funded art venues in the UK. The ICA opened its doors to stage a "queer techno rave" and, as a political stunt, attempted to mortgage its mahogany doors, even though it rents rather than owns its premises. The Turner Prize 2021 exhibition will be held at Herbert Art Gallery and Museum, Coventry, the site of a notorious display of diversity tick-box creators.
The idea that art venues can be places for social activism accepts a premise that ultimately leads to their destruction. If one believes that artivism is viable, why not remove art from museums and dedicate them to social work and racial agitation? If one accepts that premise, it would be irresponsible to show a landscape watercolour when a photograph of social inequality could replace it. There ultimately becomes no choice other than to banish art and replace it with artivism.
The Turner Prize is no loss, but Britain's great museums (and local arts centres) should be preserved for art alone. Artivism must be opposed or it will destroy the museums we love and respect.
Think your friends would be interested? Share this story!
The statements, views and opinions expressed in this column are solely those of the author and do not necessarily represent those of RT.
You can share this story on social media: