Why is Australia's elite apparently so keen on a 'kinetic' war with China, when it would be catastrophic for their country?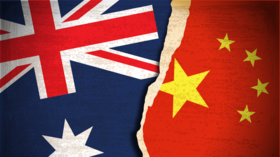 Many high-placed politicians, generals and journalists are ratcheting up tensions with insane talk of a military conflict with Beijing being 'highly likely'. For the sake of world peace, they need to grow up and shut up.
There's a "high likelihood" that a "kinetic" war between Australia and China could take place. That's at least what Major-General Adam Findlay told his special forces troops last year in a confidential briefing now made public in the Australian media this week.
Though the general's words were never intended to be public, they are now. As the old saying goes, you can't take back words. Now everyone is aware of the Australian military establishment's calculations, which are clearly a driving factor in the aggressive rhetoric that's been coming from the country's political establishment.
Also on rt.com
Australia is now paying the price economically for its hostility to China and slavish loyalty to the US
For example, Department of Home Affairs Secretary Michael Pezzullo recently stated what is an obvious fact on the country's annual military commemoration day when he said that the "drums of war" are beating louder across Asia.
In an op-ed for The Australian, Pezzullo had presented an argument in favor of a war to defend "democracy" and "liberty," insinuating, without mentioning names, that China is a moral equivalent to Nazi Germany.
He wrote, "War may well be folly, but the greater folly is to wish away the curse by refusing to give it thought and attention, as if in so doing war may leave us be, forgetting us perhaps."
Echoing a speech by former US Army general Douglas MacArthur, Pezzullo insisted such a war should not make one be considered a warmonger since such a war could be morally justified. But MacArthur, who was fired from his position as commander during the genocidal Korean War after recommending using some 34 nuclear weapons on Chinese and Korean territory, may not have been the best historical figure to echo here in making such an appeal to morality.
Also on rt.com
As Australia-China crisis intensifies, it's extremely dangerous that PM believes he's doing 'God's work' (remember Blair & Iraq?)
Defense Minister Peter Dutton has also recently said that a war over Taiwan might be inevitable and toughened his stance on China. According to him, Australia is "already under attack" from China in cyberspace and the government needs to have a "more frank discussion with the public" about it. Though, he said, the government's priority is "continued peace in our region."
All of the rhetoric coming from the current Australian government is a textbook example of what the famed American writer Walter Lippmann called "the manufacture of consent," which morphed into the title of a famous book by renowned philosopher Noam Chomsky and scholar Edward Herman that was, ironically, dedicated to an Australian social psychologist named Alex Carey.
In a nutshell, the country's political establishment is pushing propaganda through various institutions, namely the mass media, to drum up public support for a war with China – a war that they want, not one that is inevitable. So blatant is this attempt that some former officials have spoken out.
Australia needs a 1 week moratorium on talking about Taiwan, just so everyone can do a little basic reading. https://t.co/tLkTIPgDHU

— Euan Graham (@graham_euan) May 6, 2021
Former prime minister Kevin Rudd said that all of the escalations against China "serves zero national security purpose" and Bob Carr, a former foreign minister, pointed out in an op-ed for The Sydney Morning Herald that "Australian diplomacy ought to be identifying the off-ramps that will avoid this nightmare."
Their position likely stems from the fact that a war between Australia and China would not serve anyone's interests, certainly not anyone in either of those countries.
Such a war would obviously take place under a broader context – and it suggests that what they really believe is likely is a larger war between the United States and China, two nuclear-armed states, which Australia would, they assume, have no choice but to join. Such a war would obviously be catastrophic.
Also on rt.com
Australia's puerile and provocative war-mongering towards China is raising the risk of all-out military conflict
Australia is already paying a high price economically for its bellicose stance. In the latest blow, China today announced it had "indefinitely" suspended key economic dialogue with Australia.
The question is, now that the proverbial cat is out of the bag in terms of how Australia judges China as a threat, where do we go from here? The answer, despite what some in the military, political and media establishment might actually want, is that there probably won't be a war — because a war like this would endanger literally everyone. If you thought Covid-19 is bad, a war like this would be far worse. The Australian elite needs to wise up.
A question one might ask on this topic is why the Australian military, political and media establishment feels so strongly that Australia would have no choice in whether to participate in an American-led war against China. Is this really the kind of "rules-based order" Australians support?
Like this story? Share it with a friend!
The statements, views and opinions expressed in this column are solely those of the author and do not necessarily represent those of RT.
You can share this story on social media: