Firing blanks: The UK's $61.5 billion military expenditure in 2020 is a misguided attempt to show it's still a global big gun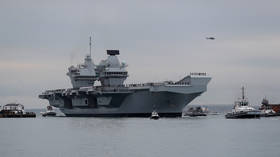 Britain's military spend exceeded Russia's last year, despite an economy ravaged by Covid-19. Rather than cranking up a cold war, it would be better placed pursuing a more beneficial and strategic foreign policy.
The coronavirus pandemic cost the world trillions of dollars in lost economic output last year, with most countries entering recession at some point during 2020. Despite the world economy contracting by 4.4%, last year's global military expenditure reached new heights, at almost $2 trillion (USD). This is a 2.6% increase on the previous year and the highest amount since 1988 (adjusted for inflation) – when the Cold War was still in progress – according to the Stockholm International Peace Research Institute (SIPRI) think tank.
Furthermore, the London-based International Institute for Strategic Studies research centre reports that the UK's military spending increased to $61.5 billion in 2020. This was the fourth highest spend globally, and just ahead of the military budget of Russia, a nation which has a population more than twice that of the UK and a landmass 70 times greater. At the same time, the UK lost hundreds of billions of pounds in 2020 as a consequence of the pandemic.
Interestingly, while the UK plans to continue increasing its military expenditure over the next few years, there are plans to cut the number of full-time trained soldiers in the British Army from the present figure of 82,000 to 72,500 by 2025.
Britain is also considering downsizing its tank fleet with Defence Secretary Ben Wallace suggesting that investments in cyber, space and other new technologies would take precedence. At the same time, the UK government is planning to renew its nuclear-missile carrying Trident submarines and also intends to increase its nuclear stockpile from 180 warheads to 260. The lifetime cost of replacing and maintaining Trident is estimated to be over £205 billion ($284.7 billion). Wallace explained away the plan to increase Britain's nuclear arsenal by pointing to Russia's upgraded ballistic missiles and citing a need to "reflect and review what the Russians and others have been up to".
Perhaps the now more isolated, post-Brexit UK also feels the urge to convince others that it remains a global power and can still pack a punch. Yet the small and decreasing size of its army would make it hard to sustain an occupation or prolonged conflict against conventional military forces. And in the case of a nuclear conflict, regardless of how many or how few missiles a country possesses, such a war would have no winners.
The Royal Navy is also keen to make it appear as though it still rules the waves. Later this month two UK warships plan to sail into the Black Sea, off the coast of Ukraine and close to Russian waters, intending to respond to an alleged build-up of Russian military forces along the Ukrainian border.
Meanwhile, SAS soldiers are working alongside US special forces inside Ukraine, and the UK plans to conduct joint military manoeuvres with both Ukraine and its NATO allies this summer. While Russia may have soldiers along its border with Ukraine – a nation that has been openly aggressive – the presence of Russian soldiers in Russian territory is far more understandable than the presence of UK or NATO forces in Ukraine.
China is also due to receive a 'stern warning' as a fleet of Royal Navy ships led by the aircraft carrier HMS Queen Elizabeth plans to join Britain's allies in sailing into Indo-Pacific waters. This will reportedly be the UK's largest sea and air deployment since the Falklands War.
One would hope that post-Brexit, the UK will cease being an appendage of US influence and seek to carve out an independent and mutually profitable foreign and trade policy that includes forging new alliances and having a rapprochement with Russia.
The same could be said of its European neighbours. Last year saw trade between Russia and the EU fall by 20%, resulting in the loss of billions. The US seeks to sabotage the completion of the Nord Stream 2 pipeline that would bring gas from Russia to Europe (and is now over 90% complete) because it wants to supply Europe with its own liquefied natural gas.
Meanwhile, EU sanctions against Russia have led to a situation which, according to the European Parliament website, resulted in the loss of 17.6 billion Euros and almost 400,000 jobs across the EU between 2015 and January 2017.
It is time for Europe to cease acting as if the Cold War is still ongoing. NATO itself is a relic of a bygone era and remains desperate to convince others of its alleged purpose. The EU, Britain and Russia have major roles to play in the collective security of the European continent, and in an ideal world could form a powerful trade and cultural bloc to counteract US global dominance and help promote peace and mutual prosperity.
The statements, views and opinions expressed in this column are solely those of the author and do not necessarily represent those of RT.
You can share this story on social media: