Covid has made celebrities out of public officials we'd never have heard of – no wonder they don't want restrictions to end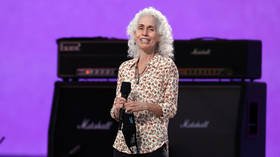 Narcissistic civil servants have turned into pseudo-celebrities thanks to the pandemic and they don't want to go back to the shadows. Now the only way to stop their endless restrictions is by threatening their public standing.
On April 21, Dr. Barbara Ferrer, Los Angeles County Department of Public Health Director, settled in before fawning SoCal reporters for the latest in her mind-numbing Möbius strip of press conferences. This grownup with a job she considers essential to her city's survival proceeded to tell millions of restrictions-weary Angelenos about hungry bunny rabbits.
In a failed effort to explain why fully vaccinated men and women who can no longer spread or suffer infection by the coronavirus should go on wearing masks for months to come, Ferrer wove a fable of a garden trying to fend off rabbits that want to eat carrots.
Also on rt.com
Get ready for the 'Hot Vax Summer', as the newly vaccinated plan to celebrate their lockdown liberations with free love
You can hear how proud Ferrer is of this few minutes of "Watership Downer." She no doubt labored over her infectious fairy tale – this off-off Broadway brand of virus Vaudeville – for hours, confident she'd sway that handful of suckers still bothering to pay any attention.
While news reports conveniently glossed over Ferrer's furry voyage into drivel, I managed to find a recording of her hopping down the bunny trail. As she drones along, it's clear she's not educating the public. She's performing. It's juvenile, patronizing and ineffective. Still, you must wonder if Ferrer found it to be her finest hour.
Ferrer feels comfortable enough to present a bad children's book as public health data because she has soaked in the spa waters of media adoration and public attention for more than a year. All the while, panic over a serious, but manageable pandemic surged through the easily led, slow-to-question LA populace.
That same panic allowed this woman of some educational achievement to rise to fame from the dark and dusty halls of the public sector. In any normal era, she's the kind of appointed official who would otherwise toil in anonymity. Fortunately for her, the "severe acute respiratory syndrome coronavirus 2 (SARS-CoV- 2)" made her a star, albeit a dim one.
The slog that was 2020 became a time to glow for the likes of infectious disease personality Dr. Anthony Fauci and for Ferrer, too. And now it's now well past the hour to turn out the lights on her and her kindred. But sadly, the Faucis and Ferrers of the world feasted well on buckets of media love for some 13+ months, and they're not ready to go back to a diet of irrelevance.
Also on rt.com
Want fun? GET VAXXED! Nagging Covid-19 ad campaign targets reticent Baltimore residents
As the virus spread across the United States, a confused, worried citizenry turned to wobbly legged political leaders of both parties for guidance and solutions. Bloodshot eyes looked to government health officials more adept at academic theory than public policy. From Fauci to Ferrer to your local social worker turned medicinal sheriff, few of these de facto dictators were elected to public office. Their presidential, gubernatorial and mayoral bosses simply ceded power to them.
During the first few, uncertain weeks of the pandemic, widespread lockdowns and other extreme measures seemed necessary. Over the following months, as science unveiled the true nature of the virus and more reasonable procedures seemed appropriate, these viral kings and queens for a very long day clung to the Defcon 1 doctrine – lest they relinquish a dollop of their authority and even a glimmer of the limelight.
There are a few, admittedly disastrous exceptions to this widespread delegation of authority. When not allegedly sexually harassing every woman in Albany, Emmy Award-winning New York Governor Andrew Cuomo took centerstage before the cameras, running daily lectures on everything Covid for months in 2020. Like Il Duce on the battlements of Rome, Cuomo stuck out his chin and lathered it in attention and worship – all while ordering thousands of the elderly to their deaths in nursing homes (according to The New York Times).
Back in the Golden State, California Governor Gavin Newsom turned to interpretive dance in his daily 2020 briefings, replete with echoes of the Hokey Pokey songringing through Sacramento.
Sing it with me: "He put this lockdown in, he threw civil rights out. He grabbed working folks, and he shook them all about. He installed random rulings, then he turned them all around. And that's what his eventual electoral recall was all about."
Also on rt.com
Nearly half of Americans will continue mask-wearing even if vaccinated, some expect mandate 'indefinitely' – poll
From mask mandates to indoor dining bans to the closing of facilities and businesses, many of the policies imposed by these eager, grandstanding hacks remain in effect despite the fact that more than 240 million vaccine doses are already in American arms. No matter how many jabs we see and how low infection rates go, the rancorous regulations set by Fauci and his local clones won't end because imposing and defending them keeps our attention-addicted health officials in the news.
Still, it's that Newsom narrative that offers the best glimpse into how people can fight back against officials continuing needless bans and benedictions to feed their egos. After months of the California governor's endless random proclamations and rhetoric full of pop-psych buzzwords and pseudo-science clichés, voters hit him with a recall. Newsom now faces a new sum election in a state that's evidently had enough of his slick hair and empty suits. When a Democratic governor wears out his welcome in deep-blue California, you know the public's collective psyche has had enough of Covid directives and the arrogant demagogues behind them.
As recall petitions circulated and shadows fell over the statehouse in Sacramento, Newsom almost immediately began rolling back Covid clampdowns. Once facing the loss of his job and the end of his once-blossoming political career, suddenly many of his grandstanding guidelines were no longer necessary.
Human beings have the natural tendency to look toward authority figures with the assumption that they are somehow more than human, at least as far as their expertise carries them. Whether dealing with a political leader, a law enforcement official, a scientist or a health advisor, observers forget that all of the above are human beings with egos, emotions and prejudices. In the case of Covid-19, the pseudo-celebrities the virus created enjoyed a career boon while infections spread. They won't give it up easily. They may not know how.
Also on rt.com
As states start opening up, Democrat mayor BANS DANCING AND STANDING at weddings in Washington, DC
The roadmap to smacking down your local Covid commissar involves denting either their jobs or their public standings. Focused public outrage laid at the doorstep of those who refuse to let go of powers awarded to them by sickness and fear seems to rattle them. The public needs to petition for resignations or rewrites of laws allowing unelected officials to issue policy.
You'd think the Fauci and Ferrer federation would want all of this to end, anyway. If they truly believe in their supposed professional callings – if they value public well-being more than fame and possible fortune – they'd celebrate the loss of their notoriety in favor of a Covid-free society. Instead, we have rabbits, carrots and continued repression.
Like this story? Share it with a friend!
The statements, views and opinions expressed in this column are solely those of the author and do not necessarily represent those of RT.
You can share this story on social media: