Is Facebook so eager to 'get Russia' by banning RT's Redfish that it's defending… fascism and Auschwitz?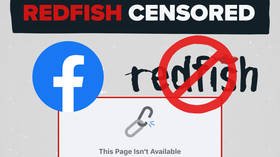 When posts celebrating the fall of Benito Mussolini and Adolf Hitler, or the liberation of Auschwitz, are censored for violating Facebook's "community standards," perhaps there's something deeply wrong with that community.
Just saying.
On Friday, Facebook deleted the page of Redfish, an award-winning Berlin-based digital content project affiliated with RT. In a template message sent to Redfish, Facebook said the post featuring the upside-down portrait of the Italian fascist dictator merited the third "strike" against the page, which had more than 830,000 followers.
Previously, Redfish got a strike for photos of Auschwitz survivors, which violated taboos on "nudity and sexual activity."
Also on rt.com
Facebook bans RT's digital content project Redfish after posts marking end of Mussolini's dictatorship and Holocaust Memorial Day
I'm sorry, what?
I'm with Anthony Bellanger of the International Federation of Journalists here, who told RT, "If pictures of prisoners detained by the Nazis during World War II are removed because they allegedly breach nudity guidelines then Facebook's algorithms are not fit for purpose." Clearly.
It's not just an issue with Facebook's algorithms – or perhaps even human employees – involved in the censorship, though. Look at what gets censored: an upside-down portrait of Mussolini (rather than the actual, graphic photo of the fascist dictator's execution, mind you) and photos of the surviving inmates of Auschwitz, the notorious Nazi death camp liberated in January 1945.
Last year around May 9, when people attempted to share the iconic photo of Red Army soldiers putting up a Soviet flag on top of the Reichstag in Berlin, that too was censored by Facebook as going "against our Community Standards on dangerous individuals and organizations."
Also on rt.com
Freak V-Day glitch? Facebook engine CENSORS iconic photo with Soviet flag raised over Reichstag (PHOTOS)
Could it be that Facebook is seeking to suppress accurate historical information about WWII? One is certainly tempted to reach that conclusion, given the series of "oversights" and "mistakes" perpetrated by the US government and Western mainstream media on the subject in recent years – from declaring that "soldiers" liberated Auschwitz but not mentioning the USSR and even claiming it was Americans, to congratulating only the US and UK on WWII victory and erasing China's contribution.
Lest you think this was only a Trump administration thing, the State Department just erased the first man in space earlier this month, because he was Soviet and not American.
The alternative explanation – as the Menlo Park behemoth has offered none, beyond canned "community standards" verbiage – is that it's not the What, but the Who. Before you wonder why Mark Zuckerberg's panopticon – whose political sympathies are well known – would go after a left-wing outlet, recall that Redfish has been labeled "Russia state-affiliated media" as part of a moral panic in the West against Moscow's alleged "meddling in Our Democracy."
Facebook is partnered with the Atlantic Council – a NATO think-tank funded by major Western weapons manufacturers and in the mission of hyping the Russian threat – and has recently hired the professional witch-hunter Ben Nimmo, one of the purported operatives of Integrity Initiative, a secret British information warfare operation.
Also on rt.com
RT editor-in-chief says she will seek Facebook ban if RT's Redfish page, removed after anti-fascist post, is not restored
If so, then it doesn't matter that Redfish is "woke" and got its start highlighting the injustices surrounding the 2017 Grenfell Tower fire – the worst residential disaster of its kind in the UK since WWII – which claimed 72 lives and destroyed hundreds of livelihoods. It's "Russia" and therefore must be censored.
Facebook's fellow-travelers at YouTube have also moved to censor RT recently, both the English- and German-language channels, over alleged "Covid-19 misinformation" that was nothing of the sort. The message these US-based Big Tech companies are sending to the world is unmistakable: only the Official Truth, set by the Powers That Be they approve of, will be allowed. Fall in line, or else.
Apparently they are so flush with success in "fortifying" the 2020 US elections, these companies think they can be the arbiters of truth for the entire world – and don't seem to mind if that translates into defending literal fascists and Nazis. Your freedom and democracy at work!
Think your friends would be interested? Share this story!
The statements, views and opinions expressed in this column are solely those of the author and do not necessarily represent those of RT.
You can share this story on social media: