The EU-Afghanistan accord on forced deportation of 'irregular migrants' is destabilizing the country at exactly the wrong time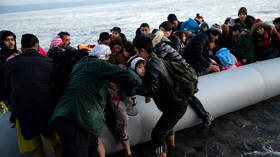 Once again, the European Union's desire to address the symptoms but not the cause of their problems is only going to make matters worse, both for EU member states and Afghans.
On April 26, the EU and Afghanistan finalized their Joint Declaration on Migration Cooperation, designed to combat "irregular migration" to the EU from Afghanistan, mainly by expediting the process of deportation.
The agreement, which serves as an update of sorts to a 2016 EU-Afghanistan migration agreement dubbed the Joint Way Forward (JWF) that formally expired earlier in April, lays out the basis for a forced-repatriation scheme of certain Afghan refugees seeking asylum in the EU. The signatories claim that the agreement "identifies a series of actions to be pursued by the EU and the government of Afghanistan with the objective to establish a rapid, effective and manageable process for a smooth, dignified and orderly return" of failed Afghan asylum seekers and "their sustainable reintegration in Afghanistan in a spirit of cooperation."
Also on rt.com
With child refugees disappearing by the thousands, the EU is again allowing a migration-related taboo explode into a crisis
The EU claims that its commitment to reintegrate returnees is going to proceed in line with its current development aid programs for Afghanistan. But the specifics in the agreed document are mostly reserved for the deportations, to be carried out by Frontex, the EU's border agency. Flights are to be arranged to repatriate the returnees, for which the EU has agreed to fund the full travel costs of relocation. The agreement also describes messaging to be carried out in the EU to increase awareness of the returnee program and in Afghanistan to warn of the perils of illegal migration, referred to in the text as "irregular migration." Additionally, the EU has agreed to contribute to fund the messaging on this type of migration that is published in Afghanistan.
But this agreement, like its predecessor the JWF, is just a stopgap taking EU leaders' focus away from actually improving Afghanistan's security situation. Regardless of the costs Brussels is incurring by expanding its deportation program, sounding tough on migration now takes precedence over meaningfully improving livelihoods in the country and reducing that migration at its source.
Afghanistan has figured front and center in one of the EU's major migration dilemmas. Certain Afghans are among those refugees who genuinely deserve asylum in a more-peaceful country, whether in Europe or elsewhere. Yet Afghans are also among those most targeted by the EU for forced repatriation, to a country that is arguably the world's most unstable, wracked by foreign intervention supported and funded by several EU states.
Throughout these travails, the EU, as the world's largest foreign-aid contributor, has sent more than €4 billion in aid to Afghanistan since 2002, making that country the largest recipient of EU aid in its vast portfolio. All of which creates the expectation that so much aid should have done more to prevent the rampant "irregular migration" problem from Afghanistan to the EU that the Joint Declaration is meant to address.
It has not. Enshrining a costly deportation regime as a type of precedent that demands ramping up, while continuing to funnel large amounts of foreign aid into Afghanistan, has not proven to be an economical set of policy measures for the EU. European governments have incurred the expense of deporting tens of thousands of Afghan asylum seekers since the JWF came into being in 2016. A paper published by the European Council on Refugees and Exiles (ECRE) in 2017 had criticized this deportation focus, noting that it would "seem to be a reaction to the migration situation of Member States rather than to the objective security situation in Afghanistan."
The truth of that assessment has been borne out by events. Deportation has not curtailed the dilemma Afghan migration poses for the EU nor the push effect on migration that Afghanistan's security situation poses for Afghans. Riven by the shocks of decades of Western military intervention spearheaded by the US and flanked by foreign-aid largesse, much of it from the EU, Afghanistan is still a security mess, with the situation arguably getting worse as deportations ramp up. Starting in 2015, when the European migration crisis reached expanded proportions, continuing into 2020, Afghanistan reported more than 10,000 civilian casualties for each consecutive year. In the first quarter of 2021, over 1,700 civilian casualties in the country have gone on the record.
Also on rt.com
At least 16 children injured as rocket hits government compound in Afghanistan during Koran recital competition
The country has more than 2.9 million internally displaced persons, while 2.7 million Afghans abroad are registered as refugees. Roughly 90% of the refugees are in Iran and Pakistan – further evidence that the security problems in Afghanistan are dire, if so many Afghans have fled to nearby countries that nonetheless have security concerns of their own.
Among the roughly 416,000 first-time asylum applicants in the EU in 2020, 10.6% were Afghan migrants, making them the second-highest represented group behind Syrians.
As the group with the second-highest number of asylum seekers in Europe in 2020, Afghans made up the largest percentage of asylum seekers in France, Germany, Austria, Belgium, and Greece in that same year.
EU-enforced deportation is actually creating reasons for re-emigration and further destabilizing Afghanistan. One report has indicated Afghan returnees can be socially stigmatized by local communities over fear of what they did during their time abroad. Many have faced renewed threats of violence by the Taliban, which holds sway over roughly 40% of the country. A groundbreaking study published in 2019 even concludes that returnees dissatisfied with how the Kabul government and the EU have handled the migration question can become ripe targets for recruitment by radicalized insurgent groups, including the Taliban itself.
But EU leaders are narrowly committed to saving face over the political backlash that erupted in 2015 when over a million Syrian migrants were admitted into Germany, even if their tough-migration efforts focus on returning migrants to a country that might be the most-dangerous place in the world, fueling these migrants' yearning to leave again. Of the 1,255 Afghans deported from Europe to Afghanistan from July 2020 to January 2021, over 40% have indicated they would seek to re-emigrate when the situation allows.
Also on rt.com
'We can and should get out earlier': Trump slams Biden for using September 11 as Afghanistan withdrawal date
In relation to Europe's fraught history with Afghan migration, UN High Commissioner for Refugees Filippo Grandi sees"a worsening of the situation" if a beneficial political settlement cannot be reached in Afghanistan. Such deterioration, as it has on numerous occasions previously, "will have an effect on Europe. Displaced people will arrive here too. So it is very important that Europe remain involved." Grandi's remarks, delivered to Italian MPs earlier in April, are welcome enough. But levels of being "involved" in a problem like this one are vast. If EU leaders continue to focus their involvement on enforcing a firm security-based stance against "irregular migration" from Afghanistan, they risk a further loss of trust if the country's security keeps getting worse while EU-funded educational campaigns simultaneously tell Afghans how undesirable it would be to leave.
Looming prominently in the background is the forthcoming end to the Western military deployment in Afghanistan fighting the Taliban, set to end in September when the US combat forces dominating that military presence are to be withdrawn. The withdrawal includes the troop contingents of several European countries that are part of the official NATO military mission, with Germany and Italy having the largest troop contingents of EU states deployed in Afghanistan.
The deal, agreed by US President Joe Biden in keeping with a withdrawal process begun by his predecessor Donald Trump, has apparently emboldened the Taliban, who have been recapturing territory over the past year. Further encroachments by the Islamist group, yet again, could potentially spur more internally displaced Afghans to seek asylum in the EU, not only raising the cost of deportations carried out by Frontex, but also the cost of reintegrating them into a country with a deteriorating security situation – to the extent that reintegration would be possible.
Also on rt.com
Is America hoping its withdrawal from Afghanistan makes that war-ravaged country China's problem now?
Focusing heavily on deportations cannot come at the expense of EU diplomatic efforts to bring peace to the country, but this is the dangerous oversight that is playing out. Diplomacy is especially needed now, as the Taliban have recently derailed a peace conference in Istanbul scheduled to begin at the end of April, citing their refusal to attend until the US military presence in Afghanistan is gone.
The EU's face-saving accords with Afghanistan on border control are instead making diplomacy's job far more difficult and the Taliban's ability to walk away from negotiations easier, spurring the radicalization and factious destabilization that again threaten to embroil the country in destructive civil war. Accordingly, many Afghans have felt the dangers brooked by becoming "irregular migrants" are preferable to remaining in a country with greater dangers lurking. No arguments against such emigration are going to hold weight in a country with a resurgent, implacable Taliban and a looming power vacuum with space for Al-Qaeda and Islamic State (IS, formerly ISIS) to roam. The Afghan migration crisis that has arrived on Europe's doorstep is going to escalate if Brussels continues to address the effects and not the cause.
Think your friends would be interested? Share this story!
The statements, views and opinions expressed in this column are solely those of the author and do not necessarily represent those of RT.
You can share this story on social media: