This killing of a white cop shows that thanks to US media promoting the 'racist cop' narrative, officers are now being targeted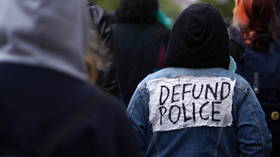 Upstanding patrolmen – like the New York officer mowed down by a cop-hating black driver – will be deliberately injured or killed due to the reckless fairytale that says police spend their days hunting for minorities to persecute.
America has entered a remarkable period in its history when politicians and lawyers arguably rank higher in likeability than members of law enforcement. That is quite a reversal considering that police officers once upon a time enjoyed a high degree of street cred.
The image of a cheerful 'beat cop' making the neighborhood rounds, conversing with residents and handing out candy to kids is now a quaint memory from less anxious times, like an outdated scene borrowed from a Norman Rockwell painting. Today, in our post-George Floyd world, police have acquired a bad rap – no thanks to a jaundiced media – for allegedly being more of a threat to the peace than the criminals they are supposed to protect society from. This dangerous stereotype is now starting to have grave consequences.
Early today, our member, @NYPDHighway PO Anastasios "Taso" Tsakos, was killed in the line of duty while operating on the Clearview Expressway within the confines of the @NYPD107Pct . Please keep him and his family in your prayers. May our brother's memory be eternal. pic.twitter.com/3hiMqACemV

— NYPD Saint Paul's (@NYPDStPauls) April 27, 2021
This week, NYPD Officer Anastasio Tsakos, working to guide traffic around the scene of an accident, was mowed down by a vehicle driven by Jessica Beauvais, 32, a black American woman who just hours earlier had live-streamed a hate-filled invective against, yes, police officers. Now, Tsakos, a father of two young children, is dead, while Beauvais faces up to 15 years in prison on 13 charges, including vehicular manslaughter in the second degree and leaving the scene of an accident.
Whether Beauvais, whose blood alcohol count was nearly double the legal limit, is found guilty of deliberately striking Tsakos may ultimately be a moot point. Because what is undeniable is that the mainstream media – either intentionally or otherwise – has been part of a campaign, put in motion by social justice organizations like Black Lives Matter, to portray police as 'racist' without ever providing evidence to support such a serious claim.
While few people would doubt that the video showing police officer Derek Chauvin kneeling for nine minutes on the neck of George Floyd was horrific and despicable, that alone is not enough to justify branding all police officers as 'racist'. In fact, it is not even enough to ascertain that Chauvin was a racist.
It is not beyond the realm of possibility that Chauvin, much like other cops who have killed someone in the line of duty, like Kimberly Potter and Eric Stillman, were simply inadequately trained to carry out their assigned duties. Yet this line of reasoning is rarely floated in the mainstream media as a likely alternative to the 'racist cop' narrative.
Also on rt.com
The ACAB attitude creeping into mainstream politics is dangerous and hypocritical
That is a glaring oversight on the part of journalists since academic studies lend credence to the argument that racism is not a significant factor in police shootings. In a 2019 peer-reviewed article published in PNAS (Proceedings of the National Academy of Sciences of the United States), researchers could find "no evidence of anti-Black or anti-Hispanic disparities across shootings, and White officers are not more likely to shoot minority civilians than non-White officers."
Since even the scientific community has expressed reservations over the question of racism in law enforcement, it would behoove the media to tone down its fiery anti-police rhetoric in the name of honest journalism.
Yet in a day and age when media is all about clicks, likes and shares, the mantra "if it bleeds it leads" has never been more applicable. In other words, a headline that screams 'racist cops' will naturally attract more attention than would, for example, one that dryly says 'police poorly trained'.
Whatever the case may be, the predictable result will be that many good, honest cops – like Anastasio Tsakos – will be deliberately injured or killed in the line of duty due to the reckless media-generated fairytale that says cops spend their days hunting for minorities to persecute. In fact, just the opposite seems to be the case.
Aside from honest police officers coming under attack, other consequences from this unchallenged demonization of police are not so difficult to predict. In addition to a spate of officers opting to resign from the force (with inexperienced recruits hired to fill the void), many are simply choosing not to respond to calls that involve minority actors or known troublesome neighborhoods.
Also on rt.com
The canonization of George Floyd & Ma'Khia Bryant will not bring about the police reform BLM says is needed in America
"Having been told incessantly by politicians, the media, and Black Lives Matter activists that they are bigoted for getting out of their cars and questioning someone loitering on a known drug corner at 2 AM, many officers are instead just driving by," explained Heather MacDonald, a fellow at the Manhattan Institute. "Such stops are discretionary; cops don't have to make them."
MacDonald's comments are mirrored by a 2017 poll by Pew Research that found 72% of police officers say their colleagues are "less willing now to stop and question people who seem suspicious or...use force when it is appropriate to do so." At the same time, roughly nine-in-ten (93%) say officers in their departments are now "more concerned about their safety." And these statistics were put out before George Floyd was a household name.
If it is demonstrable that racism is a fundamental characteristic of police departments, then of course, by all means, the problem should be exposed and eradicated. As things stand, however, no such proof exists. The media is simply echoing the unsubstantiated and emotional claims of social justice warriors who appear to have greatly simplified the problem of police violence at great detriment to society at large.
Ultimately, the greatest victim of this toxic atmosphere that is being nurtured between police officers and minorities will be innocent citizens, who will find themselves increasingly deprived of law enforcement at the crucial moment. Therefore, it is incumbent on the media to get the story on police violence straight, before it's too late.
Like this story? Share it with a friend!
The statements, views and opinions expressed in this column are solely those of the author and do not necessarily represent those of RT.
You can share this story on social media: