Why frozen Greenland has emerged as a hotspot in the cold war between the US and China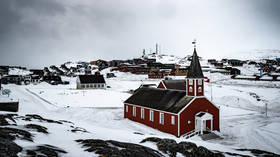 With a new government in place in Greenland, both Washington and Beijing see an opportunity to extend their influence there. Given its strategic importance, it could have a key role to play in the world's geopolitical future.
Several weeks ago, a snap election took place in Greenland where the left-wing Ataqatigiit emerged as the largest party and subsequently formed a coalition government. You may wonder what relevance this has to the wider world, but the reality is it could be hugely significant.
Despite Greenland's contradictory name, the world perceives it as a barren wilderness of ice and rock, harboring a tiny population of just 56,000 people. And yet the likelihood is that it could play a key role in the biggest geopolitical clash of the 21st century, the United States versus China.
Also on rt.com
China won the trade war with the US. Business trumps politics, and China is a cornerstone of the global economy
Although thousands of miles away from the frontier of the Indo-Pacific that has been identified as integral to the world's geopolitical future, a strategic battle between America and China is taking shape there.
The pro-environment, Greenland nationalist Ataqatigiit party secured support on the back of opposition to a Chinese-funded rare-earth mine on the island, a project which – had it succeeded – would have allowed Beijing to consolidate further global dominance over valuable materials used for the creation of military equipment and fighter jets.
The project emerged as part of China's economic roadmap for what it describes as a "Polar Silk Road," a long-term strategy to utilize infrastructure, maritime roads, and scientific and strategic cooperation across the Arctic, complementing similar proposals from Russia.
China understands the region's importance as a strategic frontier. Greenland's feeding into this initiative – and Beijing's seemingly unlikely presence there – is the result of an island with a tiny economy seeking resources, investment and infrastructure, in order to bolster its growing push for independence from Denmark, having effectively been its colony.
China has attempted to invest in airports, would like to create a satellite navigation station, and has proposed research stations and several mine developments. China has also become Greenland's biggest export market outside of Denmark.
It is Greenland's geography that has raised the stakes. While it is commonly considered to be politically and historically affiliated with Europe, in reality this region is a part of North America, and so events there are being received with increasing strategic anxiety from Washington, which perceives its traditional 'sphere of influence' over the Arctic region to be under threat.
Also on rt.com
China shreds US for decrying Beijing's 'predatory interests' in Arctic… while seeking to buy Greenland
While we have always associated the US' Monroe Doctrine in sustaining absolute hegemony over the Americas through the prism of states to the south in Latin America, the emergence of geopolitical competition within Greenland has moved the needle.
Traditionally, the US has enjoyed unrivaled military hegemony over Greenland. A 1951 treaty between America and Denmark gives the US virtually unlimited access to its ports and airfields, alongside the existing Thule Air Base. In the Cold War, this proved crucial in terms of maintaining air capabilities against the Soviet Union, and for spying too.
As a result, Greenland has long been the cornerstone of America's dominance over the 'global far north'. But as China advances its interests there, Beijing is effectively gaining a strategic edge on America's own doorstep, be it in resources, technology or infrastructure.
And this is why Greenland's election result, and the government it has delivered, are so important. Although local voters have rejected the mine for environmental reasons, that doesn't mean they're all for China casting out altogether.
The inherent contradiction in this result is that it is a pro-independence party that has ascended to power, which automatically infers increased separation from Denmark, and so more reliance on foreign resources. It suggests there is an attitude, to an extent, that Greenland is 'up for grabs'.
And on that note, it is not surprising that the US has taken its own steps to reinforce its presence. Donald Trump's proposal to 'buy' Greenland from Denmark almost two years ago was widely dismissed as a bizarre and idiotic move that shouldn't be taken seriously, but in fact was a genuine strategic effort from Washington in order to bolster its own security.
The US, after all, has bought territory from other countries before: consider the purchases of Alaska, Gadsden or Louisiana? In line with this, America soon reopened its consul within Greenland for the first time since 1953 and has since provided aid to the island, with the State Department also now investing in the mining and education sectors too.
Also on rt.com
Don't expect this week's talks in Alaska to break any ice between Beijing and Washington – here's why
As a result, what we describe as a 'new cold war' has become, in some sense, a literal 'cold war' depicting the struggle of two powers to gain a foothold over a freezing and isolated region of the world. While the current flashpoints of Taiwan, the South China Sea and the Indian subcontinent are frequently cited as potential US-China flashpoints, Greenland is also a hotspot – albeit a chilly one – and the only place in the world where Beijing is attempting to advance on America's periphery, rather than the other way round, as has commonly been the case. If you thought the Arctic North Atlantic area had become obsolete as the world's strategic focus shifts, think again.
Like this story? Share it with a friend!
The statements, views and opinions expressed in this column are solely those of the author and do not necessarily represent those of RT.
You can share this story on social media: