Sssh, the hedge might get upset! National Trust caves in to woke mob by forcing its volunteer gardeners to do diversity training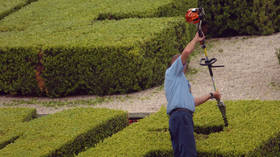 Even those who have no contact with the public will have to undergo anti-bias training when they return from lockdown. But I've done the course – and know it's just a big waste of time and money.
You've got to be careful what you say these days, you never know – it might be offensive to shrubbery.
The National Trust, custodian of Britain's stately homes, castles and beautiful gardens, is the latest organisation to succumb to pressure from the woke mob and demand that all its volunteers do diversity training. It joins the Labour Party, Starbucks and Google among those trying to train their people how to override this most basic of basic human traits.
It's not clear, though, how this is going to help any gardener with sharp shears who has a bias against unruly hedges.
As one Trust volunteer, Ian Lewis, aptly put it: "As a garden machinery volunteer... strimming, hedge-cutting, mowing and a bit of chainsaw work; all of which can only be done when the garden is closed to the public – I was surprised to receive an email saying I had to take a diversity course and pass a test before being allowed to carry on. God knows what this must cost the Trust in money and loss of volunteers."
Well, exactly. Some volunteers have already quit in outrage, and the Trust has also lost some of its 5.6 million members. And as for the cost of the course, the Trust has 10,000 paid workers and more than 53,000 volunteers. So it's not gonna be cheap.
I'm very glad I cancelled my National Trust membership a few months ago and I'm not paying for any more of their 'diversity training', 'unconscious bias' and 'decolonisation' rubbish. https://t.co/pob2diIjHq

— David Kurten (@davidkurten) April 13, 2021
Listen to me, you folks who run the Trust and pay the bills – resist! Honestly: Save the money. Save the time. Save the hassle. I did an anti-bias course last month. It was a complete waste of time and energy.
Plus my Zoom-call course with Equality and Diversity UK knocked me back £295. It was, frankly, five hours of stating the bleeding obvious.
I learned that I am biased. Every human being on Planet Earth, in fact, is biased, to one degree or another. A black man can be biased towards another black man. A lesbian can be biased against another lesbian. A transgender woman... well, she/he might really despise another transgender woman. There's no cure for life, there is no solution to the human condition.
And what's more, I'm not even certain I was cured of my biases. I actually found I'm rather fond of some of them, some of them amuse me and kind of define who I am – I don't, for example, much like Manchester United fans unless they're actually from the city of Manchester.
Also on rt.com
I went on an unconscious bias course, and you know what? I still don't like some people… and I'm perfectly OK with that
Football support is tribal, or it should be in my view. You should support the team (OK, it can be a Premier League team) that is closest to where you grew up. Not the team that is currently top of the league or because the captain has nice legs. But, I mean really, come on... so what?
Yet all of the Trust's volunteers have been told that they must sit through this diversity training before they go back to work after lockdown, these people who lovingly tend hundreds of Britain's historic places – for free. The National Trust's online "everyday inclusion" course aims to help volunteers "raise awareness" of their "unintended biases."
The Trust, a charity that derives most of its income from its members, is one of the country's biggest landowners, including almost 800 miles of coastline. It also owns over 300 historic buildings. These include everything from Lindisfarne Castle and Winston Churchill's old place, Chartwell, to 20 Forthlin Road – a little council house in Liverpool where a pair of teenagers called John Lennon and Paul McCartney used to wag school and write songs.
This isn't the first time, of course, that the not-so-bright bosses at the National Trust have slipped on a banana skin in the name of being politically correct.
Also on rt.com
Official: Brits are NOT racist… and the woke are outraged as it ruins the narrative around which they've built an entire industry
Last September, the Trust published a dossier of buildings linked to "colonialism and slavery" in the wake of the Black Lives Matter protests – including Chartwell, because of Churchill's links to Britain's colonial past. The homes of Rudyard Kipling and William Wordsworth also made the list for the same reason.
Members accused the Trust's board of pursuing a 'woke agenda' and some threatened to quit. A National Trust individual annual membership costs £72, while a life membership is £1,730.
If I were a National Trust volunteer, I wouldn't be overly concerned about passing this 'test' thing though. I should have failed the course I went on – in fact, I actually TRIED to fail – but I still received my certificate. I'm officially vaccinated, free of all bias forever.
With pubs having just reopened, I suppose I really should test out this new bias-free me in a bar in West London full of posh-boy Manchester United fans. Oh, hang on though, they're probably Manchester City or Liverpool fans by now anyway – these folk only follow the winners, and Man Utd are currently pretty crap. I'll have to do the course again.
If you like this story, share it with a friend!
The statements, views and opinions expressed in this column are solely those of the author and do not necessarily represent those of RT.
You can share this story on social media: